M A I N N E W S
AIR INDIA crisis

Day 4: AI sacks 25 more pilots
Aviation regulator cancels licences of 10 IPG office-bearers
Vibha Sharma/TNS
New Delhi, May 11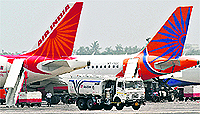 With the Air India crisis being discussed at the highest level on Friday, there was hope that an end to the standoff could come about soon. However, with both sides remaining unrelenting, the deadlock continued.
A tough-talking Air India management sacked 25 more striking pilots, thereby taking the total number of laid-off Indian Pilots Guild (IPG) members to 71. The management also asked the DGCA to immediately cancel the flying licences of 10 office-bearers of the now defunct IPG.
As the standoff entered Day 4, PM Manmohan Singh met Civil Aviation Minister Ajit Singh. Sources say chinks are also appearing in the erstwhile Air India pilots' group. A section is of the view that the agitation should be called off since it was not doing much for their image. Their worries are also based on the fact that the management is ready with a contingency plan, which would become operational from Monday.
The PM also made it clear that steps should be taken to ensure that airfares did not rise. His instructions were followed up by Civil aviation regulator DGCA, which cautioned the airlines not to increase fares in view of the Air India strike.
Apart from the highest level of the government, the issue was also discussed at the topmost political echelons. Ajit Singh has been in touch with Congress president Sonia Gandhi, who too voiced concerns over rising fares.
Private airlines are making the most of the situation offered to them on a platter by IPG pilots during the holiday season when passenger load is at its peak. Even though the DGCA has issued instructions of fares, sources say with the kind of "bucket fare" system that carriers follow, it would be difficult to put any checks.
Airlines have "bucket fares" which means there are a certain number of seats reserved in each flight at low fares, which have to be booked in advance. As soon as these seats are filled, the fares grow progressively to a higher bucket closer to the date of travel.
There is a political angle to the situation. Jitendra Awhad, president of now-defunct IPG, is sitting MLA of NCP, a key constituent of the UPA government. While Ajit Singh says "trade unions don't go by political leadership", speculations on the politics of the situation gained steam as the standoff entered its fourth day today.
Approach High Court, SC tells AI
The Supreme Court on Friday asked the Air India management to approach the Delhi High Court for appropriate directions if it felt that the high court order was being violated by the pilots. The apex court also directed hearing of the petition along with the SLP earlier filed by the Indian Commercial Pilots Association