A thriller that captivates
Reviewed by Pooja Dadwal
Portrait of a Spy
By Daniel Silva
HarperCollins. Pages 455. Rs 299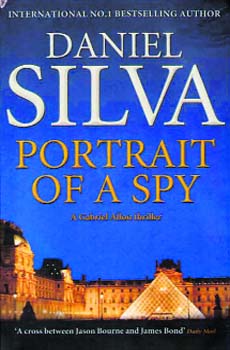 Daniel Silva, with his Portrait of a Spy skilfully lures you into yet another covert world of agents and assassins, of clandestine operations and the fine art of subterfuge, Gabriel Allon style. The eleventh novel in the Gabriel Allon series, Portrait of a Spy is a good read with some rewarding moments.
Adroitly and adeptly threaded, the story joins the legions of spy thrillers that have become a household name, with due reference to Fleming's Bond and Ludlum's Bourne. Silva has chalked in Allon a spy who may not be as outwardly flamboyant and suave as other members of this fictional clique, but who is nonetheless equally hell bent on saving the world from the clutches of terrorism.
Set in a post 9/11 world, where terrorism lets its presence known like never before, Portrait of a Spy is a captivating read that takes its readers through thrilling highs and lows. Yet again, the unswerving Israeli agent Gabriel Allon has to return from his safe abode and get back into the helm of affairs as Europe becomes the target of a terrorist organisation.
After a failed, albeit unplanned, attempt to stop a suicide bomber in London's Covent Garden, Allon is forced out of his retirement and enlisted by the CIA to help them catch this Frankenstein's monster they created a decade ago. What ensues from this is a pursuit to catch the perpetrators, to get into this nexus of the sermon-mouthing smooth talkers who are as quick with a gun as they are with delivering religious speeches. From New York, London, Paris to the final destination of Saudi Arabia, Portrait of a Spy paints a brilliant picture of stratagem and intellect.
Fast-paced, attention-grabbing, and at times edgy, Silva's latest offering encompasses the whole gamut of emotions that a spy thriller usually evokes in its readers. The style of writing is flawless and the plot brilliantly contrived.
Having said that, at times it seems to be a bit too long and a little too drawn out a read, especially while reading the second part of the book. Do not be too disappointed if your interest levels dip somewhere in the middle, for the author makes up for this in the ensuing parts. The last two parts make your heart skip a beat, your pulse quicken, and make you sit upright with your nose, firmly placed, in the book!
What is credible for the author is that he does not show much bias toward a particular character, even the protagonist; but rather, like a loving parent, he makes it an even playing field. All the characters, most of which can be traced back to the author's previous works, have something to offer.