Exploring new terrain
Living and breathing Tagore gives the life of street children who act in it a new meaning
Madhusree Chatterjee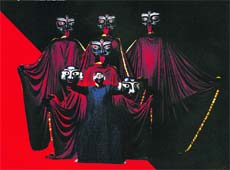 Poet Rabindranath Tagore, who was often derided as "elitist" by a section of ultra-Left intellectuals during his time, is bridging the class divide in a new way -thanks to eight dancers of the Astad Deboo Dance Company, who began their lives as street children in the capital's forgotten alleys.
The Nobel laureate has not only been a breathing dream for them in the last few months, but also a window to sustainable livelihood as stage performers. The boys are contemporary dance maestro Astad Deboo's star performers in a choreography, Interpreting Tagore.
The contemporary dance-puppet theatre, combining dance, recitation, puppet shows, masks and opera music is designed around three of his poems, Ekla Chalo Re, Your Grace and Every Fragment of Dust is Awakened.
The dance theatre was staged at the Kamani auditorium in New Delhi recently in the last leg of the bard's 150th birth anniversary celebrations which close tomorrow.
"The boys belonged to the Salaam Balak Trust, but they are members of my dance company. I had earlier worked with 14 of these street children in a production, Breaking Boundaries, to showcase their talent and prove that given an opportunity they can rise to the occasion," said Deboo.
The production premiered last year when the nation began to celebrate Tagore's 150th birth anniversary, the maestro said. "I decided to use eight of the 14 boys in the dance theatre Interpreting Tagore through layers of poetry and songs translated by Aruna Roy," he said.
Carrying Tagore across the cerebral divide was not easy, he said. "I sat with them and explained what each dance and corresponding poetry was all about. They tried to understand the dance. They know Tagore was a poet but as the translations were in English, language was a barrier. The boys had joined my dance company in 2008. In three years, they were familiar with my genre of dance. They caught the essence of what I was trying to get across," Deboo said.
Voiceover artist Akash Khurana, a popular television actor, who recites poetry in the production, describes the dance theatre and its social implications as "progression".
"It talks of evolution and progression because of the fact that Tagore is finding non-formal expressions across genres and performers' communities," said Khurana.
Troupe leader Shamshul, in his early 20s, came to the capital from Saharsa, Bihar, in the early 1990s and found shelter at a destitutes' home. "I trained as a puppeteer under Dadi Pudumjee before 'sir' (Astad Deboo) picked me up in 2008, nearly four years after I met him for the first time at a performance. He has given me the opportunity to learn his style of dancing," says Shamshul, who sports a fashionable close-cropped shaven hairstyle like his 'master' Deboo.
Shamshul lives by his dance, puppetry and costume designing. He also fends for his family in Bihar, where he has built them a home with the money made from dancing. "It is possible to survive as a performer," believes Shamshul, who worked for four years in a television reality show, Khul Ja Sim Sim.
Dancing mate Avinash, a runaway from Purnea, Bihar trained in theatre at Indian Technical Institute and under the Theatre in Education scheme of the National School of Drama. Says he, "I wanted to be an actor, but it was difficult. I went to learn Chhau for six months at Gol Market and worked as a freelance performer." He wants to be a professional dancer.
One of the youngest dancers of the troupe, Salim has sampled fame as an actor in The Little Terrorist (2004), nominated for an Oscar.
But it is Tagore who is keeping him busy, he said between rehearsals.
Deboo has taken his production across India and will perform in Sikkim next month. "I have been an underdog in my dance; nobody asks me to come and showcase. I have to propose to sponsors and hear 101 inane comments about my concepts. I want more platforms, more opportunities and I want to continue dancing. I am 65 years old. I have no godfathers," said the maestro, honoured with Padma Shri in 2007. — IANS