A poetic treat
Reviewed by Geetu Vaid
Neglected Poems
By Gulzar
Translated by Pavan K Verma
Penguin. Pages 133. Rs 399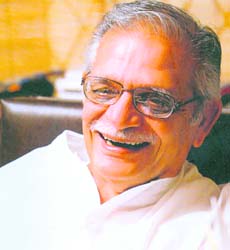 Gulzar is in the league of top Urdu poets in the country at present with his 50-year association with poetry and widely acclaimed lyrics for films like Bandini, Mere Apne, Khamoshi, Parichay, Mausam, Aandhi, Angoor, Ijaazat, Maachis and many more. As a poet and lyricist Gulzar's wizardry with words has won him accolades from connoisseurs of poetry as well as from amateurs. Unfettered by rhyme and meter his brand of poetry captures the music of verse in ordinary things. And going through this volume of 60 poems, which is titled Neglected Poems more on an impulse than as a design, one is reminded of Alexander Pope's words that true poetry is that which represents "what oft was thought but never so well expressed". Like a consummate artist, he picks up subjects like rain, birds, mountains, relationships and even poetry; polishes them and wraps them in simple words to create vivid and spectacular imagery and similes.
This collection gives a peep into a poet's mind which is always brimming with feelings and emotions and where each emotion and thing assumes a form when it is enveloped in words that give it a new persona. Herein lies the true appeal of Gulzar's verses. Like the cauldron of a poet's mind, the poems in this volume glide from one subject to another effortlessly; from mountains to rivers and brooks, to cities old and new, to rain and birds, to new-born poems and babies to trees and relationships sweet and sour, pangs of separation to philosophical questions, it is all here as one moves from one page to another. The poet's vast repertoire is laid bare for the reader to soak up what he can. Neglected Poems these are by no means, as the sheer love of verse oozes from each line.
Some are long and others short and crisp just like the fresh dew drops on grass that sit like a tiara on the fragile tips of emotions. The whole collection is racy as one flips page after page to get transported to a new emotion, place or feeling on each page. Somewhere it is the "tipper taper" of rain expressed beautifully, and at other places it is the loneliness of a person when the poet says in Sab kuch waise hi chalta hai, that nothing changes when a relationship ends except "bas itna farak pada hai meri raaton mein, neend nahin aati to ab sone ke liye ek neend ki goli roz nigalni padti hai". And again in "Tum gaye to kuch nahin hua, dil se aitbaar uth gaya mera," the very starkness and simplicity of expression lingers for long.
There are mountains and vales and rivers and peepal tree romancing the brooks, while the poet gives an invitation "ki kabhi pahadon par aana tum, kisi weekend par aa jana". He beautifully describes the dusk as a desperate maiden running after sun each evening
While Chennai is an old city, Mumbai sits like a fish in water with 'head immersed, feet on land, this city neither leaves the sea nor enters it' and Delhi's lazy afternoons get a vivid description of an era gone by and Baghdad filled with the debris of war gets a unique treatment in "itne sare bazu, tangein, haath aur sar aur paanv, aise alag alag bikhre dekhe hain, bache khuche purze lagte hain spare parts hain"
It is a glimpse of the poet's world in which everything has a personality and everything is alive and has a soul and music. No wonder he captures the music of the rain so vividly in Symphony of monsoon. Even the process of creating a nazm or poem has a life of its own for him. He talks about the overflowing ash tray where the ash tray symbolises a poet's mind that is brimming with ideas and words. How simply he mentions that the overflowing ash tray has certain verses "jo mere brand ke nahin the, woh ek hi kash mein khans kar ash tray mein bujha diye" and how a poet looks at unfinished poems and ideas that never matured into words: "Ulat palat ke tamam safahon mein jhankta hoon, kahin koi tukra nazam ka bach gaya ho to uska kash laga loon, talab lagi hai, par yeh ash tray poori bhar gayi hai".
Ek nazm ka misra kaste hue summarises his poetic journey aptly:
"Ek nazm ka misra kaste hue alfaz ke jungle mein ghus kar makhsos koi mani jab tod ke lata hoon
haathon pe kharashein padti hain
aur unglian chil jati hain
magar who lafaz zuban par rakhte hi
mooh mein ek ras ghul jata hai"
And that, in fact, is the effect of his Neglected Poems as the flavour of feelings and emotions dissolves in one's creative palate leaving a sweet taste that lingers for long.
The translation in English by writer diplomat and friend Pavan K. Verma does justice to the poet's thoughts, and will surely enthrall those reading Gulzar's poems in English.
In short, the collection comprises words and verses that are a treat for a reader of this genre.