After College What?
Gearing up for your final year exams? It's obvious that you are dogged by the 'what now and what next' dilemma. Maybe, you want to get straight into a job and earn some cash, or you are, perhaps, anticipating a challenging academic stint on the campus. Read along to get a clearer picture and see whether your goals match your dreams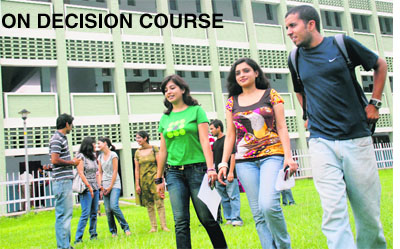 "So, what are you going to do after your graduation?"
Every well-meaning aunt and uncle will be bombarding you with this question (not to mention your concerned parents and their friends). Relatives aside, it makes a lot of sense to have some idea about where you're headed before you leave college. You should by now have a fair idea of the kind of work you would like to do and the level of education or professional training you will need.
Career Hotline
Is it wise to change job?
Q. After completing my BTech, I have been working in an IT company. For some reason I'm not happy and feel like changing my job and moving to advertising. But I'm not sure whether it's a good idea to do so at this point.— Vikram Saini
Get set for GRE
Dawn Piacentino gives some strategies and tips to ace the online revised GRE general test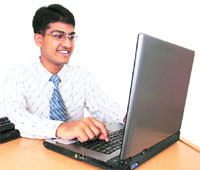 First of all it is important to understand what the test measures. The Analytical Writing section measures your ability to sustain a well-focused, coherent discussion, articulate complex ideas clearly and effectively, support your ideas with relevant examples, and examine claims and accompanying evidence. There is one Analytical Writing section in the test, with two 30-minute separately timed tasks: "Analyse an Issue" and "Analyse an Argument." The Analytical Writing score is reported on a 0–6 score scale, in half-point increments.
Cool Counsel
Set your house in order first
Q. I have been working in a multinational company for the past two years. However, for the past few months I have been feeling very uncomfortable at my workplace basically because of the attitude of my boss. Even though I have got two years' experience, my boss has been finding faults with my work as if I am a novice. Often he even rebukes me in front of other colleagues. I have made up my mind to leave this job, and actually I want to leave without even informing my boss. Will it be right? I have already had a word with another company about my next assignment. — J. l. kansal
Peace fellowships
The Rotary Foundation is offering Rotary Peace Fellowship in International Studies in Peace and Conflict Resolution, 2013.
Put your future in good shape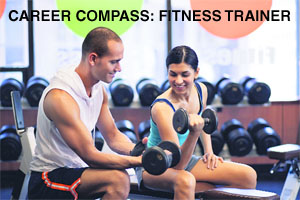 When not busy on their mobiles or I Pods, young people today are working out in gyms, health clubs, dance classes and the like. Not young people alone - from fitness freaks pumping iron and working on their abs, to rotund middle aged mothers dancing in unison to the latest rock video, being fit has never been so popular. With the mushrooming of gyms, health clubs, aerobic and yoga centres, personal fitness trainers and a range of massage and spa therapies, the fitness industry is possibly among the fastest growing in the country. This is not only because looking good is in fashion like never before, but also because being fit is a necessity too, as millions of people realise that they need to lose weight and get in shape if they want to lead healthy and productive lives.
different strokes: ethical hacking
Safeguard cyber space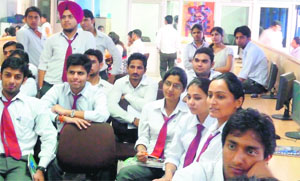 In the past 10 years the usage of internet has increased manifold. Governments, companies and private citizens around the world are anxious to be a part of this revolution. But the comfort of technology is accompanied with 'criminal hackers'. There has been an alarming increase in the number of cyber crime cases in recent years
Courses in ethical hacking have become popular among youngsters in India over the past three years as there has been a significant increase in the number of students enrolling for these.
course cruising
Hone your financial acumen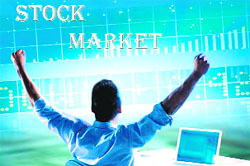 The financial sector will create more than one crore jobs, before the end of this decade and the National Stock exchange (NSE) is keen to bridge the skill deficit in this sector. Thus in a tie up with the National Institute of Financial Management ( NIFM, which was set up by the Finance Ministry, Government of India), NSE is starting a one-year, full time, post graduate course in financial markets and a one year, weekend post graduate course for working professionals, in financial markets.
smart strategy: negotiate successfully
Set your terms right

The bargaining process before an agreement is arrived at, is called negotiation. Negotiation is a skill that comes into practice not only in a business setting but also almost every day in most of social interactions. Socially, we use it to decide on a movie or a restaurant to go to. In a business context, negotiation can be used for taking loans and transactions purchasing, selling, contracts for staff and so on. Negotiation may be carried out face-to-face or even remotely through telephonic conferences, video conferences or even in writing. It may also involve more than two interested parties.
HCL among most democratic workplaces
Leading global IT service provider HCL Technologies has been named to the WorldBlu List of Democratic Workplaces 2012 for the fourth consecutive year. 
food for thought
Loyalty may hurt your career
Staying in a job that you hate just for the sake of loyalty or for lack of alternatives is bad both for you and your employer, a new study has claimed. Researchers from the Concordia University's John Molson School of Business in Canada have found that those who stay on out of misguided loyalty experience exhaustion, then burn out and often leave the company without warning.
CareerCature
SANDEEP JOSHI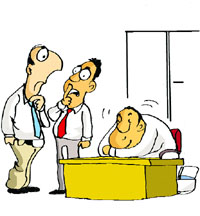 Meditation as a stressbuster is ok for half an hour in office but not all day
Send work emails packing to bust stress
Being cut off from work email considerably reduces stress and lets employees to focus far better, according to a new study.
hiring trends
IT remains strong
The first month of the new financial quarter started on a positive note with hiring activity in April, 2012 being 12 per cent higher when compared to April, 2011 as per the naukri.com's job index for April.
Happiness @ work
Gems of ancient wisdom
Tell a tale
In uninspiring times, an easy way to pep yourself and others up is to talk about the deeds of heroes — historical or mythological, national or international, past or present. Anecdotes of leaders in one's own profession may also do the trick.