M A I N N E W S
TAPI gas project gets Cabinet nod
Turkmenistan, Afghanistan, Pakistan, India to finalise agreement on transit fee next week
Ajay Banerjee
Tribune News Service
New Delhi, May 17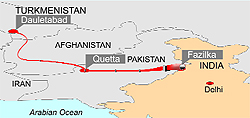 In an important decision, the Union Cabinet this evening gave its nod to sign a pricing agreement with Turkmenistan for the US-backed Turkmenistan-Afghanistan-Pakistan-India (TAPI) Gas Pipeline Project. The pipeline will terminate at Fazilka in Punjab.
The Ministry of Petroleum and Natural Gas had proposed that the Gas Authority of India (GA1L) India Limited be allowed to sign the Gas Sale & Purchase Agreement (GSPA) with TurrnenGas, Turkmenistan`s national oil company. The GSPA has been approved. The signing of the GSPA was an important step in the pipeline.
TAPI gas pipeline will be 1680 km in length (144 km in Turkmenistan, 735 km in Afghanistan and 800 km in Pakistan). The pipeline is expected to be operational in 2018 and supply gas over a 30 years period.
The source of the gas is the South Yoiotan Osman field, recently renamed Galkynysh, which has been certified by a reputed international consultant (Gaffney Kline) to be holding proven recoverable gas reserves of 16 trillion cubic metres. The provisions of the GSPA have been structured to protect India`s commercial interests as India is at the tail end of the pipeline.
Afghanistan and Pakistan have committed to the safety and security of the pipeline through the Inter-Governmental Agreement and the Gas Purchase Framework Agreement signed among the four countries in December, 2010.
The pipeline would run from southeastern Turkmenistan into Afghanistan, then parallel to the highway from Herat to Kandahar and finally via Quetta and Multan in Pakistan to Fazilka in India.
Next week, the four countries will meet to decide on a final agreement on transit fee. The cost of construction has been estimated at $ 7.6 billion (approx Rs 40,500 crore). Nearly one-third this is to be financed by the Asian Development Bank, which has been sponsoring meetings.
This January India and Pakistan agreed that the two countries plus Afghanistan had to agree a uniform tariff among themselves. This will fix the uniform transit fee.
To be Operational in 2018
The pipeline will be 1,680 km in length. Starting from Turkmenistan, it will pass through Afghanistan and Pakistan before terminating at Fazilka in Punjab
The pipeline is expected to be operational in 2018 and supply gas over a 30-year period
The provisions of the GSPA have been structured to protect India`s commercial interests as it is at the tail end of the pipeline
Afghanistan and Pakistan have committed to the safety and security of the pipeline through an inter-government agreement