area watch: sangrur
Realty lies low in Sangrur
The property market in this district neighbouring Patiala is languid in the absence of buyers and investors
Umesh Dewan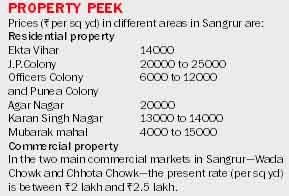 With hardly any sale and purchase activity on in the Sangrur district at present, the realty sector is passing through one of the worst phases here. Unlike Ludhiana, Amritsar and other cities of the state, big builders and construction companies have not shown any interest in launching commercial and residential projects in Sangrur. To make the matters worse, mushrooming of unauthorised colonies in Sangrur has left the local developers high any dry. There are hardly any takers for the approved projects as land is available for much less in the unapproved colonies. Land prices in the Sangrur have also not witnessed much appreciation in the past few years.
According to real estate agents in the area, it was local businessmen from Sangrur and Ludhiana, who used to invest by purchasing properties in different parts of the district. However, since SAD-BJP government came to power in Punjab in 2007, the sale purchase activity became sluggish.
Talking about the dismal scenario, local property dealer Gurchain Sarao said the sale and purchase of property in Sangrur was at a standstill at present with hardly any buyer interested in making investment here. "Frequent increase in the stamp duty rates and the defeat of Congress in the Assembly poll are the factors that have adversely affected property business in smaller cities like Sangrur in the state. There is a general psyche of the investors that during Congress regime, the real estate business flourishes. As far as the stamp duty issue is concerned, the DC rates are extremely high because of which there is lukewarm response from the investors," he said.
Stagnant market
Market watchers observe while land prices in various cities of the Punjab have increased three fold in the past couple of years, in Sangrur property prices have not witnessed much increase. The land prices in residential colonies with best location in the city are not more than Rs 25,000 per sq yd.
A survey of the property prices in different localities in the city revealed that the rate per sq yd is Rs 14,000 in Ekta Vihar; Rs 20,000 to Rs 25,000 in J.P.Colony; Rs 6,000 to Rs 12,000 in Officers' Colony and Punea Colony; Rs 20,000 in Agar Nagar; Rs 13,000 to Rs 14,000 in Karan Singh Nagar; Rs 14,000 to Rs 15,000 in Mubarak Mahal. Local real estate dealers feel that these land prices are too low as compared to those in other districts.
Poor development score
Sangrur was also an important part of PEPSU and even after the formation of Punjab, Surjit Singh Barnala and Rajinder Kaur Bhathal, who hails from Sangrur, have served as Chief Ministers of the state, but on the development front the area did not gain much in spite of being the CMs' hometown. Punjab Finance Minister Parminder Singh Dhindsa, who was PWD Minister in Badal Cabinet last time, did some work for laying metalled roads here, but the overall physical infrastructure, including planned colonies, proper civic facilities, flyovers and other development projects, in the district is in a bad shape. There is no major hospital here despite the fact that the number of cases of cancer is alarming in the district. On the education front also, there has not been much progress. These factors have also served as a deterrent for investors.
Colony culture
The realty scene in the area is basically about the sale and purchase of plots as the apartment culture is virtually non-existent here. Only, recently, the Improvement Trust has completed the work on some flats near Sunami Gate.
Most of the developers have large chunks of land on which they offer plotted colonies. Plots are offered to buyers and investors after the developer takes up development works in the area and gets the requisite clearances for a residential cluster. But here, too, the number of unauthorised and unapproved colonies is more as some unscrupulous developers lure buyers with comparatively lesser prices. With very few buyers in the market as it is, the developers having approved and authorised projects are finding it tough to stay in competition.
"Though we have sold off about 50 per cent of the land but the pace at which the buyers are coming is very sluggish. One of the main reasons behind this is the long time that is taken to get different permissions and approvals from the various bodies in order to set up the colonies", said Jasbir Grewal of Grewal Property Dealers and Real Estate. This firm is developing residential colonies in Sangrur. Some of the colonies include Dreamland on the Sangrur-Patiala Road which is spread over an area of 30-acre, Sangrur Valley (18-acre) on Sangrur-Dhuri Road and Park Avenue (15-acre) in Sangrur city.
Jasbir also pointed out that "during the Congress regime (2002-2007), positive real estate policies had lead to a boom in the sector and Punjab had witnessed immense investment from multinational companies, but now things are different." Referring to a recent statement of the Punjab Deputy Chief Minister regarding the survey of all the illegal colonies in Punjab, Jasbir said if developers of unauthorised colonies were taken to task, then property market will flourish in Sangrur.
Local players dominate the realty scene here as none of the major national builder has shown any interest so far. There is no state-of-art shopping mall, multiplex and a good residential township here. According to the majority of the real estate agents, the multinational companies are focusing on places like Ludhiana, Patiala, Amritsar, Jalandhar and Mohali, where the buying potential of customers is more and the sale purchase activity is also on.
"As the real estate sector in Sangrur has been passing through a rough phase for quite some time, even government bodies like the Improvement Trust and PUDA have not shown any interest in coming up with projects here," said, Harjinder Singh, a real estate agent, based in Sangrur.
With inputs from Vikrant Jindal in Malerkotla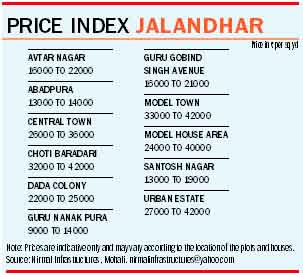 Property peek
Prices (Rs per sq yd) in different areas in Sangrur are:
Residential property
Ekta Vihar 14000
J.P.Colony 20000 to 25000
Officers Colony 6000 to 12000
and Punea Colony
Agar Nagar 20000
Karan Singh Nagar 13000 to 14000
Mubarak mahal 4000 to 15000
Commercial property
In the two main commercial markets in Sangrur—Wada Chowk and Chhota Chowk—the present rate (per sq yd) is between ~2 lakh and ~2.5 lakh.
Malerkotla
One of the worst affected places in the area is Malerkotla, as there is virtually no buyer and those who own property are desperate to sell it off, as land prices are coming down drastically. Malerkotla-based property dealer Deepak said, "Sometime back, Parsvnath initiated a township project at Adamwal Road but it got such poor response that they sold off the land measuring 120-acres at throwaway prices (Rs 600 per sq yd). There is no multiplex in the city. One shopping mall Le Plaza is coming up but it is uncertain, whether it would find any takers. The land price in Malerkotla's Gandhi Nagar is Rs 1,000 per sq yd, which makes it evident the bleak scenario pertaining here."


A view of an under-construction shopping mall in Malerkotla
Sunam
Sunam, which is some 15-km away from Sangrur, has a similar story as far as sale and purchase is concerned. The price of land in Satya Enclave project that is coming up on the Sunam-Bathinda road is between Rs 9,400 and Rs 9,700 per sq yd but there are hardly any takers. Property consultants in Sunam also lamented the fact that the authorities were not taking any effective measures to curb the menace of unapproved colonies. "In unapproved colonies developer offers the land at cheap rate, which badly hits the business of the promoters of the approved townships," said Rajesh Kaushal, a property consultant.