Hall of Fame...no kidding
The toy story
Mukesh Khosla
In the heart of each toy is the mind of an adult — a mind trying to capture the thrill that the toy would give to a child. The toy industry incorporates the most imaginative and delicate kind of manufacturing — a constant flirtation with the whims and fancies of children with an eye on the ever-changing trends and tastes.
So what are the popular toys this season? Is it the YBike or the Floppets or the LeapPad Explorer or even Mr Pencil? Opinion may be divided but all of these toys introduced in the market recently have been clocking brisk sales worldwide.
Many reviewers have elected the LeapPad Explorer as the toy of the year.
The multifunctional educational tablet device is aimed at children between the ages of four and nine and comes loaded with software that hones the skills of kids in problem-solving, reading, spelling and personal creativity in a fun way.
Blockbuster list
However, despite the rave reviews, the LeapPad Explorer is unlikely to make it to the list of the most popular toys ever made. Nor is it likely that other toys like the YBike or the Floppets or even Mr Pencil are likely to make it to the blockbuster list of great toys. In fact, none of the toys and board games in the last decade or so (with the sole exception of the Angry Birds) would cut much ice in the hall of fame not because there is a flaw in them but because many of them may not stand the test of durability.
Interestingly, some of the greatest toys have been around for years and years and some like the Teddy Bear and Meccano have even crossed the century-mark while a board game like Snakes & Ladders has a timeless appeal. Most of these toys and board games have been fascinating generation after generation, having clocked sales in millions and some like the View Master have crossed the billion-mark and show no signs of slowing down.
Ironically, many of the century's most popular toys were nearly never developed because of initial rejections. Monopoly is a case in point. One of the highest-selling board games ever, it was developed by an unemployed American Charles Darrow in 1934 when the country was reeling under the Great Depression.
All-Time Favourite Board Games
Convinced he had a bestseller on hand, Darrow approached the leading American toy manufacturers Parker Brothers. But the company did not see any potential in the game and rejected it. It is another matter that since then Monopoly has sold more than 200 million sets, and is considered one of the all-time great board games.
Many toys like Mr Potatohead, Raggety Anne Doll, Play-Do, Hula Hoop, Frisbee and a few others nearly make it to the top toys list but just nearly.
Though most of these made big fortunes for their developers, many of them have turned out to be cyclical by nature, and sometimes go out of fashion and at other times make a comeback.
The top 10 spaces are firmly taken by iconic toys that never go out of vogue and whose demand never flags, like the Barbie doll (three Barbies are sold every second somewhere in the world), Rubik's Cube (in many countries, the cube is found on restaurant tables along with the salt cellar) and Cabbage Patch Kids (the craze for these dolls inspired the 1996 Arnold Schwarzenegger movie Jingle All the Way).
Enduring appeal
One of the enduring appeals of these classic toys is that children develop an emotional bond with them. These are safe, and provide many amazing hours of good, clean fun and entertainment for children. These may be simple toys yet make a mark on their impressionable mind and become a part of their childhood.
Those who develop these classic toys are no ordinary people. Somewhere within their rational minds is an innocent child, who is fascinated by bright colours and attractive shapes. That is precisely the reason why even Barbie had to change her strictly western dress code and Mattel had to introduce a series of Indian costumes; and even the manufacturers of stuffed animals had to widen their scope beyond white Antarctic bears to include bright-green Indian parrots.
Here's looking at some of the greatest toys and board games ever made....
Cabbage Patch Kids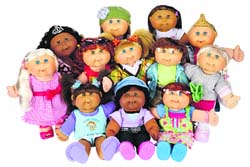 With their chubby looks and cuddly features, the Cabbage Patch Kids created a sensation in the 1980s. Their inventor Xavier Roberts is an American artist-turned-tycoon, who cleverly inducted himself as a 10-year-old boy in the Cabbage Patch adventures. He is shown to discover the Cabbage Patch Kids of all sizes and shapes that are born in the secret cabbage patch. He builds a special place called BabyLand General where all these kids can live and play until someone adopts them and takes them home. Though the craze waned in the 1990s, there has been a sudden revival, and today the original Cabbage Patch Kids are sold at a premium.
Teddy Bear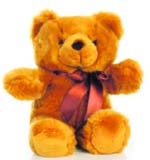 Though for years it has been a cuddly toy for kids, the incident that led to the launch of the Teddy Bear would have the modern-day wildlife activists up in arms. In 1902, the then, American President Theodore Roosevelt was invited to a hunting expedition. While most in the party were able to get hunting trophies, Roosevelt could not. So his assistants caught a young bear and beat it with clubs and tied it to a tree. They urged the President to kill it so that word could be sent out that he was a great hunter. A disgusted Roosevelt refused to shoot the animal but ordered its mercy killing. A toy manufacturer inspired by the incident created a stuffed toy and called it Teddy's Bear, which, over time, has become Teddy Bear. The rest, as they say, is history.
Dinky Toys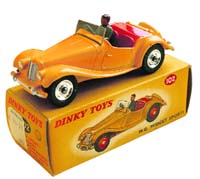 It was a craze whose time had come. The aftermath of World War ll ushered in an era of peace and harmony in the West. People started looking for leisurely deviation. That was the time when the Dinky Toys were launched. And these took a generation of boys and young men by storm because of their innovativeness. The toys were exact replicas of cars, planes, ships, battle tanks and ambulances. But it was the cars that were the most popular. Most models were in a scale of approximately 1:48 and they had moving parts with opening doors and boots as also plastic interiors.
Meccano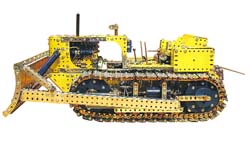 At the turn of the last century, a Liverpool clerk with an engineering degree, Frank Hornby, designed a game of nuts and bolts for his children. Little did he realise that it would become one of the biggest-selling games in the world. Hornby patented Mecanno in 1907. For most of the 20th century, the company was to become one of the largest toy makers whose main line was Mecanno — the construction set comprising moving parts like wheels, axles, gears and metal strips which, when put together, could make a plethora of working models. Thanks to innovations in the basic set, Meccano still rules the mindspace of children.
Barbie
She has vacuous eyes, stiff limbs and a synthetic voice. Yet, Barbie, the dream doll, has been fascinating children, teenagers and even older people ever since American toy company Mattel Inc. launched it in 1959. Over the years, Barbie has acquired the special traits of people in the countries where she is sold and has even worn a saree for her Indian admirers. Over a billion dolls have been sold in the past 53 years in over 150 countries.
Rubik's Cube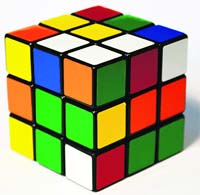 In 1974, when a reclusive Hungarian Professor Erno Rubik challenged the world with the Rubik's Cube, little did he imagine that it would go down in history as the puzzle toy of the century. Over the past 38 years, 350 million Cubes have been sold. Such has been its cult following that it has an annual International Rubik's Championship held in Budapest. The word Rubik's has also entered the Oxford English Dictionary. It has earned a place as a permanent exhibit in New York's Museum of Modern Art. People who have solved the Cube are treated like heroes and a handful, who can crack it blind-folded, have become instant stars.
Snakes & Ladders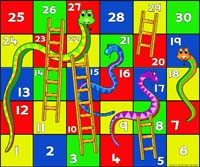 One of the most popular board games ever devised, Snakes & Ladder has its origins in India. Though no one knows the year it was developed but its Indian version was called Moksha Patam, which revolved around the theme of life, death and re-birth. The game travelled to England in 1892 where it got its name Snakes & Ladders. In 1943, the American game company Milton Bradley bought the rights and launched Chutes and Ladders which, the company claimed, was an improved new version of the original. Needless to say, both the versions are runaway hits and the board game gets millions of admirers with every passing generation.
Angry Birds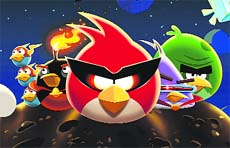 When Finnish computer games company Rovio Mobile created the video game revolving around an angry-looking wingless bird, it got instant attention. But it became a sensation once it started being marketed by Apple stores in 2009. Ever since, more than 12 million copies of the game have been sold worldwide. The Finnish company is entering into tie-ups of television series and films featuring Angry Birds. Considered the best game ever developed for hand-held devices, its fans include British Prime Minister David Cameron and celebrated author Salman Rushdie.
G.I. Joe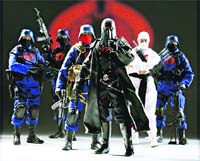 Back in the early 1960s, when the Mattel toy company was clocking mind-boggling sales with Barbie, a rival company Hasbro Toy, cashing on the craze, came out with G.I. Joe, a toy for the boys. The company did not call the 12-inch high toys as dolls but action figures. Modelled after World War ll, the line of toys included an Action Soldier, Action Sailor, Action Pilot and an Action Marine. Later, an Action Nurse was added to the team. Expectedly, the G.I. Joe team became a runaway hit. Such was its popularity that G.I. Joe has spawned a line of very popular comics, TV series, video games and films.
Monopoly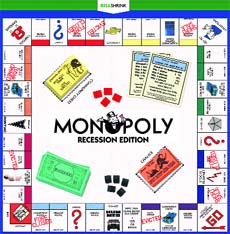 Developed in 1934 by an unemployed American Charles Darrow, Monopoly became an instant worldwide hit. However, when Darrow first took the concept to the American toys and games manufacturer Parker Brothers, it was rejected. Darrow with the help of a printer friend developed the game himself and in a short period sold 5,000 sets.
But the demand was huge and failing to keep pace with it he went back to Parker Brothers, who made no mistake this time and grabbed it. There's been no looking back ever since. Today, Monopoly has sold over 200 million sets in 103 countries and an estimated 500 million have played it.
Teenage Mutant Ninja Turtles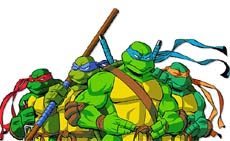 Originally the characters of a comic book, Teenage Mutant Ninja Turtles or simply Ninja Turtles created a storm when they were launched as figurines in the 1990s. The four characters named after Renaissance artists — Leonardo, Raphael, Michelangelo and their father figure Donatello — live in the sewers of New York. Their mission in life is to save the world from criminals and evil-doers. The concept caught on so fast that there were three major television series revolving around their adventures, besides four feature films and countless video games.
Sony's PlayStation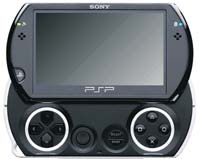 When it first hit the market in 1994, Sony's PlayStation created an instant sensation. The CD-ROM format of the PlayStation allowed audio, video and computer data to be accessed simultaneously. With 1,000 games in its library, it sold more than 50 million copies. In 2000, Sony came out with a newer version PlayStation 2, which was slimmer and sleeker and has sold more than 150 million sets till date. The next best came in 2006 with PlayStation 3, which introduced the concept of motion control in gaming. The Japanese company is now working to develop PlayStation 4, which promises to be a far more advanced console than the previous versions.
Lego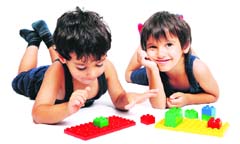 In 1932, a Danish carpenter wishing to augment his income began making wooden toys which were well received in the market. He set up a company called Lego. A few years later, he expanded his repertoire by branching out into plastic toys. In 1949, he developed the unique self-locking bricks that could be attached together to make all kinds of stuff — from trucks to homes and from robots to superheroes. Today, the company has branched out into video and board games, books, TV series, movies, children's clothes and theme parks in the US, England, Germany and Denmark.
Scrabble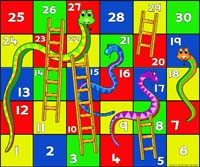 Though it was developed in 1938 by American architect Alfred Mosher Butts, it took him almost a decade to completely master it and present it to the world. Over the years, it has become an iconic board game that has sold nearly 200 million sets and is played in more than 125 countries and translated in 35 different languages. Every year, Scrabble public contests are held in numerous countries and the best-known is the World Scrabble Championship, originally hosted between the US and England, but now attracts players from 25 countries. The time may not be far when it will have a worldwide official championship.
The View Master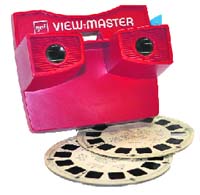 For many grownups around the world, the View Master brings a wave of childhood nostalgia. The View Master was the brainchild of piano tuner William Gruber.
During World War II, View Masters were used in training for the US military. More than one billion have been sold thus far. The most popular View-Master reel — the scenic reel of Mecca.