Crusader on the move
Reviewed by Kanwalpreet
Didi, A Political Biography
By Monobina Gupta. Harper Collins. Pages 216. Rs 299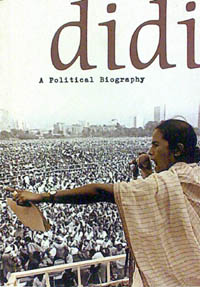 Mamata Banerjee, "Didi", as she is lovingly called by one and all, is a complex subject to write on. Working consistently, she has risen from being a grassroots party worker to become, at present, the Chief Minister of West Bengal, a state which was the bastion of the Communist Party of India Marxist, (CPM), since 1977. Monobina Gupta chose Didi as her subject to look into the personality who has managed to oust the CPM from power with her relatively new political party, the Trinamool Congress. It is a strange journey of a lady who does not boast of any mentor and claims to live for "Maa, maati, manush". Such politicians are the need of the hour, yet Monobina Gupta tells us all with a pinch of salt.
The author has followed her subject minutely through available reportage, the mass media and through the books written by Didi herself. The material available is then torn into shreds and researched thoroughly to reach to a conclusion that allows us to follow Mamata Banerjee's quest to bring about reform in her state.
In Meet Mamata Banerjee, we are introduced to a young Banerjee whose job, then in 1983, was to look after party VIPs. Kamlapati Tripathi, the aged leader of the Congress, was a stickler for "ritual purity." He would eat food cooked only by Brahmins. Because of the Brahmin party workers being extremely busy, Banerjee got the food cooked , on one such visit , by non-Brahmins and served by a Brahmin lady to an unsuspecting Tripathiji who was outwitted on matters of caste. The author quotes from Mamata's book, Struggle for Existence, "Perhaps what we had done was wrong!Tripathiji is no more. If he was alive he would have fired me." Or take for example a recent incident in December 2010, when Didi, dunked Sovan Chatterjee, the mayor of Kolkata and a senior Trinamool leader, in a children's swimming pool on a cold winter day. Such anecdotes are few. Initially, one feels that the work is in praise of one of the most powerful political personalities of West Bengal, but as the book progresses the writer strikes a balance. She talks about Mamata Banerjee's stint as the Union Minister of Railways. Mamata Banerjee has, also like her predecessors had in their own states, benefitted politically in West Bengal by going an extra step to give facilities to her parent state.
Didi is criticised for being theatrical and emotional. So the episode where Mamata Banerjee threw her famous black shawl at Ram Vilas Paswan is highlighted. The shawl comes into focus again when Didi threatened to hang herself. The temper of Didi is a big deterrent for her supporters who keep out of her way to escape her ire. Gupta writes about all that but also about the poet and painter that resides in Mamata Banerjee.
Despite her bad, quick temper, she is known as a rabble-rouser and more so as a fighter who has managed to deliver what she promised to the people of Bengal — an end to the corrupt rule of the CPM. In this fight, she managed to include the intellectuals and the bhadralok of Bengali society who threw their weight behind her. It was this unique combination of the masses and the intellectuals, that tilted the balance in her favour in the last Assembly elections when Mamata Banerjee came to power. But the author points out to the Herculean task ahead that lies ahead of the first woman Chief Minister of West Bengal. "Will Banerjee be able to end the culture of violence that characterises politics in West Bengal and regenerate the state economically and politically? Will she be able to go beyond being a rabble-rouser to become a sagacious and visionary leader?"
These and other issues have now come to the forefront where the focus is now on Mamata Banerjee and her being an able administrator after playing the role as "deliverer from an arrogant ruling coalition." Didi's Singur-Nandigram-Lalgarh journey and how it catapulted her into limelight is well known. But the other facets of her life are also interesting and those are covered to quite an extent in this book. Her passion for Rabindra Sangeet is one such facet. The comparison between Mamata Banerjee and Buddhadeb, the former Chief Minister, is interesting. Such new ideas are a refreshing change. Both are rooted in culture and take pride in their cultural sensibilities. As Mamata Banerjee's life progresses, so would her activities. So future research would be needed to keep pace with Didi..