Power of nonviolence
Reviewed by Balwinder Kaur
After Gandhi: Brave Torchbearers of Nonviolent Resistance
By Anne Sibley O'Brien and Perry Edmond O'Brien
Hachette India. Pages 198. Rs 350.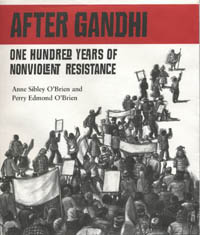 On May 2, 2012, the world watched Aung San Suu Kyi take oath to become a member of Parliament and the Leader of the Opposition. After two decades as a political prisoner, she is finally in a position to actively participate in the governance of her beloved Myanmar. This event, along with many other such victories big and small; have proven that Gandhian values remain supremely relevant and effective even in this day and age. After Gandhi: Brave Torchbearers of Nonviolent Resistance by Anne Sibley O'Brien and Perry Edmond O'Brien chronicles a hundred years of nonviolent resistance after Mahatma Gandhi.
The epicentres of various nonviolent movements are marked on a map of the world and we can trace them across the globe. A cursory glance at the index also reveals the year, the location and the key individuals in a movement. While it is by no means an omnibus, it is a collection of some of the most compelling nonviolent movements of the past century. Along with some of the most prolific uses of nonviolence, there are
lesser-known movements and people as well.
There are the champions of civil rights, those who fought to secure the basic right of every human being to a life of dignity. Martin Luther King Jr. had his methods questioned but he refused to have patience and forced people to take a stand. Then there is "the first lady of civil rights," Rosa Parks, whose act of defiance helped to bring about the end of segregation. In South Africa, both Nelson Mandela and Desmond Tutu fought long and hard against apartheid. Charles Perkins of the "Stolen Generation"fought for the rights of Australian aborigines. They fought injustice and oppression through nonviolent means, displaying exceptional courage in the face of overwhelming odds. They were ready for physical and psychological suffering, persecution and incarceration as a consequence of raising their voice against the denial of basic human rights.
For over a century now, people all over the world have chosen nonviolent resistance as their modus operandi to protest against oppressive dictators, military regimes and draconian laws. Vaclav Havel was a playwright, dissident and politician. He went from being one of "the rebels of the mind" in the Velvet Revolution to the President of Czechoslovakia. Betty Williams and Mairead Corrigan are Northern Irish peace activists and Nobel Peace Prize winners who started the Peace People in reaction to The Troubles; a period of ethno-political conflict regarding the constitutional state of Northern Ireland. The Madres de Plaza de Mayo were the mothers of missing children who silently protested against the military dictatorship in Argentina and the Dirty War during which 30,000 people disappeared. These people demonstrated that nonviolence is not about weakness but about strength. Their belief that there can be no meeting of minds when people use their fists.
Then there are those who have fought for the preservation of the environment and the rights of workers. Wangari Maathai was a Nobel Peace Prize-winning environmentalist and political activist who started the Green Belt Movement that led to one billion trees being planted. Cesar Chavez was a Latino civil rights activist and a part of the American labour movement.
There is also a section dedicated to all the nonviolent movements in India. From the Chipko movement and Narmada Bachao Andolan to Irom Sharmila's 11-year hunger strike and Anna Hazare's protests over the Lokpal Bill.
The layout of the book is unconventional, yet functional. Each account begins with how it all started, what the individual under discussion did, how this played out in the long run and the impact it had. This is followed by a brief synopsis of the previous pages on one page. So a mere at glance at this page provides a good overview for those browsing through. Anne Sibley O'Brien's skill as an artist is evident and her expressive and emotional artwork enhances the reading experience. However, the volume is not without its shortcomings as it is overly simplistic in places and the profiles of certain leaders are lacking.
Inspired by Gandhi, successive generations have used nonviolent resistance to take a political and ethical stand, while respecting and protecting the sanctity of human life. "For more than a century brave people across the world have taken a stand against violence and oppression. Their actions have toppled governments, challenged unjust laws and rebuilt societies. This is the power of nonviolent resistance. This is the legacy of Gandhi."