tete-a-tete
Actor of substance
Nonika Singh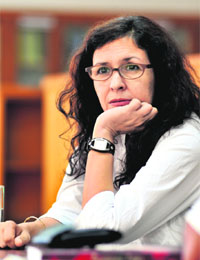 Shernaz Patel has been devoted to English theatre for more than two decades
Don't let her frail looks befool you. Gifted actor Shernaz Patel is every inch a woman of steel. This no-nonsense actor who loves to "provoke people" may be a shy person in real life but on stage she is transformed into an uninhibited being who slips into her parts with no holds barred. Yet, quiz her on some of the unprintable words that she dares to mouth, as demanded by the wide variety of characters that she essays, and she shoots back, "If some of my roles make the audiences squirm… so be it. I offer no apology for that means they are missing the point that the play is making."
Devoted to English theatre for more than two decades, she is not apologetic about doing theatre in the Queen's language either. For over the years, not only has her group Rage, formed along with Rajit Kapur and Rahul Da Cunha, placed English theatre centrestage but also infused it with an Indian sensibility and flavour. The turning point, she insists, was the play Baji Rao. Thereafter, detractors who think English theatre is not quite Indian have been silenced forever.
In the last few years, Rage has been actively organising Writers Bloc Festival. The group has been instrumental in giving birth to young writers who write in original Indian English. The offshoot of the festival also has been the collage of short plays titled One on One that they brought to Chandigarh recently. One of the short plays in the montage, titled The Bureaucrat, has been fleshed into a full-fledged play as well. She smiles, "For us script is the king and much of our work is text driven. Our theatre works for we are telling our stories, the tales of contemporary modern India."
As Rage has produced it first Hindi play Mahua and even included a couple of short ones like Kachre Ki Hifazat in Hindi in One on One, she explains, "We felt that certain scripts like Mahua wouldn't ring true in English." Even otherwise, she rightly asserts, that Indians are bilingual and equally comfortable in both languages. Shernaz too finds her comfort zone in Hindi and English and also in theatre and cinema.
Her role in Guzaarish fetched her the Star Screen Award for the best supporting actress. This actor of acclaimed movies like Black and Rockstar considers her tryst with celluloid fulfilling. However, she abhors the "either- (theatre) or (cinema)" position and retorts, "Both are different mediums. While in theatre, 'an actor's medium' you draw energy from live audience, in cinema where director calls the shots you have to master the art of emoting to the camera." She had made a foray into television when audiences didn't have the option of flitting channels. Nostalgically, she recalls those days when all households were glued to popular television serials like Khaandan, in which she played a key role. Indeed, she says "It was a great feeling."
Shernaz has no patience or time for the kind of inane stuff television is churning out 24 by 7. For cinema, however, she has both the time and the inclination. Soon she will be seen in yet another offbeat movie Love, Wrinkle Free. Directed by Sandeep Mohan, the film (set in Goa) talks about our obsession with the way we look. Movies is not something that Shernaz ever hankered after. However, she admits that thanks to new breed of young directors, actors are getting to play good roles today. The thrill of acting and the real adrenalin rush, she feels, comes from, "being able to live many lives vicariously through performances." It's this power of acting that makes her quip unabashedly, "Being nice would be so horrible." For arts is not about niceties but about disconcerting viewers.
Natural actor
Shernaz Patel has been part of the English theatre movement in India for the past 25 years. Starting with The Diary Of Anne Frank in 1984, she went on to play leading roles in such milestone plays as Letters to My Daughter, Antigone, Six Degrees Of Separation and Love Letters,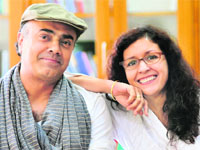 which remains her favourite till date. A Charles Wallace scholar, who holds a Masters degree in acting from the Royal Scottish Academy of Music and Drama, Shernaz is a natural actor. Growing up in an atmosphere where stage was just like home, she absorbed the finer nuances of acting by observing others. Be it her blind act in Molly Sweeny or the widow of Creado Constance, she becomes the part. An established voiceover artist, with over 1,000 commercials and corporate films to her credit, now she feels is the time for paying back to society and would like to work in the area of theatre in education.

Shernaz Patel with Rajit Kapur