short takes
Of poetry and mystery
Reviewed by Randeep Wadehra
Everything begins elsewhere
By Tishani Doshi
Harper Collins -India Today.
Pages 87. Rs. 299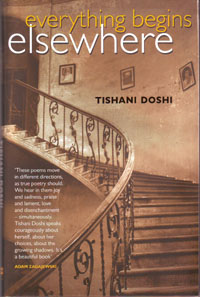 Love, longings and memories can be articulated in a number of ways ranging from crass and clichéd to subtle and sublime. In this anthology, words morph into vivid images that flit across our mindscape and leave behind a stunning effect ever so subtly. The poem, Ode to Drowning, is a beautiful interpretation of a lovelorn's longings. Tishani Doshi builds up the atmospherics by quoting the Tamil devotional poet Nammalvar. Thence begins a picturesque portrayal of the many-hued love wherein "blue-skinned gods/with magical flutes/seduce the virgins to dance" because "there can be no love without music/No rain without peacocks/ perched in branches". The poet continues, "It's that old idea of drowning/in another to find the self". The 'drowning' motif persists in her next poem, Lesson 1: Building a Bridge between the Past and the Future, "'Come through the gates of drowning'/the teacher says/so we cross with lotus rafts/and abandon them at the water's edge/where love's refrain is whispering: The world begins and then it ends. Begins and ends again".
Remarkably, the poet seamlessly exchanges her persona with her mother's and makes time freeze in the poem, Memory of Wales, "I'm eight in this memory, I'm always eight…" even as she gets contemplative, "Everything we love returns to the ground…" and comes up with powerful imagery, "The playground is empty, and my mother, no longer a girl, is walking a ridge of light." Another poem that touches one's very soul is The River of Girls written in "memory of India's missing girls".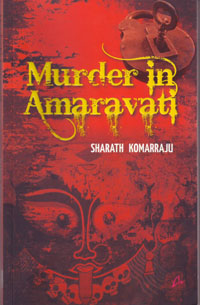 Murder in Amaravati
By Sharath
Komarraju. Amaryllis.
Pages: ix+209. Rs 250
Amaravati is situated on the banks of river Krishna in Andhra Pradesh's idyllic countryside. One morning, Krishna Shastri, the village priest, finds the "hostess" Padmavati's corpse in the Kali temple. Attempts are made to pass it off as suicide but Constable Venkat Reddy suspects foul play, unleashing a chain of events that unmasks many a respectable face. Murder mystery is an underdeveloped genre in Indian writing in English but Komarraju has skilfully handled the interplay of passions and suspicions. He also succeeds in mixing clues with red herrings, thus keeping the reader in suspense regarding the culprit till the end. But, the climax jars although it takes the reader by surprise. The treatment is less than adroit. This may be because the author does not always keep the narrative focused on the chief protagonist's (Reddy) thoughts and actions – there is quite a bit of avoidable digression. The characterisation too leaves one a bit dissatisfied; Reddy is no Hercule Poirot. However, despite this nitpicking, the read is good value for money.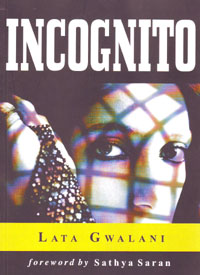 Incognito
By Lata Gwalani
Frog Books. Pages 267. Rs 195
Four women – Shailee, Rachana, Anuradha and Shakti – come from different walks of life but they have certain things in common. All of them are into their thirties, are financially secure, and seemingly emancipated. They like to believe that they are comfortable with their single status, although their respective families are unhappy about this. Interestingly, each one of them falls for the first man who shows slightly more than a passing interest in them – obviously for one-night stands. When they realise this, each one of them decides to murder her beau. Then there is Anjali, who narrates the four women's stories to a doctor as if she had been an eyewitness. The book starts promisingly with Anjali's confession. Then the narrative travels to Europe and different parts of India – with separate chapters devoted specifically to each of the four women, and their endings saved for the denouement.
It's a readable psycho-thriller. But, I wish, the book-end explanations were avoided or kept to the minimum.