Turkish flavour
Get bowled over by Imam bayildi, the sublime vegetarian delicacy from Turkey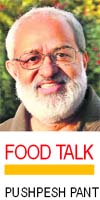 Imam bayildi literally translates as 'fainted Imam' and is a celebrated Turkish starter. Legend has it that an Imam, who was addicted to meat just swooned when he tasted this sublime vegetarian delicacy.
We recently savoured it prepared by Chef Karan at Le Meridienne at the Capital during a Turkish Food Festival and think that maybe the legend is rooted in fact! There were many other goodies on the platter — some very well suited for the approaching summer that may, thanks to climate change, be more scorching than ever before. It will not be long before we share those recipes with you, in the mean time savour and swoon.
Method
Peel off strips of the eggplant skin at 1-inch intervals to make a stripped effect. Cut off the stem portion. Slice each eggplant in half, lengthwise. Make a deep lengthwise slit along the flesh side of the eggplant. Take care not to puncture the skin.
Cut a small part of the skin side of the eggplant to make a flat section so that the eggplant can 'sit' stably in the pan. Sprinkle some salt on the flesh and keep aside, flesh side down, on some paper towels for 30 minutes. Heat olive oil in a pan over high heat. Once it reaches the smoking point, fry the eggplant, flesh side down, until golden brown. Remove from the pan and drain on kitchen towels.
In the pan which was used to cook the eggplant, add the remaining oil and heat over medium-high heat. Put in the onion and garlic and cook until soft and pale golden. Stir continuously to ensure that the garlic doesn't burn. Transfer the onions to a medium-size bowl. Mix well with the tomatoes, coriander, sugar, salt to taste, and a few tablespoons of the cooking oil.
Arrange the halved eggplant in a large frying pan or casserole with the slit side up. Gently open the slit for the stuffing. Season the eggplant with salt, then pack each in a manner that the stuffing fills the cavity and is spread to cover all the flesh. Sprinkle over with lemon juice. Put the remaining sauce or juices, along with the water, into the pan, cover, and cook over low heat until the eggplant is soft adding little water to the frying pan if needed. Allow the eggplants cool and serve at room temperature.
Imam bayildi (Turkey)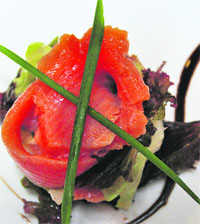 Ingredients
Eggplants (long) four

Onions (medium-sized, sliced fine) two

Tomatoes (medium-sized, diced small) two

Tomatoes (peeled, deseeded and chopped) 200 g

Fresh coriander (chopped) ¼ cup

Garlic cloves (crushed) six

Lemon juice 2 tsp

Olive oil 8-10 tbsp

Sugar 1 tsp

Salt to taste