100 years of plenitude
More than an actor, Zohra Segal is an institution. Rakshanda Jalil pays a tribute to the feisty artiste who lights up the stage and screen and can rightfully declare Abhi toh main jawaan hoon!
Sometime in the year 1361 a Jew from Afghanistan, named Quais, travelled to Medina. There, he converted to Islam and began to call himself Abdul Rasheed Quais. A couple of centuries later, his family settled in the area of Roh in the North-West Frontier Province. Known as Rohilla Pathans, they eventually made Rampur, a princely estate in the United Provinces, their home. Zohra Segal, veteran film and theatre actor and dancer, traces her lineage to Abdul Rasheed Quais; she attributes her kanjoosi (miserliness) to his being a Jew and her stubbornness and courage to the pure Rohilla blood flowing in her veins! Fatty, an affectionate – and astonishingly candid – biography by her daughter, Kiran Segal, brought out by Niyogi Books to coincide with Zohra Apa's 100th birthday tells us all this, and much more.
No soft-focus portrait
Called Fatty, the title is an instant giveaway, as is the cover photograph showing the actor (in the role of Mrs Pong in the film The Primary English Class) poised to deliver a karate chop! Clearly, this will be no hagiographical account, no loving but earnest tribute by a doting daughter, no rose-tinted view of an extraordinary life, no soft-focus portrait of a stage and cinema thespian. Kiran is an especially gifted dancer and a Padma Shri awardee, but she is not a writer. She admits as much early on.
But by virtue of having a ringside view of her mother's life and having chosen to live with her for much of her adult life (in a ménage a quartet along with her daughter and her daughter's daughter, i.e. four generations under one roof), she is also uniquely placed to write about the many ups and downs in her mother's life, her quirks and eccentricities, her struggles and tragedies, her moods, in short all it takes to make her tick.
There is empathy, yes in this telling of a mother's life by a daughter; there is ample love, too; but Fatty makes no attempt at glorification. The portrait that emerges from the daughter's pen is not of Saint Zohra but of Mother Courage meets Ma Baker. But then, surely, you can expect no less of someone who called her father "Dost" and her mother "Fatty".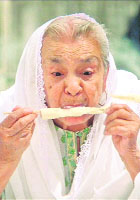 Zohra in Veer-Zara
Anglicised snob
Told in a fairly chronological fashion, the book traverses Zohra Apa's roots in Rampur, her education at Saint Mary's Convent in Lahore, and the fact that her schooling and upbringing were such that she became "nothing but an Anglicised snob; even now she dreams in English!" The years with Uday Shankar's dance Academy in Almora and subsequently with Prithviraj Kapoor's Prithvi Theatre in Bombay are accompanied by rare photographs, making an era come to life. Dressed in stylish sleeveless blouses and exquisite handloom saris, the two sisters, Zohra and Uzra, appear in these pages like two resplendent creatures. Bohemian yet khandani, culturally rooted to India yet global citizens, they travelled the world and lived life according to their terms all through the 1930s and 1940s. Much of Fatty covers similar ground covered by Zohra Apa herself in her autobiography, Close-Up: Memoirs of a Life on Stage and Screen (Women Unlimited, 2010).
Feisty fighter
Taken together, we get a portrait in different stages of its making: of An Artist as a Young Woman; Glory Days of Dance and Travel; Personal Tragedy followed by Long Years of Struggle; and now the Lioness in Winter. The indomitable courage to go on, the impishness of youth after a life spanning a century, the perseverance and long hours of daily practice — all this combines to make Zohra Segal what she is.
For all the fame and accolades that she now enjoys, Zohra Apa is no stranger to tragedy and hard times. First, there was the Partition that split her family, with most of her siblings choosing to go to Pakistan, including her younger sister, Uzra who had travelled the world with her during her days with the Ravi Shankar Academy and later with Prithvi Theatre. The elder sister, Hajra Begum, a member of the Communist Party of India and married to Dr Z.A. Ahmed, stayed back, as did Zohra. But by post-Partition, the glory days of dance and travelling theatre were over. After Zohra Apa's husband, Kameshwar Segal, a talented painter, actor, dancer and set designer committed suicide in 1959, Zohra Apa moved to Delhi to teach dance at the Delhi Natya Academy.
In 1962, she moved to London and took whatever work was available to fend for herself and her two young children. These were years of hard work for little rewards. Zohra Apa recalls these years with not a trace of bitterness; if anything she wears them as a badge of courage and endurance. To sustain herself and her two small children, she took whatever work that came her way in London, including that of a dresser at the Old Vic. With great good cheer, Zohra recalls the time when she accepted her first tip from an actor she was helping dress:
'All the Nawabs of Rampur and Najibabad must have turned in their graves that night! And yet, later, I began to look forward to the extra odd pound per week and even enjoyed the sensation of guilt which this recently acquired vice induced!'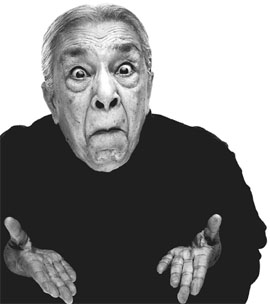 Star power
Stardom eventually came her way and fame nudged her out of the drudgery of backstage work when a string of roles in mainstream English films and television series began to come her way. Her role as Lady Lili Chatterjee in Jewel in the Crown was followed by the hugely popular Tandoori Nights on BBC. Zohra Apa's accounts of her successes is narrated with the same droll humour and directness as the description of her days of struggle.
Having had the opportunity to meet Zohra Apa on several occasions and to invite her for some of the programmes organised by me for Hindustani Awaaz, I have always wondered at her amazing youthfulness and vitality. Kiran's book reveals the secret: A disciplined life with large doses of hard work and good humour, a combination that each one of us would do well to emulate.
On your hundredth birthday, we can only say: "Here's looking at you, Zohra Apa! Salut!"
Extracts from Fatty
On her mother's incorrigible
flirtatiousness, Kiran writes:
'Even now when she is flirting or being naughty with the opposite sex, I cringe; my brother and I really suffer! Had I not been her daughter, I would have also enjoyed her comments, like everyone else. But, being her daughter, I just can't and very often when she is uttering these embarrassing comments to an interviewer, if I am in the same room, I just walk out.'
Lapping up the adulation
'Ammi is just like a child at times. You've got to see her when guests are at home and she has dressed herself in a new outfit…She actually comes down the stairs as though she is making an entry on stage and laps up all the praise when her presence, outfit, and so on are admired with 'oohs' and 'aahs'! Not one for being shy, she can easily talk to anyone if she wants to and also snub anyone if she is not interested – something which I can never do!'
'Ammi has two very bad habits – one is blowing her nose at the dining table and the second one is when she does not let you even sit down and take a breather when you come home. She starts straighaway with whatever has to be done, or any message that has to be given!'