Carrying the weight of success
Weightlifters K Ravi Kumar and N Soniya Chanu will be representing India in Olympics
Gagan K. Teja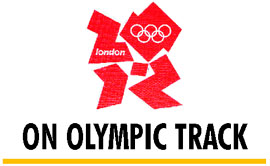 Indian weightlifters are on a new high as they have managed to bag one Olympic spot each in menís and womenís category based on their recent performance in the last Olympic Qualifier. The qualifier, 43rd men and 23rd Women Senior Asian Weightlifting Championship, concluded in South Korea on April 30. It is all the more important for men players as they have got this chance after a gap of 12 years. The men last played in the Sydney Olympics in 2000.
India men went all out during this championship and finally grabbed a spot by securing overall fifth position in the championship. Women were not far behind and stood overall fourth to bag one spot for them.


Though it was a testing time for the selection committee of the Indian Weightlifting Federation (IWF) to finally decide as to which player would be given an opportunity to represent India in Olympics, they have finally zeroed in on the names of weightlifters Katulu Ravi Kumar (69 kg) and Ngangbam Soniya Chanu (48 kg) based on their world ranking.
Secretary-general of the IWF Sahdev Yadav said both the players enjoy the highest world rank in their weight category among their Indian counterparts. While Soniya enjoys 6th rank in the world, Ravi Kumar is currently ranked 10th, he added.
Kumar and Chanu, who are currently undergoing training at NIS, Patiala, under coach DD Sharma and Hansa Sharma, respectively, feel that they have got this opportunity only because of their coaches and fellow players and have to now perform well and live up to their expectations.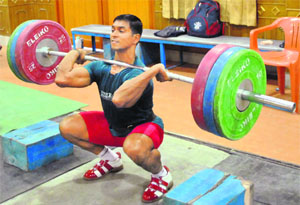 Both N.Soniya Chanu and K.Ravi Kumar enjoy the highest world rank in their weight category in India
Talking about his journey so far, Kumar said that he began weightlifting in 2003 during a two-month summer coaching camp. He soon started enjoying the sport. "I then decided to continue weightlifting but the financial condition of my family was not very good. I had to do part-time jobs in order to continue playing. Thereafter, I joined Sports Authority of India, Dhenkanal in 2005. That was the actual beginning of my career. After that I won numerous medals in various national and international championships, including a gold medal in the 2010 Commonwealth Games held at New Delhi 2010.
I also created five new Commonwealth Games Records," he added.
About Olympics, Ravi says he is aiming to lift 335 kg. "I am not thinking about the medal and just want to focus on my target. Getting a medal is secondary but if I can lift this much weight, I will certainly be in the race of a medal," added the lifter.
Meanwhile, Chanu who is much senior to Kumar in the game, is taking things in her stride. "I am leaving no stone unturned to ensure a medal for India. The training is going really good and if I am able to lift the same weight in Olympics which I am lifting during training, the chances of winning a medal will be high. I am doing my bit and the coaches are exerting more than us to ensure than we can convert this opportunity into a medal. I am just keeping my fingers crossed," she smiled.