Stars within reach
From social networking sites to brand endorsements on TV to dancing at private parties, film stars are no longer inaccessible — a sharp contrast from the past when stars maintained a distance from their fans
Shoma A. Chatterji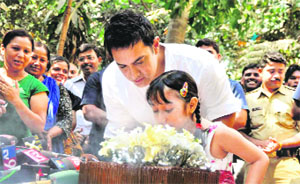 Aamir Khan celebrates his birthday with some of his fans
If you ask a Dilip Kumar fan whether he has seen his idol in flesh and blood, the answer will be "Never." People, who once drooled over Meena Kumari and Raj Kapoor, worshipped the ground they walked on because they could never set eyes on them. These stars kept a distance — geographical, social and emotional from their audience. This 'distancing' was a part of the starry aura, the invisible halo their heads carried. They never answered their fan mail themselves and had hundreds of identical postcard-size photographs to send their fans. That was the beginning and end of the star-audience relationship.
Flash forward to April 12, 2012, in the USA. Shah Rukh Khan entertained a packed hall at Yale University where he was invited to be honoured with the Chubb Fellowship, whatever it means. Khan got Jeffrey Brenzel, Dean of Admissions, Yale University, on stage and taught him a few steps to the tunes of Chammak Chhallo. Brenzel proved to be an ardent student. Students walked up to the stage to shake a leg.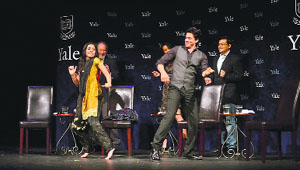 A student at Yale University matches steps with Shah Rukh Khan to the tunes of Chammak Chhallo
Kushali Nag, cinema page editor of T2 of The Telegraph, says, "This is an age of publicity. A star needs to be in the memory of people 24x7. That is why they are seen and heard everywhere. Everyone knows where they celebrated their birthday to what they ate for dinner and how they treat their domestic help. Everybody wants to know little nuggets about their favourite star and that is the advantage of getting closer to their fans. Well, the enigma, the aura the halo that stars had earlier is lost."
Amitabh Bachchan, the biggest star of them all, has been through both phases of keeping a distance and closing distances between himself as a star and his millions of fans. When asked why he agreed to host Kaun Banega Crorepati KBC way back in 2001, he said, "People said that it is going to be the biggest mistake of my life. They said I work in films and I will demean myself by appearing on the small screen. Even my family members said that I should not host the show. But I liked the format and the intention of the show. This is a show through which people could win money as well as knowledge. It helped me meet many people from diverse backgrounds and places. I realised that all are equal and share identical emotions. There were people who fought with their family members to participate in the show. I was amazed to see their confidence while answering or communicating. I truly believe koi insaan chota nahin hota."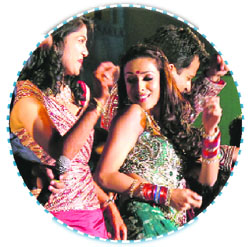 Mallika Sherawat performs at a private party
Neel B. Mitra, executive producer and scriptwriter of Abosheshey which has won a National Award and a Netpac Jury Award, says, "Yesterday, film stars were high up somewhere, out of reach, to be worshipped by commoners, envied and looked up to as unreachable and 'invisible'. Today we brush against them; once in a while, they reach our homes in small boxes gift-wrapped, so we can feel, "well, he is just like me, you or anybody. I see him on street corners standing tall, yet next to me selling the soap that I use, or making me feel that I can be just as beautiful as she is if I bought that brand of toilet soap."
We see God does live next door and he is made of flesh and blood. He is a common man standing with his feet on the ground like I do. God, after all is not such a big deal. He is not a star far away in the sky. At the same time, this 'God' inspires me, assures me that I am just as precious as he is."
Nirmal Dhar, a veteran film journalist, says, "Earlier, stars maintained a distance because they believed it would sustain their 'hero' image. This is partly true and is proved the best with Suchitra Sen, who has consciously removed herself from the media and live presentations for many years. Her fan appeal is still at its peak. The present generation has a different mindset. The 'star' image triggered off by the likes of Salman Khan and Shah Rukh Khan has closed the distance. Taking their cue from these stars, everyone today is more audience-friendly. They party a lot, cut ribbons at openings, interact with fans on social networking sites like Twitter and Facebook, endorse brands, sometimes more than they act in films. Global economy has opened up a world of opportunities, so audience-touch is financially tempting too. I feel that there is nothing wrong in coming out of the make-believe world and mingle with ordinary people. It increases their popularity."