She made coyness popular
No one blushed better than Achala Sachdev, who portrayed the teary-eyed mother to perfection
Devinder Bir Kaur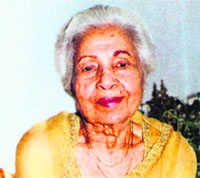 Achala played several roles but was typecast as the suffering mother
Achala Sachdev is best remembered as "zohrajabeen", the beautiful wife of Balraj Sahni in B.R. Chopraís Waqt (1965). He crooned for her the Manna Dey-sung "Ae meri zohrajabeen." And no one blushed better than her.
Waqt was a landmark in Achalaís career. So riveting was her performance in the film that men would often come to her and claim that they had taken their wives to see the film several times, but just couldnít get them to blush as coyly as her.
Achala began her career playing celluloid mother to heroes older than her when she was only in her twenties. After her debut in Fashionable Wife in 1938, she went on to work in more than 200 films. In Kashmir, she played mother to actor Govindaís father Arun Ahuja. In her first scene, she had to fall down the stairs with grief after hearing of her sonís death. She had to weep profusely, which she did without any effort.
Although she played several roles, she was hopelessly typecast as the suffering mother. In Bambai Ka Babu, she played Dev Anandís mother. Blind and ailing, she fails to realise that Dev was an imposter, who had come home in a Kulu village to make amends for killing her son accidentally.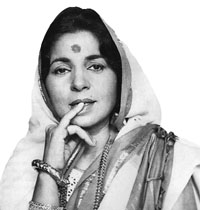 In Mera Naam Joker, Achala played Raj Kapoorís mother, who stitches clothes to pay the school fees of her son, who is studying in an expensive school. She weeps copious tears when she learns that he has decided to join the circus, a profession she detests as she had lost her husband, who had died working there.
However, in Hare Rama, Hare Krishna and Kora Kagaz, Achala plays a different kind of mother. In Hare Rama, Hare Krishna as a high-society woman in London, she has constant fights with husband Kishore Sahu. They finally separate and she returns to India with the daughter (later Zeenat Aman) leaving the son (later Dev Anand) behind with the father.
In Kora Kagaz, Achala as Jaya Bhaduriís neo-rich mother is instrumental in being the cause of the daughterís separation from the latterís middle-class husband Vijay Anand.
In Julie, too, Achala was quite unlike the usual role she used to perform. She plays hero Vikramís very ritualistic mother who does not approve of non-vegetarian food-eating Julie (Laxmi) coming to their home. She tries to purify the place by sprinkling Ganga jal. She even gets to sing the bhajan "Sacha naam teraÖ" with daughter Reeta Bhaduri. However, always a favourite of the Chopras, Achala featured in many of their films like Waqt, Hamraaz, Aadmi aur Insaan, Daag, Chandni and Dilwale Dulhaniya Le Jayenge(DDLJ). In DDLJ, she plays Kajolís grandmother, who is perceptive enough to realise that the bride is not happy with her fatherís choice of the boisterous, rural rich spoilt-brat fiancť for her.
Yash Chopra always considered Achala his lucky artiste. And when DDLJ (1995) broke all records (it is still showing at a theatre in Mumbai), he paid her an amount that left her flabbergasted and she thought they had put a few extra zeroes in the cheque by mistake! But he graciously said they also respected her seniority.
Thus Achala gave a new dimension to tragic roles and met with a fair amount of success. During her twilight years, she settled down in Pune and was involved in charity work. Her son Jyotin from her first marriage lives in the US. Achala died after ailing for the past seven months. She was 92.