M A I N N E W S
3 held for selling PMET paper; turns out to be fake
Two parents held for buying paper y Exam held as per schedule
Shivani Bhakoo &
Anirudh Gupta/TNS
Ludhiana/Ferozepur, May 20
Hours before today's Punjab Medical Entrance Test (PMET), the state police busted a gang selling its question paper, which later turned out to be a 2009 CBSE PMET paper. The exam was conducted as per schedule.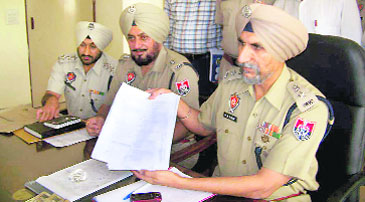 SSP Ferozepur Hardial Singh Mann shows the fake PMET paper.
The police swung into action after some parents in Ludhiana complained that one Dr Anil Gupta, a Gurgaon-based doctor, was selling the PMET paper. Dilshad Hussain, Rinku Sidhu and Dhiraj Bagra were arrested from Ferozepur in the early hours of today, Ferozepur SSP Hardial Singh Mann said.
They had taken Rs 2 lakh each from two parents from Guruharsahai and Ferozepur districts whose wards had to take the PMET, he said. "The trio was to take Rs 4 lakh more from the two parents in the wee hours today, but we nabbed them," said the SSP. The parents -- Dr Rajpal Bhullar and Malraj -- have also been arrested.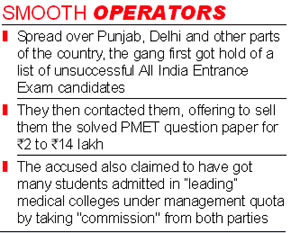 "The trio maintained a dairy that had details of parents interested in buying question papers. In fact, the paper they had given to the parents was of CBSE PMET 2009. They had got it photocopied after removing the title sheet," said the SSP, adding that they were not well-educated.

Spread over Punjab, Delhi and other parts of the country, the gang first procured a list of candidates who did not score well in the All India Entrance Exam. They then contacted them, offering to sell them the solved PMET question paper for Rs 12 to Rs 14 lakh.

The accused, who admitted to being in the "profession" for several years, told the

police that one Aditya Misra from Bareilley provided them the data bank of aspiring medical students. They had a list of about 600 students who had appeared in the CBSE Pre-Medical Entrance Test, but could not clear it.

The gang would offer these students "admission guidance". In the process, they would bait the parents, offering admission in any medical college of the country for a few lakhs.

The Ferozepur SSP said the arrested accused admitted to links with "leading" medical and dental colleges in the country, where they had got many students admitted under the management quota by taking "commission" both from the management and students.

The accused contacted their "targets" through various phone numbers. They had created a fake ID, which was similar to the ID of one professor of botany in Hamirpur district. The police have also seized a list of medical colleges that "encouraged" the accused to bring more students to their colleges by providing commission.

Ludhiana Police Commissioner Ishwar Singh said that the police had records of calls made to the parents by the accused and was on an alert to nab any more culprits connected to the gang.

A case under Sections 420-120-B IPC, 66D-IT Act has been registered against the three accused.