M A I N N E W S
islamabad in sharp focus as nato summit ends
Special to The Tribune

Fleeting Obama-Zardari meet puts spotlight on frosty ties
Ashish Kumar Sen in Washington DC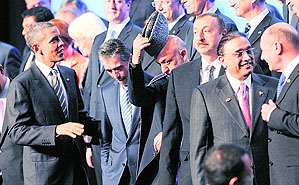 (L-R) US President Barack Obama, NATO Secretary-General Anders Fogh Rasmussen, Afghan President Hamid Karzai, Azerbaijan President Ilham Aliyev and Pakistan President Asif Ali Zardari at the NATO summit in Chicago. — AFP

The fleeting interaction between US President Barack Obama and his Pakistani counterpart Asif Ali Zardari at the NATO Summit in Chicago on Monday served to underscore the frosty relationship between the two countries.
Last week, NATO sent a belated invitation to Zardari to attend the summit at which the future of Afghanistan was a key part of the agenda. NATO did not extend the invitation earlier because of Pakistan's refusal to reopen ground routes used to supply coalition forces fighting in Afghanistan.
Obama had reportedly refused to hold a bilateral meeting with Zardari until Pakistan agreed to reopen the routes. But while the US and Pakistani officials said there has been progress in negotiations, little has changed on the ground.
"We didn't anticipate that the supply line issue was going to be resolved by this Summit," Obama said at a press conference in Chicago on Monday. "We knew that before we arrived in Chicago. But we're actually making diligent progress on it."


Sticking point

The main sticking point in talks has been the fee Pakistan is demanding from the US for use of the supply routes to Afghanistan it shut in November to protest a NATO attack that killed 24 Pakistani soldiers at two border posts

Pakistan has asked for $5,000 a truck, up from the $250 per truck it originally received; US officials balk at paying that amount

The Pakistani routes are the most convenient and cost-effective way to supply coalition forces in Afghanistan
Obama acknowledged tensions in the US-Pakistan relationship. "I don't want to paper over real challenges there," he said. "There is no doubt that there have been tensions between (the International Security Assistance Force in Afghanistan) and Pakistan, the United States and Pakistan over the last several months. I think they are being worked through both military and diplomatic channels."
Obama and Zardari spoke briefly as they were walking into the NATO Summit. "I emphasised to him what we have emphasised publicly as well as privately," Obama said.
"We think that Pakistan has to be part of the solution in Afghanistan, that it is in our national interest to see a Pakistan that is democratic, that is prosperous and that is stable, that we share a common enemy in the extremists that are found not only in Afghanistan, but also within Pakistan and that we need to work through some of the tensions that have inevitably arisen after 10 years of our military presence in that region," he added.
Zardari told Obama he believed that these issues could be resolved. Access to supply routes will be key as the US begins to drawdown its troops from Afghanistan.
"I think ultimately everybody in the alliance, all of ISAF, and most importantly the people of Afghanistan and Pakistan understand that neither country is going to have the kind of security, stability, and prosperity that it needs unless they can resolve some of these outstanding issues and join in common purpose with the international community in making sure that these regions are not harboring extremists," Obama said.
"But ultimately, it is in our interest to see a successful, stable Pakistan and it is in Pakistan's interest to work with us and the world community to ensure that they themselves are not consumed by extremism that is in their midst. And so we're going to keep on going at this. And I think every NATO member, every ISAF member is committed to that," he added.
Pakistan shut supply lines in November to protest a NATO attack that killed 24 Pakistani soldiers at two border posts. A Pakistani parliamentary committee has demanded an apology for the NATO attack. The Obama administration expressed its regret for the incident, but stopped short of issuing an apology.
The Pakistani routes are the most convenient and cost-effective way to supply coalition forces in Afghanistan. However, access has been unreliable. Pakistan has shut these routes in the past to protest US operations.

Show some courage, apologise: Bilawal to US Prez
Afzal Khan in Islamabad
US President Barack Obama should "show some courage" and apologise to Pakistan for a cross-border air strike by North Atlantic Treaty Organisation forces in Afghanistan that killed 24 Pakistani soldiers last year, ruling Pakistan People's Party chairman Bilawal Bhutto Zardari has said.
"I urge President Obama to show some courage. I understand he is running for re-election, but if he is the same man who inspired the world with his message of hope and change, the future of the North Atlantic Treaty Organisation mission in Afghanistan should be more important than poll numbers. Pakistan deserves an apology," Bilawal said on Tuesday while speaking at a gathering on arrival in New York.
He said he was visiting the US to normalise the ties between the two countries. He added that US President Barack Obama should apologise to Pakistan for the attack on the Salala check post, Dawn News reported.
Bilawal said drone attacks were a violation of Pakistan's sovereignty.
The US has still not apologised to the government and citizens of Pakistan over the Salala attack, he said.

Karzai seeks Pakistan's constructive cooperation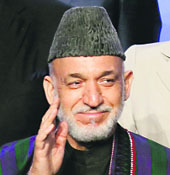 Afghan President Karzai at the summit. — AFP
Washington, May 22
With NATO nations firming up their exit path from Afghanistan, President of the war-torn country Hamid Karzai sought "constructive cooperation" from Pakistan for holding talks with the Taliban and to deny safe havens to militants on the border.
Karzai disclosed he has invited Pakistan PM Yousuf Raza Gilani to visit Kabul in about a week's time for what he called a dialogue, in a more open and friendlier manner than ever before. Standing firm on his charges that terrorist safe havens continue to exit across the border, Karzai said the range of issues could be discussed in his talks with Gilani.
"There is no doubt that the Haqqani network is in Miramshah. The Pakistani government would not deny that there are other sanctuaries as well across the border. But the difference today is we are talking about these issues more openly and in a friendlier environment than ever before," Karzai told CNN in an interview.
He said in keeping with this new environment, he hoped to find solutions.
"Pakistan is a neighbour of ours and we have begun a dialogue with them. And the dialogue is quite ahead now in seeking solutions to the problems that we have.
"It is keeping with this dialogue that we are moving forward, and we hope that the end result of all this activity, of all this effort, the endeavour on the part of both of us, and the US, will be the removal of the terrorists from the region," Karzai said.
The comments from the Afghanistan President came as a crucial NATO Summit closed in Chicago where world leaders firmed up an exit path from the war in Afghanistan.
US President Barack Obama summed up the mood of the NATO nations by saying that foreign forces would leave Afghanistan by 2014 but hope to leave behind a stable nation.
Karzai said in his address to the gathering of NATO and international partners, including his Pakistani counterpart, Asif Ali Zardari, that he was hopeful or "more tangible" assistance from Islamabad in the direction of bringing the Taliban to the negotiating table.
He also expressed concern over the rise of radicalism, and cautioned that it could have "dire consequences" for the stability of Afghanistan and Pakistan. — PTI