Footnote on Saifeena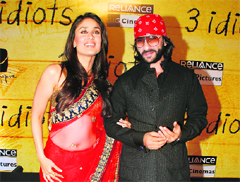 Shoe fetish

: Kareena Kapoor and Saif Ali Khan
Kareena Kapoor and Saif Ali Khan are among the most adored and stylish couples in the country. Saif's known for his sophisticated, princely style while Kareena is very feminine and classic in her approach to style. They both are obsessed with shoes and looking good from head-to-toe is a priority for both of them. The gorgeous couple is a brand ambassador for Metro shoes. They talk about their association with the brand, their love for shoes, and more.
What are your favourite colours for shoes? How many pairs of shoes do you have?
Kareena: I love red and gold colours in shoes. I have about 100 pairs and I do not even know that some of them belong to me. Shoes are the most important accessory for a girl.
Saif: I love black and brown shoes. I love everything to be organised so I have 2-3 cupboards of shoes.
How much money do you spend on shoes? What is the maximum amount till now that you have spent on them?
Kareena: When it comes to shoes, money is no issue because the fit and colour are more important. I do not remember how much money I have spent on shoes. It just has to look good and feel comfortable.
Saif: The maximum amount of money to spend on shoes would be quite a lot and it is not a good idea to say it in public. I can say that it is more than my monthly phone bill on international calls.
What is the first thing that comes to your mind when you think of Metro shoes?
Kareena: Signing Metro shoes works for us because they are cool and fashionable shoes. People associate me with fashion. Metro completely represents that. The brand is fashionable and caters to everybody and they have a huge selection of night wear, party wear, day wear, club wear, and other shoes under one roof. That is the way I like to shop. I need to represent the brand that I endorse
Saif: For some reason, movies pop into my head. Metro is named after Metro Cinema. Metro makes me think of style, elegance, and leather. It is good quality footwear with grace and style.
Kareena loves shoes. But what do you think of shoes? How important are they to you?
Saif: I was told that you can tell a lot about the person from the kind of shoes they wear. I think a doctor told me that the bed you sleep in, the chair you sit on, and the shoes you wear are very important because this is where and this is how you spend most of your life. Shoes have to be of good quality. It is important for me that the woman in my life wears great shoes. Perhaps, sometimes she could wear nothing else but shoes!
You both are very stylish. Do you advice each other or argue over clothes and shoes?
Kareena: Saif prefers wearing Indian formals. I prefer him in Western formals and Western shoes. So we argue over that sometimes.
Saif: Kareena asks for my opinion but does not listen to me. Would you believe me if I told you that I take longer than her to get ready? — HRM
Preity takes on media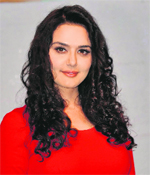 Blunt talk: Preity Zinta
While Kangana Ranaut is allegedly hunting for an apartment in LA, Mallika Sherawat has already settled there. But Preity Zinta has no such plans. She denied reports of her buying any house in US.
"I'd like to clarify I've not bought any house in the US as stated in the media! My younger bro lives there for the past 15 years (sic)," she said.
The actress also criticised Indian media for not reporting facts. "Don't know what to believe when I see news in India. Lot of misreporting and inaccuracies. I can say that because I've been in the middle of it sometimes. From what actually happens to what gets reported is a joke. Everything gets dramatised and given a filmy touch. No maturity and accountability? Why? Not making this comment because someone upset me. I was making a general observation and feeling bad as to how sometimes press reports inaccurate news," she added.
Same place, different ways
Shah Rukh Khan has been the king of controversy this week. Both Salman and SRK reside in the same area of Bandra, suburban Mumbai. Mehboob Studios is nearby for both of them. So, SRK was shooting for a commercial there and we heard that Salman Khan hung around the area till the former finished and then he made his entry.
Shah Rukh in; Salman out of Madame Tussauds world tour!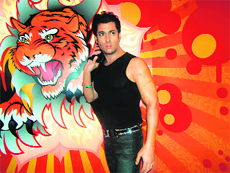 Better luck next time: Salman Khan
In a surprising development, megastar Salman Khan and Madhuri Dixit's wax statues will not be appearing at the world tour of Madame Tussauds Bollywood superstar collection.
However, statues of four other superstars namely Shah Rukh Khan, Aishwarya Rai-Bachchan, Hrithik Roshan and Kareena Kapoor will be travelling to Hong Kong and Bangkok among other world cities to be announced shortly, as part of the museum's plan to tap the Bollywood fan base at these places.
At Hong Kong, the statues will be showcased in the museum's World Premiere Zone alongside the wax figure of Amitabh Bachchan. Since Big B already has a wax statue in Hong Kong, his statue at London won't be travelling to the Asian city.
"It's just been a little over four years, when Salman's wax statue was inaugurated with much fanfare at Madame Tussauds. Moreover, it's been a favourite among fans and also known to be one of the most photographed there, at par with the ones of Shah Rukh, Hrithik and Amitabh Bachchan. Strange, that it'll be missing the world tour," remarked a Bollywood insider.
"This will be a big disappointment for Salman's fans across nations," he added. It sure would be, considering Salman has now emerged the biggest of the three reigning Khans at the box-office, with huge hits like Wanted, Dabangg, Ready and Bodyguard under his belt, while his contemporary Shah Rukh has given flops like Ra.One.
Wonder why Shah Rukh has received preferred treatment over Salman by Madame Tussauds inspite of being tainted by controversies off late. First, was the brawl with Farah Khan's husband Shirish Kunder. And now, we have the controversy about his tussle with security at the Wankhede Stadium in Mumbai during the IPL cricket matches, allegedly invoking a five year ban on SRK by the Mumbai Cricket Association (MCA).
Leone gets steamy
Jism 2 is being shot currently in Sri Lanka and Sunny Leone gets steamy with Randeep Hooda. For a change, the adult-film star is keeping her clothes on and Randeep and Sunny took an entire day to get their scene right.
Back on track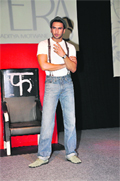 All set: Ranveer Singh



Ranveer Singh has recuperated from his back injury and is back on his feet. The snow set for Lootera is being recreated so the film will roll again soon. It is releasing in March and is a period romance with Sonakshi and Ranveer.
Dolly Bindra targets Veena Malik
The terror lady of Bigg Boss, Dolly Bindra, has targeted Pakistani nautanki Veena Malik, who has been on Indian shores filming two to three low-budget movies in Bollywood. On her recent tip to Veena's homeland Pakistan, Dolly not only raised her voice in her trademark style, but also her shoe, gesturing that she is ready to throw one at the Pakistani starlet Veena when she comes face-to-face with her again! o
Racing with fun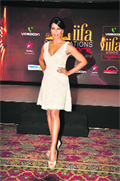 Chilled out: Bipasha Basu




Bipasha Basu is having a great time in Cyprus. She swims for two hours every day, soaks up the sun, goes shopping, and gorges on seafood. She is there to shoot her role in Race 2. She loves it that people don't recognise her!
Less for more!
Anushka Sharma has clinched a deal for a two-wheeler brand. Katrina Kaif was being considered but rumour has it that Anushka cut her endorsement fee to seal the deal. She is also giving a couple of extra days for shooting. Smart girl!
Mumbai times
Shruti Hassan has bought an apartment to reside in Mumbai in the suburb of Bandra. It is a sprawling 2 BHK. She is familiar with Bandra and her mom and sister live close by. Moreover, she is getting many film offers so it makes sense to make Mumbai her base.