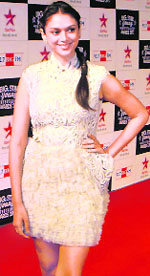 Dressing up divas
Rajit Kumra, Bollywood's famous fashion stylist who has worked with the likes of Sushmita Sen, defines his job as a mediator between fashion designers and celebrities
Vanity suddenly has gained life-threatening proportions — an actor can do without the basic acting skills, but the lack of basic dressing sense won't make an actor a star! No wonder Vidya Balan's 'horribly gone wrong' red carpet appearances have been talked about more than her acting exploits. No wonder Sonam Kapoor is a hit without delivering a single hit film! "Styling has become important and stylists indispensable," says Rajit Kumra, famous Bollywood stylist. His client list comprises names such as that of Sushmita Sen to begin with; Aditi Rao Hydari, Chitrangada Singh, Shraddha Kapoor and more.

Aditi Rao Hydari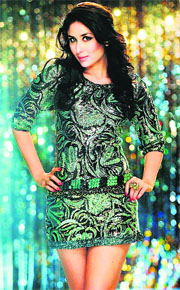 If looks could kill!
She is actress who experiments with her look and style more than you can think of, probably on an everyday basis. This could be the reason why director Madhur Bhandarkar thought of casting her in different styles in the upcoming movie Heroine. Kareena Kapoor looks sexy and ultra-cool in her new campaign. A check shirt on top of a white gunjee, flowing curly hair and straight denims, Kareena does set the style for the summer. She quickly gets on to her new advertisement for Limca, the tagline Pyaas Badhao to which she thoroughly relates to. "I closely relate with the new Pyaas Badhao campaign since I feel it reflects my life's philosophy, As a career-driven person, I have always had the desire to do something more, something challenging, something that no one would ever expect me to do," she continues without pausing.
cool quotient: Kareena Kapoor
Collector's delight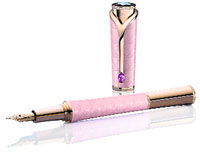 Montblanc, now stepping as a diversified luxury brand, brings forth its Grace Kelly collection
The luxury segment in India is growing with each passing day. Upping the benchmark, Montblanc, now stepping as a diversified luxury brand, brings forth its Grace Kelly collection. Karl Handke, president of the Western Hemisphere, Montblanc, on his recent visit to India, shares his ideology of the latest collection with us.
Exchange programme
While British sensation Katrina Kaif continues to rule Bollywood, it was just the other week that we heard of the half-German-half-Indian International supermodel Evelyn Sharma entering Bollywood with three films already under her belt.

The rhythm divine...
Award-winning singer Shilpa Rao has many hit songs to her credit such as Khuda Jaane, I Feel Good, and many others. She talks about singing wonderfully. Tip 1: You must practice sincerely. This way you know the range, strength and weaknesses of your voice.

Being Vocal: Shilpa Rao

Handling success
"Success should not go to your head and failure to your heart" says Randeep Hooda, who has got  a tremendous  response for  his performance in movies like Sahib Biwi Aur Gangster, Once Upon A Time In Mumbai and now of course, Jannat 2. 

Up swing: Randeep Hooda
Blame it on the boyfriend!
Singer Kelly Clarkson, who is known for break-up songs, says she is so happy in her relationship that she is unable to write tough songs. The 30-year-old has been dating talent manager Brandon Blackstock since last year, reported a magazine.
Jam packed...
Anurag Kashyap's Gangs of Wasseypur is certainly making the right noises at the 65th Cannes Film Festival where the world premiere of the film received a full house. Crowd lined up the streets to lend their support for Bollywood film, being screened at Director's Fortnight section, an independently-curated, non-competitive event that runs concurrently with the festival.
Why RGV won't work with Sanjay Dutt again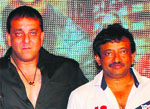 It has been a while since director Ram Gopal Varma and actor Sanjay Dutt were reported of having creative differences over some scene in Department.  Now that the film has flunked at the box-office, the difference of opinions has led to quite a rift between the two.

Logger heads: Sanjay Dutt and Ram Gopal Varma
Single-minded focus works

To grow up listening to discussions on history at dinner table sure tends to rub off and mould a child towards raising his or her own benchmark. A pass-out from Carmel Convent School, Surbhi Malik, 25-year-old, a post-graduate in economics from the London School of Economics has secured the 51st rank in the IAS exams and is all set to walk the extra mile and do something for her country.
In town
Flair enough
Do we need to ask what brings fashion designer, Amit Kashyap to Chandigarh over and over again? "It's business. There are ample buyers here. Also the NRI market can be tapped from here," Amit still answers the question.
Skirting around
Add shorts and skirts to your wardrobe to up your style quotient this summer
If you thought shorts were only beach wear, think again! They have smoothly entered the category of daily wear and so far are the hottest casual wear, but raising the bar this season, we also have the sheer skirts and layered maxi skirts. "Sheer skirts are working their way up," says Geet Sethi, training consultant head from Espirit.
stress buster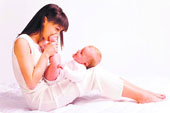 Mum's the world
Children bring joy, love and countless other gifts in our lives, and there is no deeper bond than that of a mother and child. However, the joy of motherhood also brings along with them an additional load of stress. A high percentage of women are stressed in the following area
coming soon
Stage craft
Adakar Manch in collaboration with NZCC presents its annual theatre festival Adakarian 2012. The festival will stage five acclaimed plays by the Manch. All the plays have been written and directed by Sahib Singh.
A treat fit for a nawab
The Awadhi food festival brings the culinary delights of Gulam Rasool to Chandigarh
If you follow this chef's recipe, any food made with love will never be tasteless. Irked by the lack of hard work put in cooking today, Chef Gulam Rasool, misses the time when one took time and care to make authentic Awadhi food.
Actor's delight
Known for playing negative roles in films like Department, Gulal, Rakht Charitra, Abhimanyu Singh is opposite to what he portrays on screen. He hasn't been much on the small screen of late but will return to TV with his serial Upanishad Ganga, produced by Chinmaya Mission and directed by Dr Chandraprakash Dwivedi, currently on air on DD. Abhimanyu talks about his ventures.
chatter box
All drama, no action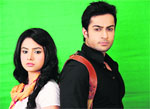 In the upcoming episodes of Star Plus' Sajda, Mahendra Pratap takes Aaliya to the graveyard and shows her the grave of his dead wife, Julia. He says that he loved her very much and she is not there with her anymore now. Later he enters Julia's room and thanks her for sending Mehreen in her life.
enstranged love: A still from Sajda
The year ahead
If your birthday is May 24...
Bad decisions of the past will lead to frustration and mental turmoil. You may be stranded and unable to decide what to do next seek help from others. Losses are likely if you invest without seeking advice. Friends will be supportive but minor problems due to difference of opinion with your spouse may spoil peace at home. Personal relationships are sensitive and vulnerable.
Astro Turf
ARIES: Go steady. Do not try to hurry jobs that require meticulous handling. Arguments may arise with your partner. Consult experts when cash questions come up. Your mood is likely to turn to romance and fantasy. Tarot message: Use your instinct to get into the top circle of power. Lucky colour: Red. Magic number: 64

Bold and beautiful...
Deepika Padukone is becoming more and more confident as an actress with each passing day. She looks hot in a bikini in Cocktail. Her character Veronica is free- spirited, and very bindaas and roams around without pants in the house! The promo is out and the movie seems fun!

Standing out: Deepika Padukone
By chance
Yaami Gautam played the Bengali female lead in Vicky Donor. She is actually a Punjabi and from Chandigarh and people find that hard to believe. She is loving the praise she has received for the movie. She is a private person so it surprises her that she has become an actor.
The guest list
Karan Johar turns 40 on May 25. The celebration is grand and has been planned for months. Priyanka Chopra and Ram Gopal Verma are not invited to his party. The cast of Student of The Year will put up a special performance to launch the film which releases in July-August.
Birthday boy: Karan Johar
Comfort zone
Saif Ali Khan has wooed us and wowed us in romantic comedies such as Hum Tum, Love Aaj Kal, Kal Ho Naa Ho, and Salaam Namaste. That is his element. He went wrong with Agent Vinod but has found his groove again with Cocktail. It is a romantic comedy about three friends and directed by Homi Adajania. We are glad Saif is back!

Films and philosophy
Anushka Sharma does not take failure or success seriously. She just enjoys her work in the present. Her favourite co-star is Shah Rukh Khan because she thinks he is a great teacher and very young at heart! She is currently shooting Vishal Bhardwaj's movie.

Take it easy: Anushka Sharma
Double bubble
Bol Bachchan stars Ajay Devgn, Prachi Desai, Asin and Abhishek Bachchan. His fans will love that but people who do not like Abhishek Bachchan will suffer twice over! Luckily, senior Bachchan has also done a cameo and song in Rohit Shetty's movie.