M A I N N E W S
mumbai attacks

Key 26/11 accused yet to face courts in Pakistan, says India
Afzal Khan in Islamabad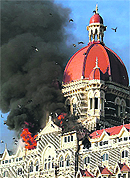 Pakistan and India began their first round of two-day interior secretaries-level talks that focused mainly on liberalising visa regime and anti-terrorism cooperation.
Pakistanís Interior Secretary, Khwaja Siddique Akbar, and his Indian counterpart, Home Secretary RK Singh, led their respective delegations.
The Indian side expressed its dissatisfaction with Pakistanís investigations into the Mumbai attacks.
Singh said Hafiz Saeed had masterminded this attack and the Indian side has provided more evidence of his involvement. He said the judicial proceedings going on in Pakistan pertaining to the Mumbai attack were very slow.
The Indian interior secretary further said that a number of suspects were never arrested. He added that both the countries should play their roles in ensuring peace in the region.
Khawaja Siddique Akbar said the talks were held in a cordial atmosphere and made progress on liberalising visa regime to promote people-to-people contacts.
Both sides were discussing a draft protocol originally prepared by New Delhi and fine-tuned after shuffling to-and-fro. It proposes reducing the present two-month period for issuing visas to one month, allowing group tourism, extended visits to three instead of two cities and allowing multi-entry business visas for a one-year period to businessmen accredited by their recognised organisations. Senior citizens would also be given preferential treatment.
The two secretaries are expected to ink the pact by the conclusion of the talks tomorrow, official sources said.
However, some reports in the Pakistani media claimed that the visa agreement is unlikely to be signed as the Pakistani Cabinet had not approved it at its last meeting yesterday.
Reports said Interior Minister Rehman Malik had not brought the agreement before the Cabinet for approval.
The Indian side has suggested imposing restriction of minimum monthly earning of Rs 20,000 for applicants with educational qualification, a senior Pakistani official told this correspondent. Pakistan has not approved such restrictions.
On the second day of negotiations on Friday, a joint statement will be issued.
(With inputs from PTI)