A dollar-driven spaceflight
Successful blast-off of the Falcon 9 rocket marks the beginning of a new era for NASA
David Usborne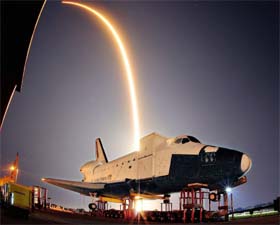 The Falcon 9 streaks over a model of Nasa's Space Shuttle at the Kennedy Space Center
THE era of privately-funded space travel was born this week with the launch from Cape Canaveral of a rocket developed by the Space X corporation, complete with an unmanned capsule. Destination: the orbiting International Space Station.
The successful blast-off of the Falcon 9 rocket marks the beginning of a new era for the National Aeronautics and Space Administration (NASA), which retired its own fleet of space shuttles last year and has been counting on private companies to fill the breach with vehicles capable of taking goods and eventually humans into low orbit.
Still considered a test flight, the capsule on the Falcon, named Dragon, bears 1,000 lbs of cargo for delivery to the space station. If all goes to plan, it will manoeuvre to within a mile of the station today before moving alongside on Friday, when astronauts on board will attempt to tether it with a robotic arm.
Hitching a ride also were the ashes of more than 300 people, including those of actor James Doohan who played the role of chief engineer "Scotty" in the original Star Trek television series. Rather than been "beamed up" all the way to the space station, his and all the other human ashes were consigned to a weightless oblivion with the jettisoning of the launch rocket.
"Falcon flew perfectly!!" SpaceX's billionaire founder, Elon Musk, also a co-founder of PayPal, said via Twitter minutes after the lift-off. "Dragon in orbit... Feels like a giant weight just came off my back." A first attempt last week was abandoned one second before lift-off after a faulty valve was detected. Musk later told reporters: "I feel very lucky... For us it's like winning the Super Bowl".
Also applauding was NASA itself, which for now relies on the Russian Soyuz vehicles to ferry astronauts to and from the space station. "The significance of this day cannot be overstated," said Nasa administrator Charles Bolden. "It's a great day for America. It's actually a great day for the world because there are people who thought that we had gone away, and today says, 'No, we're not going away at all.'"
That NASA must now turn to private firms has not been welcomed by every one, with critics decrying the loss of America's own shuttle capacity as a national scandal and questioning the safety of capsules developed by profit-seeking corporations. Those dismayed by the retirement of the shuttle fleet have included the former astronaut John Glenn who has called it a "drastic error".
NASA contributed $381m to the development of the Dragon programme, while Musk has supported it with a part of his PayPal fortune. The company is said to have spent a $1bn altogether. However, if this week's test run is successful, the company can expected to be contracted by NASA to start a cycle of 12 delivery missions over the next several years for which it will receive $1.6bn.
"It demonstrates what we said was the future of American space exploration and it's actually using private industry to provide for access to low-Earth orbit while NASA goes off and does what Nasa does best, and that's exploring," said Bolden. — The Independent