Pop jewellery
Enjoy accessories that don't cost the earth and can light up any outfit with their sheer variety, range of colours and materials
Surekha Kadapa-Bose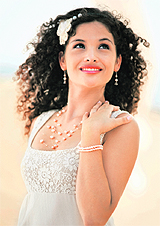 As a collegian way back in the 1980s, especially growing up in a conservative South Indian Brahmin family, one always wished one could do away with the omnipresent gold chain with a simple pendant, earrings and bangles. One wore the set with bell bottoms — kurti, salwar kameez, ghagara choli, and also with a saree.

If it was a special occasion, then the chain reaching below the chest was replaced by a neck-hugging equally traditional gold necklace with jhumkas.

Cursingly boring but then there was no choice. The only alternate was glass bangles. Even these had to be interspersed with gold bangles. And every girl was attired in the same style. It was monotonous. Thankfully, the end of the 20th century and early 21st century brought in a huge change in the jewellery style.

Today one can wear personalised jewellery, and if one is creative enough, one can make an accessory with whatever material is available — flowers, shells, beads, feathers, silken thread, coloured stones, leather pieces, fabric, clay pieces, paintings — just about anything and everything under the sky can be used to suit the mood of the day and the occasion without any one frowning with disapproval. There is no need to use precious metal to string these items. One can string them in nylon wires, silken thread, wool, jute thread, copper or steel wire or anything else that is handy at home.

As Jacqueline Kapur, managing director of Ayesha Accessories from Puducherry says, "Jewellery should be something that expresses one's personal feelings of that moment. It can be a petite neckpiece with may be just a little heart on it and it could also be a big pendant in bright neon colours. I don't think this is age-bound as personal expression isn't linked to any particular age group. Ayesha (my partner), my mom and me love to experiment with our accessories."

Accessory in the present-day world is a fun, imaginative item — a pop accessory. It needn't be serious at all. Even if it is made of rich elements, it still can be fun but at the same time graceful to suit the event.

"There is absolutely no occasion on which accessories cannot be worn. We make sure we a have a range of products that can be perfect for all occasions, whether it's the wedding season, Diwali, New Year's or just a party mood. Also the range is very accessible — from Rs 200 a piece to Rs10,000," maintain Mumbai-based Sohel and Sonali Lalvani, director and designer of ToniQ accessories.

That is the advantage of these fun or smart pieces of jewellery. From high school children to collegians to office-goers to socialites, all can afford these pieces. And many of these items at any given time can be detached, rearranged and made into a new creation. A beautiful pendant if worn twined under a scarf, can give a young and hep look where as if it is worn as a centre-piece with pearl, coral or some other semi-precious or gemstones, it can double up as formal wear.

Manisha Mehta, business head, Bracialeto, a range of international jewellery with products of charms and Murano glass beads, says, "We give our customers the freedom to chose any beads from more than 1500 differently designed Murano beads we have in our collection. We also have around 250 varieties of charms — shoe, chappals, cross, horse heads etc. If they want to, then they can select a piece of only beads or they can intersperse it with charms. We string them in sterling silver wire with a patent locking system.  And believe it or not, the age group range of customers who love to buy such fun pieces is from 20 to 45 years."

The trend is to offer youthful lifestyle accessories that offer affordable fashion options. More than the material used, emphasis is on the design and the price. Also change and newness is the mantra of these accessories. So every week there is something new in the market.

Designers and makers of this pop jewellery try their best to keep up with the international trends. As today's youth wants to follow global trends, so do the manufacturers of this jewellery. As Kapur says, "We try to keep up with the international trends but the problem is that trends change very fast in these items of funky jewellery. The latest trend is the use of feathers of every hue. We try to design for Indian girls with an international look. A lot of people design with recycling in mind and I personally own a necklace from South Africa which is made out of old rubber chappals!"

Several international brands too, like FCUK, Lanvin, Chan Luu, Yves Saint Laurent, Erickson Beamon and several jewellery designers and brands are designing fun or fashion jewellery for women young at heart who want to make a statement while retaining their femininity. And as this is a trend which has caught the fancy of our women also, these brands are retailing at their outlets even in India. The only problem is they are slightly heavy on our purse. But then, we have several Indian designers and outlets to compete in design and prices with international brands. So why not enjoy jewellery instead of hoarding it.

Buddha necklace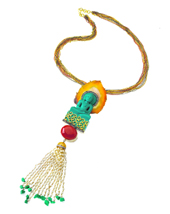 There was a time when every other pendant was either made of a cross or Om. It is time to wear something different. This elongated necklace has a Buddha pendant in blue colour. There is a ruby attached with the dangling bunch of pearls. The green semi-precious stones finish the look very well.
Material: Semi-precious stones Price Rs 9,152
Maiden pink cuff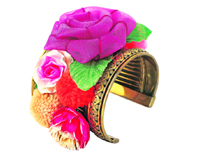 The brass cuff has been enhanced by flowers made of different textured fabric. With so many coloured flowers you can flaunt it at any time of the day or night and especially during summer time. Material: Brass and cloth
Price Rs 2,600
Set of seven bangles, metal and wood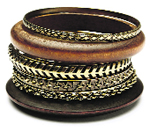 Stack them up or wear them individually, this set of wood and metal bangles is a classic. Featuring various textures and widths, wear them with your neutrals and blend in with nature.


Material: Metal and wood Price Rs 449
Set of six turquoise bangles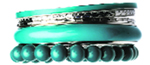 A set of six bangles in aqua theme, can be the highlight with your neutral dressing. Featuring ceramic, beaded and enamel coated and antique silver.
Material: Metal Price Rs 399
Snowcap rockcress hairband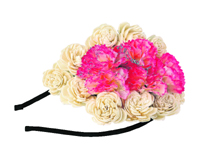 The little sequins, silver thin gota attached to the tip of the petals of the flowers made of beautifully textured colourful fabric will add a different glamour to your hair dress. Wear the hairband on a short floral dress.



Material: Metal and cloth Price Rs 2,200


Vintage picture frame ring

We love your love for vintage. The oxidised silver and the framed picture have an old-world charm that no modernity can overshadow. Featuring an oval-shaped oversized ring with a glass top.


Material: Metal Price Rs 199



Polki , red and green flower ring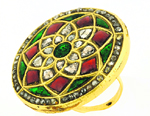 Encrusted with polki, tourmaline, coral, turquoise and other stones, cocktail rings, made in gold, come with stunning designs. Wear them through the day with your maxi dresses, adding that tribal bling, or team them with your pristine white salwar kameez for a burst of glam and colour.
Material: 22kt gold, polka, red and green stone Price Rs 9,000
Bracelet with charms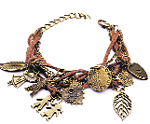 Featuring double loop belcher chain bracelet with multiple charms such as a metal heart, rossette, small chain tassles, a key and coloured stone. Interesting heart and loop fastening adds detailing to a high-on-style piece.



Material: Metal and coloured stone
Price Rs 599
Campanula bell necklace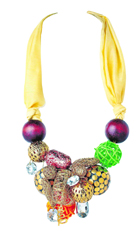 The attraction is the changeable scarf to suit the colour of your attire. Small colourful balls of wood, gold embellished metal and twined wire balls adds to the uniqueness of the neckpiece.
Material: Wood, wire and metal Price Rs 5500
Leather necklace with a pendant with metal charms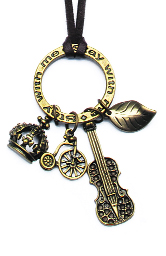 Earthy leather meets metal charms in this composition. Smartly put together, this piece has a metal ring that carries many interesting charms in antique copper that you can keep adding on to. Here's your DIY idea. Collect some more and you can have your own customised collection.







Material: Leather and metal
Price Rs 399
Burgundy glow necklace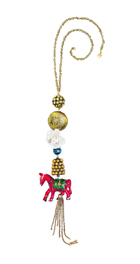 The burgundy horse gives a unique touch to the line of dangling bells, flower, metal balls and cluster of brass chains to this naval touching chain. Wear it on a dress or a trouser top.









Material: Brass and metal Price Rs 2,250
Scarf necklace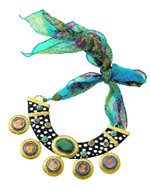 This trendy neck piece is perfect for the beach, resort or evening party look. This emerald-studded cold-plated piece can gather a lot of attention for its uniqueness. Engraved on it is the Buddha which adds to the design. The scarf can be changed to suit the colour of your attire.




Material: Semi-precious stones Price Rs 10,712




Blue stone necklace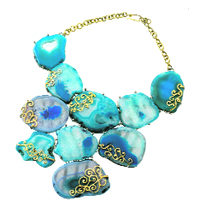 This necklace with turquoise blue stones with metallic work on them is a statement piece that is sure to complement your simple outfit. Flaunt it when you go for a luncheon date with your boss or your boyfriend. The blue-and-gold motif will go with any mono-colour or floral printed dress.





Material: Metal and stones Price Rs 6,760
Dragonfly pendant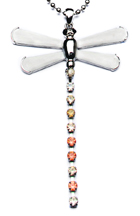 Silver beaded chain with a lobster clasp closure gets the style from its dragonfly pendant. Embellished with coloured diamante and glass setting, this is the ultimate stylish piece in your accessories' closet.



Material: Metal and coloured diamante Price Rs 499
The jewellery has been designed by the following: Rohita, Ayesha, Radhika Chanana, Archana Gulia, Shweta Ajmani and Sannam Chopra. All products are available at lifestyle stores across the country, besides several boutiques
---