Sea is his muse
Nonika Singh
Installation artist Subodh Kerkar draws inspiration from nature and his works are imbued with social, political and historical layers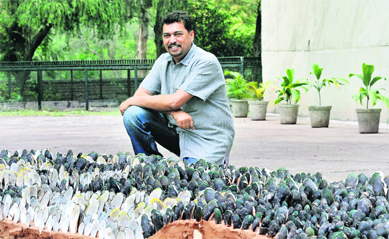 Photo: S. Chandan

Back in time, people wondered why an MBBS doctor felt the need to become an artist. Just when they got used to his water colours, they thought the doctor had gone mad when they saw him planting sea shells on the seashore.
Without doubt, one of Indiaís leading installation artists, Goa-based Subodh Kerkar is a man possessed. His art knows no barriers. Ever since, he realised his real muse was art and not medicine, the artist has broken new grounds. Mediums, materials and expressions`85 in his lexicon nothing follows the beaten track. What emerges is a spellbinding oeuvre yet organic and natural. No wonder, today the skeptics, who once doubted his artistic expression, come to view his art with awe.
Interestingly, more than two lakh people came to view his series of installations made of sand and lights at Goaís beach. The exhibition had coincided with the international film festival.
But if you think thatís what gives him a real high or the fact that he has exhibited his woks at venues like Busan Biennale Sea Art Festival, South Korea, Canvas International Art, Amsterdam, and many others, he smiles, "You can fool the world but not yourself."
And goes on to quote Tagore to explain the beauty of creativity thus, "When death asks me will your works be remembered, I shall tell death I do not know. But when I created them, I felt eternity."
ArtComplex

An artist is not an island in himself. Echoing these sentiments Subodh Kerkar set up Kerkar Art Complex in Goa, which will soon be rechristened Age Art Foundation spread over 1,000 square metres. Comprising two sections one exhibiting his works, however, it not just his own art that he would like to promote. He admires other artists, especially his namesake Subodh Gupta, whose vocabulary, he feels, has roots in his Indianness. Curated by different curators, the foundation will showcase art from around the country.
Works with which he experienced timelessness are, Tenth Planet, Presence of the Absence and Earth Bowl.
However, he is not besotted with the idea of creation alone but with giving back to society, with public art and the state of art education in the country.
He laments over education standards in most art schools. Interestingly, he never went to one. He may not have acquired a formal degree in arts but has over the years armed himself with enough knowledge of different schools of western art.
He also laments how the British robbed the art education in India of all things Indian. Since one canít go back in time, he says, the real solution lies in amalgamating western techniques with Indian sensibilities.
An artist, he observes, is a chronicler, documentarian as well an activist. So one moment his art talks of environment sustainability yet another of one world. One cause, he would particularly like to espouse is of public art, in which he specialises.
The tragedy with public art today, he feels, is that it is often confused with the sculptures of leaders and scoffs, "A whole generation of sculptors has survived on the statues of Shivaji, Ambedkar, Gandhi and the likes of Mayawati."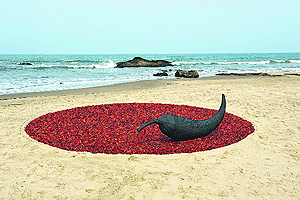 The ocean becomes a metaphor for intercontinental culture in his works

As Kerkar raises his voice for public art in cities like Chandigarh, he cautions, "Public art canít be a rape of nature. On the contrary, it must enhance natureís beauty. It has to be a symbiotic relationship."
Thatís why he works with natural materials, and thatís the reason why sea is both his muse and the master. He explains, "Undeniably, at times, medium is the message`85like when I used parts of a tyre to create a camelís foot or when I employ sea shells in my works."
Nature certainly is his inspiration. He, however, adds, "I imbue nature with the political and social."
Often his works stir history. In the one he is working on right now for a show in Germany, he is using chillies, bread and indigo. Here, the ocean becomes a metaphor for intercontinental culture. Yet another work he intends to create in India and Pakistan will be based on the theme of Partition and how the artificial divide canít erase a collective legacy.
And one fine day, the incorrigible dreamer dreams of making an island in Gujaratís offshore made of different sands of the world. He elucidates, "This will be a far cry from Modiís Gujarat."
When asked if it is a Utopian goal, he shoots back. "Nothing ever is too idealistic. Till World War happened, no one thought the United Nations was a
possibility."
Impossible, is not a word that exists in the dictionary of this artist who is constantly pushing, nay creating, new frontiers.