Manmohan meets President Thein Sein
Trade to double with Myanmar, Delhi ropes in private sector
By Raj Chengappa in Nay Pyi Taw, myanmar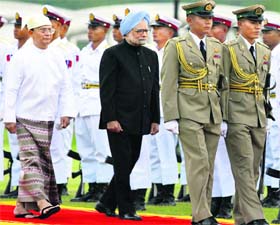 Prime Minister Manmohan Singh and Myanmar President Thein Sein inspect guard of honour during a ceremonial reception in Nay Pyi Taw on Monday. — PTI
For long, the major grouse of Myanmar's ruling junta was that while India stood tall in talk, it was small on delivery of its promises. In diplomatic circles, India was often referred to with the derisive acronym NATO – No Action Talk Only.
On Monday, the second day of his historic visit to Myanmar, the first by an Indian Prime Minister in a quarter of a century, Manmohan Singh was determined to shake the image of India being a sleeping elephant. As he sat down for a summit meeting with President Thein Sein in the sprawling 100-room Presidential Palace, the two sides signed an exhaustive list of deliverables that spanned trade and investment, connectivity, development and security.
That list included a decision to double bilateral trade that currently totals $ 1.3 billion by 2015 or in the next three years. India made a major effort to involve its private sector to give "greater depth and spread," as External Affairs Minister SM Krishna put it, to trade and investment tie-ups between the two countries.
That saw a 25-member delegation of business honchos descend on the capital to have a meeting with President Thein Sein and his key cabinet ministers. With Myanmar sitting on huge oil and gas reserves, many Indian companies have shown interest in investing in available blocks for exploration. At the bilateral meeting, a production sharing contract was signed between the Myanmar government and Jubilant Energy, a privately owned Indian oil exploration company, for an onshore block.
The bilateral meeting went far beyond the scheduled time, with Manmohan Singh reiterating "India's readiness to extend all necessary assistance in accelerating the country's democratic transition. "Though the longyi-clad Thein Sein understands and speaks English, he chose to communicate through Burmese, the official language, so that his entire cabinet which was present could understand the dialogue. Given that the Myanmar President operates through a collective leadership dominated by retired and current military top brass, Thein Sein was also ensuring that China-backers in his cabinet were on board.
Both India and Myanmar are acutely conscious of China's overarching influence in the region and are keen to diminish it by strengthening ties with each other for differing reasons. While Myanmar needs India to increase its bargaining power with China and lessen its dependence to it, India is keen to strengthen ties with Myanmar because in many ways it sees the country as the gateway to its 'Look East' ambition of a significant engagement with the Association of South East Asian Nations (ASEAN).
Even then India would be hard put to match China's investments which pumped in $ 4 billion last November for a single power project. Summing up the outcome of the bilateral visit, Foreign Secretary Ranjan Mathai told The Tribune, "We didn't go for a big-bang approach, but took a whole series of small but significant steps to ensure that our relationship with Myanmar had substance and left them with no doubt that we regarded them as a key neighbour."
Among the other decisions taken by the two leaders was to significantly enhance connectivity between the two countries to promote both trade and tourism. They decided to speed up the trilateral connectivity with Thailand by putting on fast-track the construction of the highway linking Moreh in Manipur with Mae Sot in Thailand via Myanmar.
To ensure that there would be seamless trilateral connectivity by 2016, Manmohan Singh announced that India would repair and upgrade 71 bridges on the Tamu-Kalewa friendship road apart from upgrading the Kalewa-Yargi road segment. On its part, Myanmar would upgrade the Yargyi-Monywa stretch to Thailand. The two leaders also agreed to launch a trans-border bus service from Imphal in India to Mandalay, Myanmar's business hub.
As significant was the signing of a new Air Service Agreement between the two countries that provides for expansion of air connectivity to cover more carriers, flights and destinations. The agreement provides for what is known as "5th freedom rights" that enables Indian carriers to combine their flights to Myanmar with other destinations in South East Asia and elsewhere – a rare concession. Currently there are no direct flights between India and Myanmar and the new agreement is to give incentives to airliners both public and private to correct the situation.
Even though there is a gauge difference between tracks used by Indian and Myanmar Railways, the two sides decided to set up a Joint Working Group on Cooperation in the Railway Sector to look at sorting such issues out and also the feasibility of movement of freight from India to the South East Asian Region from its North East borders.
Meanwhile, during the bilateral meeting, the progress of the Kaladan Multi-modal Transit Transport Project was also reviewed. Conceived by India, the Kaladan project set up in 2010 at cost of $ 500 million, is aimed at providing an alternate cargo route to India's landlocked North-Eastern states via Myanmar. India is funding and constructing a deep-water port at the mouth of the Kaladan River in Sittwe in Southern Myanmar apart from upgrading highways in Myanmar to develop transport infrastructure between the border areas of the two countries.
With India and Myanmar sharing a 1,600 km border such cooperation has become critical. A Memorandum of Understanding (MOU) provides for the setting up a Border Haat on a pilot basis at Pangsau Pass, Arunachal Pradesh. Many such Boarder Haats are being proposed primarily to enhance trade between the border states of the two countries. An MOU was also signed on India-Myanmar Border Area Development to look at infrastructure development and micro-economic projects including upgradation of roads and construction of schools, health centres and bridges.
With trouble in the border states being a sour point between the two countries – India had always objected to Myanmar's tacit support to North Eastern rebel groups in the past – the visit saw a renewed effort to ensure that they worked in coordination to thwart militant groups especially Naga rebels. Myanmar too is concerned with militancy by its ethnic minorities that live in areas bordering India.
The joint statement after the bilateral meeting stated that both Manmohan Singh and Thein Sein, "reaffirmed their shared commitment to fight the scourge of terrorism and insurgent activity in all its forms and manifestations." That included committing that the territories of either country would not be allowed to be used for "activities inimical to the other including for training, sanctuary and other operations by terrorists and insurgent organisations and their operatives."
Major agreements
India and Myanmar signed a series of agreements. Among them were:
Memorandum of Understanding regarding US$ 500 million Line of Credit
Air Services Agreement between India and Myanmar
MoU on India-Myanmar border area development
MoU on establishment of Joint Trade and Investment Forum
MoU on the establishment of Advance Centre for Agriculture Research and Education (ACARE)
MoU on establishment of Rice Bio Park at the Department of Agricultural Research in Nay Pyi Taw
MoU towards setting up of Myanmar Institute of Information Technology
MoU on Cooperation between Dagon University and Calcutta University
MoU on Cooperation between Myanmar Institute of Strategic and International Studies and Indian Council of World Affairs
Agreement on Cooperation between the Myanmar Institute of Strategic and International Studies and Institute for Defence Studies and Analysis
Cultural Exchange Programme (2012-2015)
MoU on establishing Border Haats across the border between the two countries