Battle over GM food rages on
Michael McCarthy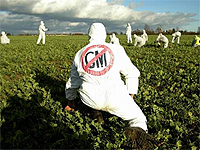 Activists claim GM wheat at Rothamsted Research in Harpenden, Hertfordshire (UK), uses dangerous technology.
RECENTLY, three senior scientists made impassioned appeals to anti-GM campaigners not to destroy a field trial of GM wheat which is the culmination of several years' work.
The trial involves a wheat strain modified to be resistant to aphid pests, but an ad hoc group of activists, assembled in a campaign entitled Take The Flour Back, say the trial at Rothamsted Research in Harpenden, Hertfordshire, is a threat to agriculture because pollen from the GM wheat could contaminate non-GM plants outside the trial boundary, and they believe GM is in general a dangerous and inappropriate technology for agriculture. However, the scientists say cross-contamination from the site is virtually impossible, and that the new strain of wheat they are producing, besides being a boost to food security in an ever-hungrier world, itself has significant environmental benefits, as it will mean the input of pesticides is considerably lessened.
Dr Gia Aradottir, one of the leading figures in the project at Rothamsted, said, "This is a sustainable method that would reduce the carbon footprint for agriculture, if we don't need to be driving tractors spraying pesticides. Surely that's a good thing for environment? If they understand the technology and they understand what we're doing, then they should embrace it, because really we have the same goals."
Professor Johnathan Napier said: "Why would you want to destroy knowledge? I would ask the protesters what their solutions are to the problem of food security with the growth of the human population. What are your solutions to how are we going to feed nine billion people? We can't do it by just simple highly-intensive, low-input organic production systems. We have to use lots of approaches."
Professor Huw Jones, head of Rothamsted's Cereal Transformation Lab, said that to destroy the experiment would be "absolutely counter-productive". He said: "We are going to need to grow an awful lot more food to feed the world by 2050 and to do this more sustainably, with less water and the prospect of climate change, will be a very big challenge."
The GM wheat plants are now nearly a foot tall, and due to be harvested in September, and the current research consists in measuring the aphid presence in the GM wheat against the number of aphids found in control-plots of non-GM wheat.
The modified crops contain a pheromone which is identical to the chemical used by the aphids as an alarm signal; when the aphids encounter it, they scatter, and aphid predators are attracted. The chemical, E-Beta-farnesene or EBF, is naturally occurring and found in about 400 plants, from hops to peppermint. The current trial at Rothamsted is being sponsored by the Biotechnology and Biological Sciences Research Council, so in effect it is being funded by the taxpayer. In this, as in several other respects, it differs from the widely publicised trials of commercial GM crops promoted by giant agribusiness companies a decade ago, which found they would damage the environment as the extra-powerful weedkillers they were designed to tolerate would kill much other wildlife beside the target pests.
There has since been a virtual moratorium on GM crops in Britain and in much of Europe, although in other parts of the world GM technology is widely employed in agriculture on crops such as maize and soya beans. — The Independent
Battle of the wheatfield
The battle over GM food has begun again and it seems there is little in common between those in favour of research and those opposed, other than a belief that they are right and the other side is wrong.
These fundamental ideological differences are unlikely to be settled but it should at least be possible to dispel the irrational statements about this particular experiment that have gained traction over recent months.
The first is that this GM wheat contains cow genes. It does not. One of the synthetic genes added to the wheat plant just happens to bear some similarity to a gene found in cows, a gene incidentally found in many other organisms.
The second is that GM wheat contains antibiotic resistance genes that threaten to make drugs ineffective. These well-known "marker" genes were indeed used during the initial development but they are non functional in this plant.
Another criticism is that the GM wheat is a spring variety and only 1 per cent of wheat grown in the UK is spring wheat, which means there is not market for GM spring wheat.
Rothamsted deliberately chose spring wheat because of its rarity. It means there is even less chance of cross pollination with other varieties of wheat maturing at different times of the year, and any technology that works in spring wheat can be transferred to other wheat varieties.
The final criticism comes down the risk of this GM wheat contaminating other crops growing nearby. Wheat is self pollinating, and the risk of contamination is very small indeed, especially given the extra biosecurity measures taken by the scientists.
GM technology on its own will not feed the world. However, it does offer an extra tool for allowing this to happen. Preventing experiments such as this, where there is clearly a public benefit if it works, will equally do nothing to solve the coming food crisis of the 21st Century.