Star track
Poonam Pandey… a compulsive liar?


Repeat act: Poonam Pandey
A new controversy has emerged about Poonam Pandey having gone nude. And surprisingly, not for her stripping! It is being alleged that her supposedly 'nude' picture, which she tweeted in support of Shah Rukh Khan's cricket team Kolkata Knight Riders winning the Indian Premier League (IPL), is actually a FAKE. Oops!
With a little research it can be found out that this photograph, done in the backdrop of an antique-looking window and house plants, was actually shot wearing a bikini with high-heeled black shoes and a blackish-brown bead-necklace and wristband. But in its new avatar, Poonam is seen in the buff, giving rise to speculations about the new picture having been 'photoshopped' to generate fake hype.
"Photographs speak for themselves. The old and new pictures are definitely from the same shoot and done at the same place," analyses Bollywood PR guru Dale Bhagwagar.
"But let us also give the benefit of doubt to Ms Pandey, before pouncing on her. For all you know, she might just have decided to do away with her costume for a shot after doing the bikini pictures," comments the crisis management expert.
And though the publicist speaks somewhat in her favour, Poonam has already been termed a compulsive liar by many. Indeed, this Kingfisher Calendar model has made a lot of tall claims in the past. Poonam became an instant hit when she grabbed the attention of the whole country, by claiming to go nude to celebrate Team India's World Cup win.
But to the dismay of her fans mainly on Twitter, she didn't! Instead, she put out a whole lot of bikini pictures, on the lines of prototype Sherlyn Chopra. Apparently, Poonam also spread news about her entering Bigg Boss 5, claiming to have been offered a staggering 2 crores for it. That too, turned out to be false.
Then she claimed she had "rejected 30 film offers". Later, Poonam declared, she signed a film by Amit Saxena. Saxena denied her claims in the media stating, "I really want her (Poonam) to stop spreading false stories about me. Nothing has been finalised." — HRM
Of success & stage fright
Actress Kristen Wiig is still struggling with shyness despite her ongoing rise up in the Hollywood A-list. The 38-year-old says she is suffering from the same stage fright that blighted her schooldays. "I have always been outgoing in some ways but if I had to speak in front of the class, I would not go to school that day," says Kristen. "I would get sick to my stomach. Even now I would not be able to do it. It is different when you are yourself talking to people but when you are acting, it is easier." —PTI
Raw action
Akshay Kumar says people should watch Rowdy Rathore for raw action and Prabhudeva's unique style of filming and choreography. He says a sequel could be made depending on the success and he enjoyed wearing the bright coloured clothes.
Hottie gets hotter
Deepika Padukone has attained a new level of hotness post the promo of Cocktail. She continues the desirable streak with this scorching new cover of Vogue magazine in June! She talks about staying fit and slim!
Mane care with Katrina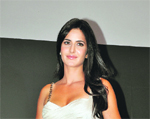 Hair and there: Katrina Kaif
Katrina Kaif is an impeccable beauty. Flowing tresses, pretty skin, jaw dropping beauty and Va va voom figure. The superstar, blessed with long, thick raven hair shares some hair care tips with us.
My hair is exposed to a lot of heat-styling and blow drying, so I use heat- protect products.
I use Pantene's three-minute miracle serum as it really works on my thick hair. I use hair masks and Kiehl's leave-in conditioner. It protects my hair from the sun and harsh lights and adds shine.
I love my hair and only use good quality, reputed products. Yet, I wouldn't mind chopping it off for a role. You cannot compromise when it comes to hair care. It's important to stick to one stylist or hairdresser who understands your hair and what suits you. Don't experiment too often with new haircuts or colours.
Sonakshi's strange request



desi image: Sonakshi Sinha
Sonakshi Sinha has drawn her boundaries for movies. She says she is open to item songs if they are decent. Now that is a strange request. Anyway she looks like an item girl in Rowdy Rathore as she is simply swinging her hips and shaking her waist and being the object of desire. She is happy with her Indian image.
Quick learner
Esha Gupta was shooting simultaneously for Chakravyuh and Raaz 3. The makers of Raaz 3 decided to include a belly dancing song at the last minute so she learnt the dance form in ten hours to do the song.
England calling Brangelina
Hollywood couple Brad Pitt and Angelina Jolie may attend a Diamond Jubilee street party near their home in Richmond here.
The party is being organised this Saturday to celebrate Queen Elizabeth's 60 years on the throne. "Brad and Angelina are aware of the celebrations. They have had information sent to them and shown an interest," a website quoted a source close to the planning committee of the Ham & Petersham Jubilee Tea Party as saying. Said another source, "Brad and Angelina love England and have been made to feel very welcome in Richmond. They want to fully embrace the Jubilee celebrations. The kids are very excited." The event will include a father-and-son tug of war competition, a cricket match, face painting, children's soccer game and a cake baking contest and local residents are hoping the showbiz couple will join in the fun. "This whole event is very much a community-driven one. We'd be delighted if Brad and Angelina came," said a publication. — IANS
All's well

False alarm: Arjun Rampal
According to a report published in English daily, director Ram Gopal Varma who had gone to Arjun Rampal's house to narrate a script was politely asked to leave by his wife Mehr Jessia. Mehr was reportedly irked by Varma's constantly badmouthing about people who have kids and dogs as pets. But RGV finds the story hilarious and said he hasn't visited Arjun's house in more than eight years. "The story is hilarious..I have been to Arjun Rampal's house only once more than eight years back and I don't even remember talking to Meher Jesia," he said. Rampal also denied it and he never had any such discussion. "The news about Ram Gopal Varma is false. I haven't had any such discussion, I am just glad that I can clarify it thru twitter. Irresponsible journalism is very annoying," he updated on Twitter.
Aaron Sorkin's I-experience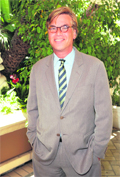 Apple's face: Aaron Sorkin
Academy-award-winning scriptwriter Aaron Sorkin, who is adapting Walter Isaacson's book Steve Jobs for the big screen, says he was hesitant to take up the project on the Apple co-founder's life.
There has been a lot of interest in Jobs' life since his death in October last year but Sorkin, who has tackled many difficult book-to-movie transformations in the past, saw "a minefield of disappointment" from Jobs fans, a publication reported.
"It's a little like writing about The Beatles. There are so many people out there that know him and revere him," Sorkin said at a recent conference.
Sorkin portrayed Mark Zuckerberg as an anti-hero in David Fincher's The Social Network but he plans to treat Jobs as a hero in the new movie.
"He's a complicated guy. Zuckerberg was, as well. But when I'm writing this movie, I can't judge this character. He has to be, for me, a hero." The scriptwriter said his goal is to produce "a painting, not a photograph" of Jobs and he plans to "identify the point of friction that appeals to me." Another film, starring Ashton Kutcher as Jobs, is already in the making but Sorkin is not worried about it since "Steve Jobs is a big enough person and led a big enough life to make multiple movies." He wants a smart actor to portray Jobs in his film. — PTI