Capturing memories, the DSLR way
DSLR cameras give professional quality pictures and have many loyal users who prefer them even when they have many less expensive options available
Roopinder Singh
Now that holidays are fast approaching many people will want to get away to their destination of choice. Once upon a time it took Marco Polo to introduce China to the West, an Ibn Battuta to explore the world around him and pen down his observations and keep it alive for time immemorial.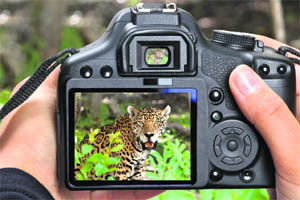 Today, the intrepid traveller seeks instant gratification, and uses the Internet to immediately inform others of what he/she thinks is worth sharing. In the world where most of the cameras come in the form of cellphone cameras, it would seem that dedicated cameras may be a thing of the past. However, this is not so. In fact, there is a special place for cameras that pay tremendous attention to optics and couple them with the latest electronic circuitry to freeze those cherished moments for posterity.
The single lens reflex camera (SLR), the faithful workhorse of professionals worldwide, has a digital avatar, the DSLR. The top rivals of the SLR world, Cannon and Nikon, have continued their battle to the new format, and thus again, the most dominant players in their SLR segment are these two companies.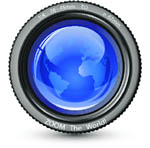 An SLR camera uses a mirror through which the photographer can see through the lens. This allows the photographer to see exactly what will be captured. This gives more control than the compact cameras where the image that the photographer sees may be different from what will be captured
Now, before we go into the DSLR world, we have to know what the last three letters mean. Most of the ordinary cameras you see are the compact cameras which are used by a majority of amateur photographers in the world. These are simple cameras in which various photographic scenarios are programmed. So with a minimal amount of intervention from you, the pictures will come out reasonably well. They suffice for most of the sharing that happens after holidays, or shooting family functions, etc.
A SLR camera uses a mirror that allows a photographer to see through the lens. The photographer can now see exactly what will be captured. This allows more control than the compact cameras where the image that the photographer sees may be different from what will be captured.
No wonder, SLR cameras were the favourite of all professional photographers, especially news photographers. The typical 35mm film used in SLR cameras allowed the cameras to be smaller than their large format film cousins favoured by studio photographers in the fashion and advertising world.
The SLR ruled the roost till the 1990s, but its 'what-you-see-is-what-you-get' USP was eroded by the advances in digital imaging technology that allowed on-camera live LCD preview screens even on inexpensive compact digital cameras.
However, the DSLR still has one thing that matters, size. Because typically DSLR cameras are much bigger than compact cameras, they can accommodate a larger charge-coupled device. This is the heart of the sensor that has replaced film in cameras, and thus you get much better pictures with DSLR cameras. For most professional photographers, the cost of the camera is just a part of their expenditure on photographic equipment. They actually spend much more on a variety of lenses, and thus camera manufacturers like Cannon and Nikon go the extra mile to provide lenses that can be accommodated on different camera bodies. The interchangeable lenses, some more expensive than the camera body itself, are considered optically better than ones available on compact cameras.
The DSLRs also have negligible shutter lag, which helps to take photographs, especially those of moving objects, precisely. Besides, the CCD used in a typical DSLR is vastly superior to the one used in compact cameras. This allows the camera to capture more light and thus make pictures better. No wonder, the DSLR is the choice of advanced amateur and high-end and professional photographers. That many of the latest ones also shoot video makes them even more versatile.
An SLR camera uses a mirror through which the photographer can see through the lens. This allows the photographer to see exactly what will be captured. This gives more control than the compact cameras where the image that the photographer sees may be different from what will be captured

Choices
Canon EOS 550D
Canon EOS 550D is a good entry-level camera with an 18 megapixel sensor. You can shoot HD video (1920x1080) with it, and it incorporates Canon's cutting-edge technologies such as a DIGIC 4 image processor, 9-point AF system and a 63-dual zone layer metering sensor found in the EOS 7D for total image control.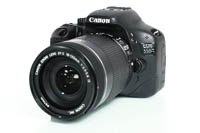 key features
18 megapixel camera
Full HD recording
LCD with 10,40,000 dot resolution
ISO 100 - ISO 6400 sensitivity
price: Rs 40,000
(with EF S18-55 IS II kit lens)
Canon 60D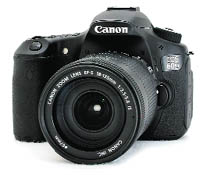 In many ways, a great camera, the Canon EOS 60D is a fast, feature-packed, and with excellent photo and video quality. This SLR, which is for advanced users, can also record full HD video at 30/25/24 fps. The 3-inch articulated LCD is very useful for shooting video.

key features
18 megapixel camera
Full HD recording
3 inch wide vari-angle LCD screen ISO 100 - ISO 6400 sensitivity
price: Rs 77,000 (with II EF S18-135mm kit lens)
Nikon D3100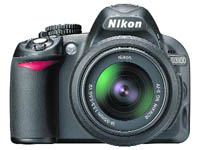 The Nikon D3100 is a very good entry-level DSLR which targets newbies without sacrificing the traditional manual controls expected on a DSLR. The photo quality is, as expected, good and the controls well-laid-out. It shoots full HD movies at 1920 x 1080 resolution at 24 frames per second (fps)

key features
14.2 megapixel camera
Full HD recording
3 inch low-temperature Polysilicon TFT LCD screen
ISO 100 - ISO 3200 sensitivity
price: Rs 33,000 (with II EF S18-135mm kit lens)
Nikon D7000
The Nikon D7000 is one of the latest mid-to-high-end DSLRs from the Nikon stable. It has a great viewfinder and a sophisticated autofocus system. It's also Nikon's first DSLR to give 1080p HD video, although it is at 24 fps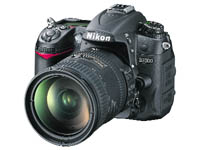 key features
16.2 megapixel camera
Full HD recording
3 inch low-temperature
Polysilicon TFT LCD screen
ISO 100 - ISO 6400 sensitivity
price: Rs 75,000
(with AF-S 18-105mm VR kit lens)



Note: The price stated for cameras is the official price, they are normally available a for a little less in the market.

Sensual Retreats
Nothing prepares you for these pristine resorts. Nothing ever can. When you visit one of these sylvan getaways, the breath-taking surroundings will simply overwhelm you
Mukesh Khosla




Untouched by time: Kumarakom Lake Resort
If you have the money to blow, there are resorts that will give you an experience worth remembering. Call them exotic hotspots or exclusive getaways but for those with moolah, these leisure resorts hold an irresistible appeal. These promise complete relaxation where you can listen to the sound of your heartbeat and enjoy inner peace.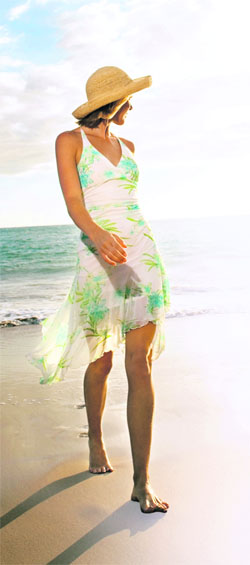 These types of places are made especially for those in search of respite from the daily rigours of normal life. Away from the hustle-bustle of the touristy spots, these promise to pamper your spirit and relax your jaded nerves. Some of these are closely guarded secrets of the travel world, known only to a select few and offer total rejuvenation.
Call them glamorous getaways or exotic retreat, they are all surrounded by languid bliss. As if frozen in time, they promise a lifetime of memories and an experience like none other in the world.
Heritage and modernity
In many of these destinations, the past and future merge and there is a heady mix of history, heritage and modernity. The resorts are decorated with heritage artwork and fabrics, which blend with state-of-the-art gymnasiums, sauna and steam rooms, massage treatments, infinity swimming pools, waterfalls, boat rides, nature walks, croquet lawns, plexi-cushioned tennis courts and well-laid out golf courses, complete with sloppy contours and extreme gradients.
Many of the rooms retain an old-world charm with bespoke furniture and ornate linen yet they have all the trappings of modernity like platform beds, and large soaking tubs. Many of these have luxuriant, fully wired rooms which come fitted with flat-screen televisions, docking station and DVD players. Some have private elevators and dedicated gym and swimming pool where attendants offer iced towels and drinks and food of your choice.
Immaculate service
In most of these high-end resorts, immaculate service is usually overwhelming. The most decadent ones can have butlers-on-call who are trained to handle even the impossible demands of guests.
Some are even offering butlers for parents who are vacationing with their infants. These butlers are trained to handle toddlers and play with them or even put them to sleep while the parents soak in a sauna or a steam room or enjoy a candle-lit dinner. Many also offer room service for pets.
However, it is not just the trappings of luxury and opulence that are the hallmark of these resorts. What defines these is their exotic setting and the panoramic views they offer. Some hug the coastline where huge double windows open out to the sea and the tranquillity of golden sand beaches is punctuated by the sound of waves and the birds. Others are set in scenic mountains, while some offer out-of-the-world experiences like a bike ride by the moonlight or flying in a private helicopter to a nearby island to watch the sunrise or sunset over breakfast or high tea.
Healing spas
The piece de resistance in these resorts is usually the spa where all therapies aim to luxuriously pamper and indulge, heal and nourish, restore and rejuvenate the mind and body. What makes these spas special are the variety of treatments designed to restore the body and mind balance even as you are surrounded by the fragrance of aromatic oils and vapours. On offer are an array of facials, body exfoliating scrubs of coffee, honey and aromatic spices and a full-body massage leaving you revitalised from head to toe.
The cuisine is, of course, a part of the experience. Many of these resorts have their own fruit and vegetable gardens and farm chickens which provide fresh eggs for breakfast in the morning to be served with hot-from-the-oven breads, croissants and bagels. The elaborate menus promise an extraordinary culinary experience where you can sample some of the most delectable cuisines of the world. A visit to one of these resorts is surely an experience worth cherishing. The soothing ambience enriched by natural surroundings makes you feel completely at ease. These retreats are designed to drive away stresses with rejuvenating therapies.
But before taking the next flight to one of these resorts, it would be best to check the rates. Most of them could cost a small fortune for a two or three-night stay. But then, what's a few thousand dollars to live life kingsize. Here's looking at some of the best resorts in the world...

Untouched by time
kumarakom lake resort
The Kumarakom Lake Resort situated on the banks of the might Lake Vembanad sits on acres of greenery that will mesmerise your senses. The resort offers you the most luxurious introduction to the deepest secrets of the mystic land of Kerala, the culture of its people and the pristine natural beauty of the region. Floating on the picturesque backwaters in a kettuvallam (boat) would remain ingrained in memory throughout your life.
Tariff per night: Between Rs 8,450 and Rs 42,000
Life's a beach
hayman resort
The northeast coast of Australia has some of the finest beaches in the world. If you are looking for the ultimate luxury, there is no finer resort in Queensland than Hayman Resort. Located in the famous Great Barrier Reef, near Whitsunday Island, the hotel has just undergone a $15-million refurbishment. If you are loaded and looking for one of life's most memorable vacations, you know where to head for.
Tariff per night: Between $650 and $2,400 (Between Rs 32,500 and Rs 1.2 lakh)
Oasis of luxury
udaivilas palace
Udaipur's Udaivilas Palace is considered to be the finest heritage hotels in the world. The imposing hotel conceived as a majestic Mewar-style moated palace is an island in itself and sits on the banks of Lake Pichola. An enchanting boat ride takes you to the hotel. Open-air colonnades flanked by hand-carved stone columns, domes covered in gold leaf and hand-painted murals. That's why guests who live here can be forgiven if they think they are royalty.
Tariff per night: Between Rs 19,000 and Rs 59,000
Ultimate haven of luxury
sandy lane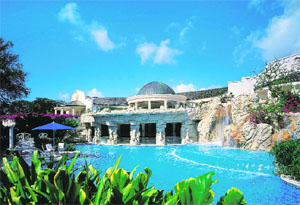 Nothing prepares you for this pristine sight, when you come face to face with Sandy Lane in Barbados, the classic elegance of this sylvan repose will overwhelm you. The almost half-century-old beach resort is by far the finest in the Caribbean. Voted as the World's No 1 travel destination, it overlooks the sapphire waters of the Caribbean Sea washing against the golden sands. It has three golf courses, a waterfall which gently drops into a large swimming pool and a sprawling spa, which is a retreat for jaded nerves.
Tariff per night: Between $1,040 and $4,050 (Between Rs 52,000 and Rs 2. 025 lakh)
Picture-postcard setting
dolder grand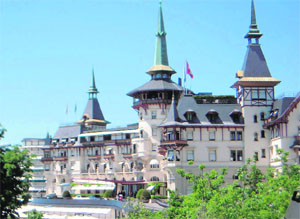 If ever there was a magical resort, this is it. The Dolder Grand in Zurich, Switzerland, is breathtakingly scenic. Built in 1899 atop a hill, the double windows open to wide views of the whole city, the lake and the Alps. Towers, cupolas, spires and turrets sprout from all sides of the elegant building. Completing the picture postcard view are a private nine-hole golf course, a swimming pool with a wave machine, one of Switzerland's top haute cuisine restaurants, and walking trails into the parks all around. The hotel features an innovative geothermal energy technology.
Tariff per night: Between $950 and $3,550 (Between Rs 47,500 and Rs 1. 75 lakh)
Wine country retreat
les sources des caudalie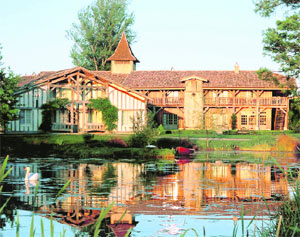 Just 20 minutes by car from the Bordeaux airport, Les Sources Des Caudalie is a luxurious French spa and hotel, which features spa treatments and exquisite wines. A delightfully conventional countryside retreat, it's a resort in an idyllic setting complete with phenomenal French country cooking. With its "vinotherapie" treatments, visitors can indulge in red-wine baths, barrel baths, merlot wraps, a crushed cabernet scrub or a sauvignon massage. Besides a panoramic cigar lounge, you can head for the wine cellar, which has more than 15,000 bottles of vintage wine.
Tariff per night: Between $425 and $675 (Between Rs 21,250 and Rs 33,750)
Romantic hideaway
oriental mandarin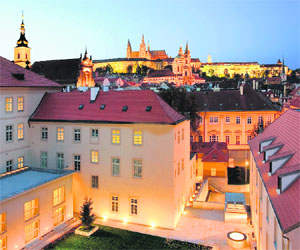 Housed in a former 14th-century monastery in Prague in the Czech Republic, the Mandarin Oriental offers extraordinary views of the Old Town and the Prague Castle. The romantic hotel has bathtubs surrounded by heated floors, a spa with a vitality pool and a vaulted wine cellar. Surrounded by cobbled streets, you can immerse yourself in the city's historic ambience. The hotel's holistic spa, housed in a former Renaissance chapel, is one of the best in the world. The Gothic architecture, complete with vaulted ceilings and peekaboo archways, will take your breath away.
Tariff per night: Between $475 and $3,575 (Between Rs 23,750 and Rs 1.75 lakh)
Magical resort by the sea
ojai valley inn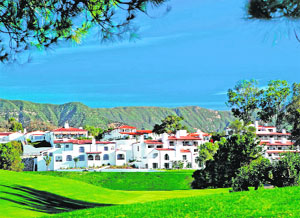 The Ojai Valley Inn in California is a toast of the leisure and business travellers. Rated in the top 10 of the best resorts by Conde Nast Traveller, it is located in a magical, secluded valley around 60 km south of Santa Barbara on the Gold Coast. The elegant resort offers 220 tree-shaded acres featuring luxury accommodations, a luxurious spa and a championship golf course, which has been the host site of seven Senior PGA Tour events. The resort is surrounded by rugged mountain ranges and is close to the Pacific Ocean.
Tariff per night: Between $310 and $840 (Between Rs 15,500 and Rs 42,000)
English hospitality
chewton glen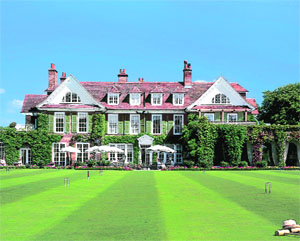 The pedigree of this resort can be gauged from the fact that it has been voted 'Best Hotel in the British Isles' and 'Second Best in the World' by no less than Condé Nast Traveller. Chewton Glen is set in 130 acres of Hampshire countryside on the edge of the New Forest in England. It is a highly celebrated five-star country house with a tennis centre and golf course as well as space for a range of outdoor activities. Guests can enjoy the hotel's sumptuous spa and can go sailing or ride the waves on a powerboat on River Solent.
Tariff per night: Between $450 and $1,900 (Between Rs 22,000 and Rs 95,000)
Paradise island
capri palace hotel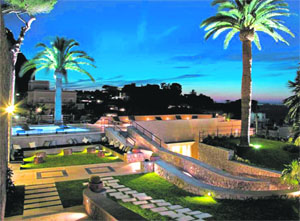 The contemporary Capri Palace Hotel sparkles on the Italian slopes of Monte Solaro, in Anacapri and offers spectacular views over the Bay of Naples. In the middle of its landscaped gardens with palm trees and bougainvillea, is a large pool, which most guests use as their outdoor lounging place. During summer, the Capri is home to some of the world's leading artists. Exhibitions of modern art and sculpture are a treat here. The resort has its own collection of luxury boats offering guests the most exclusive way to spend a day or evening at sea. For connoisseurs, the cuisine here is something to die for.
Tariff per night: Between $650 and $8,400 (Between Rs 32,500 and Rs 4.2 lakh)

PACESETTERs Nakul Singh Sawhney

A matter of honour...

Nakul Singh Sawhney's documentary on honour killings has been the subject of many debates
Vasudha Gupta
The main purpose behind focusing on sensitive social issues does not always aim at bringing about a change. Instead, it helps to initiate a discussion around a subject. It was this thought that provoked Nakul Singh Sawhney to come up with his documentary Izzatnagar Ki Asabhya Betiyaan (The Immoral Daughters in the Land of Honour).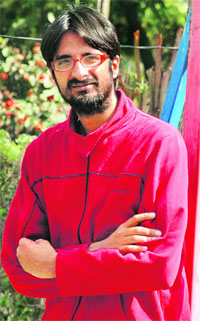 It was while working with an independent online news channel's documentary unit that he came upon the idea of making a documentary on honour killings. The research began soon after. Once he got down to working on the idea, his research took him all over Haryana. Nakul came across moving stories on the subject.
"Gaurav, one of the central characters of the documentary, lived in Delhi and made me feel that the problem was not confined to rural areas alone," he shares.
Nakul was not willing to be a silent spectator but decided to get to the root of the problem. He came across women who stood up for their rights, faced and battled family pressure. This gave Nakul the strength to fight the teething troubles he had to face.
The film is now being screened across several colleges, at times even without his knowledge. The most difficult part for this graduate of the Film and Television Institute of India was to ensure that his protagonists did not end up looking like victims of honour killing. "The five stories in my documentary revolve around strong people. My priority was ensuring that their challenges did not get diluted," he says.
The documentary has stirred a storm wherever it has been screened. The most surprising part for the young director is watching girls cross their boundaries and become a part of the discussions once the documentary has been screened. On several occasions, Nakul is just a bystander, while the audience is discussing the documentary. "At the point when I become insignificant and my work talks louder, I know that the documentary has made a difference," he adds.
For Nakul, it's still about taking it a step further, more screenings, better discussions and a wider horizon where he can talk about other issues. Dealing with different organisations ready to screen the documentary overwhelms the director. With a few things already in the pipeline, Nakul never really sits and breathes easy.
"Such problems have a larger social context and watching women infuse determination in extraordinary situations has been an experience of its own," opines Nakul.
The documentary was recently screened at the Gorakhpur Film Festival. Many women came up to him and told him that they could relate to the ideologies of the protagonists. Humbled by the response, his satisfaction shines through when his work touches the common man.
It is in the hands of such youth that possibility of initiating social change lies. Conviction in his voice shines through characters of the documentary—Gaurav, Seema, Geetika and Mukesh.

Bling it on
ROYAL KEBAB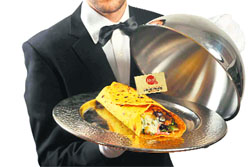 It's not just any kebab. You'll be paying a king's ransom for this Nawabi repast. Created by celebrated British chef Andy Bates to mark the launch of a TV show titled The Great Food Truck Race celebrating street food, the 'King of Kebabs' — as it has been aptly titled — is far from a doner. It includes milk-fed lamb from the Pyrenees, saffron-infused bread, purple violet potatoes and even edible gold leaf and platinum. Champagne-filled mint and cucumber yoghurt completes this delicacy.
Price: $1,185 (Rs 59,250)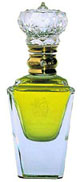 SCENT OF A WOMAN
The heavenly aroma that emanates from the Imperial Majesty No 1 by Clive Christian can turn any woman into a Cinderella. It is the world's most expensive perfume. There are only two bottles in the world — one gifted by Tom Cruise to his wife Katie, and the other yet unsold. Not surprising, considering that one would probably have to mortgage one's house to buy this heady blend of lemon, cardamom, jasmine, carnation, vanilla, sandalwood and more.
Price: $1,15,000 (Rs 45 lakh)


BULL IN A GAMING SHOP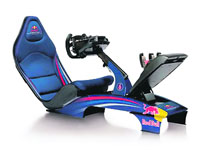 Now you can sip a Red Bull and hit the F1 circuit. Energy drink company Red Bull has teamed up with gaming rig maker Playseat to make a videogame race simulator rig that is an exact replica of Red Bull's Formula One car. The simulator is compatible with PlayStation 2 and 3, XBox 360, Nintendo Wii, and PC gaming. It features Red Bull Racing livery like leather seats, pedals and a mount that doubles as a steering wheel. One of the best-looking rigs, it has become a runaway hit with young Formula One aficionados addicted to gaming.
Price $1,500 (Rs 75,000)
FLIGHT OF FANCY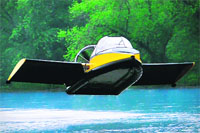 It can glide over land and water and can also soar in the air. No, it's not a bird or an amphibian, it's the latest toy for rich boys — the Flying Hovercraft. Created by Hammacher Schlemmer, an American non-profit consumer advocacy organisation, the Flying Hovercraft can soar up to 115 kmph in the air with integrated wings. It can operate in both fresh and saltwater and can even go up to 30 per cent inclines over sand, mud, grass, swamp, desert, ice, and snow. So go ahead, and add a zing to your adventure vacation with a ride on the flying hovercraft.
Price: $1,90,000 (Rs 95 lakh)
'WOOD' YOU LIKE THIS CAR?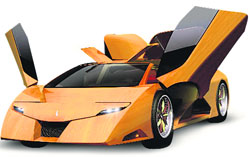 You may have heard of wooden toys and wooden furniture but a wooden car that actually drives? Now 'wood' that not be just cool? Well that's just what is in the offing. As part of a graduate project at North Carolina State University in America, Joesph Harmon and his team have built the Splinter Sports Car. The high-performance, mid-engine (4.6L, 700hp V8) supercar has been crafted by hand. The body is crafted from cherry veneer and there are 10 laminated spokes in each wheel which are connected to an aluminum rim and then decorated with walnut and ash accents.
Price: Wooden car prototype $4,000 (Rs 2 lakh)
PRECIOUS USB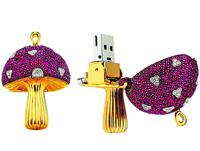 It's hi-tech, it's expensive and it's for the high-fliers. The new Magic Mushroom USB key collection from Swiss jeweller Shawish has glittering diamonds and precious gems studded all over it. This luxury gem-studded memory stick is a part of their already well-known collection of mushroom pendants, Magic Mushroom. The USB key weighs 9.18 carats in total, while the rubies weigh a total of 11.34 carats, and the sapphires weighs 11.34 carats apart from a 32 GB storage capacity. The key is an exclusive combination of sophistication, beauty, luxury and technology says the jeweller, who is known for creating the world's first 150-carat diamond ring.
Price: $36,900 (Rs 18.45 lakh)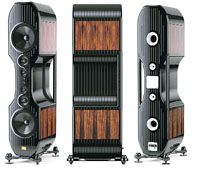 SOUND OF MUSIC
Opinion is sharply divided on who makes the best speakers in the world — Bose, Vandersteen, JBL, Anthony Gallo or Kharma. But Dutch company Kharma's exclusive speakers called Exquisite Extreme Grand are the ultimate in listening luxury. These are the ultimate in music enjoyment and provide true music lovers across the globe with the best sound boxes that human hands have ever made.
Price: Between $4,00,000 and $5,00,000 for a pair (Rs 2 crore and 2.5 crore)
DIAL G FOR GOLD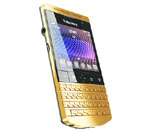 Porsche automobile's design arm, Porsche Design, has given the BlackBerry a makeover. The P9981 Gold BlackBerry is luxury-meets-technology. Porsche Design has plated the phone in 24-carat gold across the keypad and the front panel. Each button has been created separately with gold, showcasing meticulous detailing and craftsmanship. Only 100 pieces of this high-end Porsche Design creation have been put out for sale. Each phone in the series is numbered and marked. If you are a serious buyer, you get an additional customisation option — you can pick the type of keyboard you fancy.
Price: $7,500 (Rs 3.75 lakh)