Inter-District Tournament

Jalandhar amass 542 runs
Tribune News Service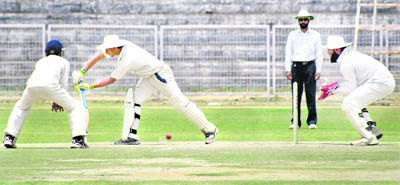 A batsman plays a shot during the Inter-District U-19 Cricket Tournament in Patiala. Tribune Photo: Rajesh Sachar
Chandigarh, June 5
With an unbeaten knock of 292 runs, Abhishek Gupta helped Jalandhar team to post a total of 542 runs against Mohali's 197 runs during the ongoing Punjab State Inter-District Tournament for boys (U-22) at Burlton Park Jalandhar today.
The Jalandhar team after resuming at overnight 50 for 2 in 19 overs went on to score 542 for 6 in 114 overs at close of second day's play.
During the day's play, the batsmen put up 492 runs in 95 overs after losing four wickets. Abhishek Gupta hogged the limelight with his unbeaten individual best of 292 runs. His score, which included 38 boundaries and a six to the straight field, came off just 342 balls and. Earlier, Love Kumar stitched a partnership of 172 runs for the 3rd wicket before he was run out for 65 off 134. He shot 10 boundaries.
Abhishek Gupta later on added 225 runs for the fourth wicket along with Siddharth Sharma, who put up 86 runs off 128, including 12 boundaries and two sixes. Yogesh Kumar contributed 35 off 29. Jalandhar is leading by 345 runs at close of second day's play.
For Mohali, Gagandeep gave away 112 runs, Arshdeep Brar allowed 129 runs, Amritpal also gave away 100 runs.
Brief scores:
Mohali (1st innings)-197 all out in 77.5 overs
Jalandhar (1st innings)-542 for 6 in 114 overs (Abhishek Gupta 292 not out, Siddharth Sharma 86, Love Kumar 65, Yogesh Kumar 35, Gagandeep 2 for 112, Arshdeep Brar 1 for 129, Amritpal 1 for 100 , Narinder Singh 1 for 44).
In another match, the Amritsar team lost their last 7 wickets after adding 51 runs against Ludhiana at Gandhi Grounds Amritsar. The match resumed at 327 for 3 in 97 overs.
The team was bowled out for 378 in 119.1 overs. Skipper Aman Bawa was able to complete his century by adding one run to his overnight total of 99 runs. Himanshu scored 104 runs off 184 with 12 boundaries and two sixes. For Ludhiana, Amritpal Singh took 5 wickets for 81 runs.
In reply, Ludhiana team scored 193 after losing 5 wickets in 68 overs at close of days' play. Opener Akhil Aggarwal along with Ashish scored 50 runs for the first wicket before Ashish was caught out by Vinay.
Akhil Aggarwal completed his half century off 86 balls. He gave eight boundaries before getting caught out by wicket keeper Mohit off Abhinav. Anil Sihag remained unbeaten on 75 runs, including 11 boundaries and a six. For Amritsar, Sunny claimed 2 wickets for 56 runs while Abhishek, Vinay Chaudhary and Rahul Kanojia took one each.
Brief scores
Amritsar (1st innings)-378 all out in 119.1 over (Rohan Marwaha 74, Karan Sharma 53, Amana Bawa 104, Abhinav Sharma 52, Mohit Handa 3, Amritpal 5 for 81)
Ludhiana (1st innings)-193 for 5 in 68 overs (Akhil Aggarwal 50, Anil Sihag 75 not out, Gitansh Khera 25, Sunny 2 for 56, Abhishek 1 for 39, Vinay Chaudhary 1 for 35 , Rahul Kanojia 1 for 34).
In the third match of the day, the Chandigarh team was bowled out for 446 in 147.3 overs. Overnight batsman Gurinder Singh scored 126 off 218 balls, studded with 16 boundaries and two sixes. He along with his teammate Aman Bharti built a 100 run partnership for the eighth wicket. Aman completed his half century off 71. He gave six boundaries and one six. For bowling side, Karan Kaila was the pick of the bowlers after taking 3 wickets for 54 runs.
The Patiala team scored 95 for 5 in 39 overs, till the drawn of stumps. For Chandigarh, off spinner Abhilash Sharma took 3 for 13.
Brief scores
Chandigarh (1st innings)-446 all out in 147.3 overs (Manan Vohra 67, Veer Karan Goyal 61, Gurinder Singh 126, Aman Bharti 51, Karan Kaila 3 for 54, Amaninder 2 for 116, Robin Dhillon 2 for 52).
Patiala (1st innings)-95 for 5 in 39 overs (Prabhjot 18 , Jeevanjot Singh 28,Abhilash Sharma 3 for 13).