area watch: bathinda
Withdrawal syndrome
Rentals had soared significantly while the work on the refinery project was in progress. But these have nosedived now following completion of the project and the consequent exodus of the workforce
Megha Mann
The realty scene in Bathinda has been on a roller-coaster ride, thanks to the Guru Gobind Singh Refinery project. While it was the launch of this ambitious project that fuelled a boom in the property market four years ago, now it is the completion of the project that has sent the realty wagon hurtling down giving nightmares to all the stakeholders.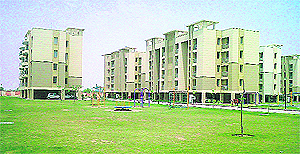 While infrastructure and development projects are considered beneficial for the health of the realty sector in any area as they lead to price appreciation of residential as well as commercial properties and high rental returns, Bathinda is witnessing a reverse trend at present. The residential rentals in Bathinda city, areas of Raman Mandi, Talwandi Sabo and Dabwali have nosedived post the commissioning of the refinery. House rents in these areas have gone down by more than 30 to 35 per cent over the past six months. Earlier, a 2 BHK rented accommodation on second floor in Bathinda city would fetch Rs 10, 000. But with the refinery employees shifting to their newly constructed colony within the commercial establishment's campus at Raman and many others leaving after the completion of the project, no one is ready to pay such a high rent.
In 2008, when refinery's construction was in full swing, a huge army of workers and their families migrated to Bathinda. There were at least 120 big and small contractors working for on the project with almost 32,000 employees, who needed space to stay in Bathinda. Employees of several big contractors like Larsen and Toubro lived in rented accommodations as the colony in refinery was meant only for the HMEL (HPCL-Mittal Energy Limited) employees. Rentals in the area zoomed as these executives could afford to pay high rent. Most of them preferred areas like Model Town I, Model town II, Model Town III, Guru Teg Bahadur Nagar, Bhagu road, Patel Nagar, Kamla Nehru Colony, Panchvati Nagar, Green Avenue, Veer Colony and others and house owners were paid the desired amount as rent. As most of these 'imported' employees preferred planned areas of Model Town I, II and III, even the property rates in these localities soared to Rs 30,000 to Rs 35,000 per sq yd.
Riding high on the refinery-propelled economy, many people took loans from the banks and added more floors to their houses in order to cash in on the need for accommodation here. "More floors mean more space to cater to the massive demand for rental accommodation. In many cases, locals even sold their ancestral land and valuables to add more storeys to their houses and rent them out", reminisces Surinder Singh, a resident of Model Town Phase I, who refused to flow with the tide and never gave his property on rent.
This high tide of rentals continued for four years - from 2008 to 2011- and the locales reaped rich dividends. But now most of the accommodations lie vacant as there are very few takers. "While the urbanites took loans, people living in areas like Raman Mandi used their life's savings to build more houses in the hope of getting a good rental income. The move has, however, backfired as there are no tenants left to pay such high rents. Situation is pitiable for those who had made rent their sole sources of income," says Ram Babu, a local property advisor. Those who had taken home loans to construct more floors are the worst sufferers as they are left with no rental income and hefty EMIs to repay the loans.
"Some owners have lowered the rents now, but still these are not at the level where local people can afford them. Rental value will be getting a significant correction in the area," says another property advisor Yogesh Bunty. The only genuine tenants left behind now are the people from the nearby villages who have come to city for the education of their children. Being locals, they are well aware of the genuine rents and hence refuse to pay the exorbitant rents being demanded by owners.
It is not the realty scene alone that is suffering the "withdrawal syndrome" after the exit of a huge temporary population with different ethnic and cultural backgrounds, the social fabric of the area has also been left grappling with a void. Commenting on the social impact of refinery employees' and their families leaving the city, Aman Singh from Model Town Phase II said, "The refinery employees belonged to different ethnic backgrounds and brought cosmopolitan culture with them. This not only enriched the city's culture but also gave the much needed exposure to the people of Bathinda". He also observed that the families of refinery employees who were living in rented accommodations here were good company for the lonely widows and the elderly whose children have migrated abroad. "Such families are now left alone", he added.
Dull scene
The refinery township has 200 flats and around 120 villas. While there are around 525 persons living in flats, there are 119 families putting up at villas. The Millennium School, situated within the refinery premises has primary classes only. As a result of this many families with older kids are still staying in the city. The HMEL plans to add phase II to the existing township at the place where the inaugural ceremony of the refinery was conducted.
Companies change strategy
The companies have also grown wiser now. Instead of paying high HRA, employees (who don't have families or are unmarried) are being asked to stay in city hotels. Hotel Country Inn in Mittal Mall and Hotel Sepal are two such hotels in the city that have officers and employees of HMEL as well as Sterlite Energy Limited (SEL) of the Vedanta Group, which is constructing thermal power plant at Talwandi Sabo, taking rooms on rent. A Country Inn spokesperson said that SEL has a tie up at the administrative level and the employees stay at the hotel for short-duration stints.
No new projects
With the SAD-BJP coming back to power, the prices of property have become stagnant. In the previous tenure of the party from 2007 to 2012, Bathinda witnessed a boom in the property sector and an influx of new private colonies that offered planned housing solutions. These colonies included Sheesh Mahal, Ansal Mittal Sushant City I near village Jassi Pau Wali and Sushant City II near village Kotshamir, Pearls Colony, HBN Colony and Ganpati Enclave. While these colonies are doing fairly well there are no new private projects lined up at present so the realty market is dull and stagnant at present.