The wine bar code
A wine enthusiast's love for the bubbly goes beyond the bottle and becomes a passionate style statement. Raise a toast to this guide to wine accessories
Mukesh Khosla
I am never drunk, but occasionally over served!" So goes the cheerfully sloshed refrain of many happy alcoholics. But it's no longer whiskey, rum or vodka they are being over served with. An increasing number of people are shifting loyalties — from the humdrum of straight shots to the exciting world of wines. In modern times, wine drinking has been elevated to an art form and wine lovers come up with newer ways to relish their Chardonnays, Chiantis Burgundys and Sauvignon Blancs.
Time was when imbibing celebrity wine was a fad of the rich and the trendy. Wines made or endorsed by well-known sports and movie stars were a rage. Famous golfers like Arnold Palmer and Greg Norman had their names attached to wines.
Passionate Following
The lure of celebrity wines may have considerably diminished over the years but the craving for wine has not ebbed. In fact, it has galloped way ahead of estimates. At most swish dos there is an array of wines to tempt you. From the heady red to the tantalising white and from the sparkling to the organic, every wine has its own passionate following. In fact, wine is now the toast of Indian Gennext. Rising disposable incomes and jet-setting lifestyles have put the Indian wine industry on a bullish trajectory. In the last decade, Indian wines have gone from hic to hip, with even the world's leading producers like France and Italy saying cheers to the Indian bubbly.
Serving Wine
Your knowledge of wine will be tested with the temperature at which you serve it and the choice of glasses you pour it into. Therefore, you must know that when serving white wine you have to choose a narrow glass that will retain its flavour and aroma. White wine is best served between eight and 10 degrees Celsius.
Red wine, on the other hand, is not served at room temperature as heat and cold conditions can vary from region to region. A knowledgeable host will always serve it between 15 and 18 degrees Celsius. It will also be usually served in wide-based broader glasses that will retain its essence and zest.
Sparkling wines like champagne should be offered at temperatures between six and 10 degrees Celsius. They are best served or sipped in tall, slim tulip glasses so that the bubbles are easily visible and can be enjoyed. Wine glasses are just one of the many accessories that are becoming an essential part of enjoying wine in style.
Essential Accessories
The most essential one, of course is the wine bottle opener. This is a corkscrew that is gently plunged in the cork of the bottle and rotated to the end to lever out the cork. But before using the corkscrew, what one would require is the foil cutter. This is an instrument which is an important accessory to neatly remove the plastic or paper foil that covers the top of the bottle.
A number of other accessories for stylish wine service include the wine rack and the wine chiller, where different wine bottles are stored—a rack in case of red wine and a chiller in case of white and sparkling wines that need to be cooled. Another stylish accessory is the drip collar that adds a touch of class and prevents wines (especially the red varieties) from staining when they are poured into the glass. Many connoisseurs also use the aerator to oxygenate wine. The aerator makes the wine 'breathe' when it is poured into a glass.
Post-Wine Drinking
There are post-wine drinking accessories which come into play once the wine has been imbibed. These include the bottle stoppers which are becoming more and more creative. Bottle stoppers come in all shapes and sizes and in a variety of materials. These are primarily used to store leftover wine and prevent it from turning into vinegar.
Another accessory is the cork trivet kit whereby wine aficionados collect corks as souvenirs from their favourite wines or even corks of wines from bottles drunk in company of some special people. Then there are bottle tags that help organise your wine collection or even to write messages when presenting a bottle of wine. So, the next time you want to raise a glass you can make the occasion more special by laying out the accessories and letting your guests know that when it comes to serving wine you have both style and class.
| | |
| --- | --- |
| | |

Bottle Stopper
Wine bottle stoppers are not just to preserve uncorked wine but are being increasingly treated as works of art. Many of these stylish stoppers offer excellence in design and craftsmanship and are handcrafted in either ceramic or chrome or rosewood. They have ergonomically contoured embellished handles.
Price: Rs 100 to Rs 1,500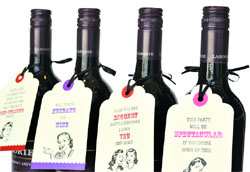 Bottle Tags
The bottle tags provide the best way to organise wines for easy access within the wine rack. Separate and identify wines by colour-coding them in sections like the vintage, ageing and flavour. So the next time you want your Bordeaux or Pinot Noir, you do not have to pull out several bottles form the rack to get to the right one.
Price: Rs 250 to Rs 2,500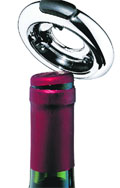 Foil Cutter
This innovative device is used to cut the foil around the bottle top. Though in most bottles it can be pulled off by hand there are some wines that come with a plastic foil. The foil cutter is gently clamped around the neck of the bottle and rotated until foil cap is severed. This saves you the bother of having to messily tear the foil.
Price: Rs 250 to Rs 1,500


Drip Collar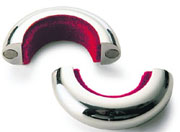 The drip collar is a unique bar accessory that conveniently slips on to an open bottle neck. The specially designed felt lining on the inside catches the drips while pouring wine. It not only prevents stains on linen and furniture from the trickle that sometimes flows down the side, but it gives the bottle a touch of class. 
Price: Rs 250 to Rs 1,250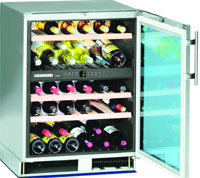 Wine Chiller
A wine chiller is more than a cooler or a conventional refrigerator. It helps keep the bottles cool at a steady temperature. Maintaining your wine at the ideal serving temperature greatly enhances flavour. You can also buy coolers for one, two or four bottles. But if you do not have one, you can plunge a bottle of wine in a classy ice bucket.
Price: Rs 5,000 to Rs 1,10,000
| | |
| --- | --- |
| | |
Corkscrew
In the hands of a wine lover, uncorking a bottle of bubbly can turn into an art. The kind of corkscrew one uses shows how stylish a person is. However, there has to be a utility value as well. The corkscrew should automatically eject the cork from the bottle after it is pulled. And the cork should come off the corkscrew smoothly
Price: Rs 500 to Rs 4,250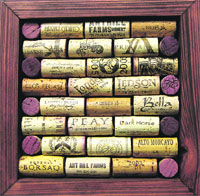 Cork Trivet Kit
True wine lovers never throw away bottle corks. Instead they put them to ornamental use by creating a trivet kit displaying corks from their favourite wines. They let their creativity run wild figuring out ways of turning corks into framed attractions. Besides being decoration objects, these corks show your love for quality wine.
Price: Rs 1,000 to Rs 3,500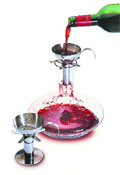 Wine Aerator
Connoisseurs aerate or oxygenate wine. Show your style and knowledge with a glass or steel aerator. The process involves pouring wine out of a bottle into the aerator held over the wine glass. In this way the wine is allowed to breathe and oxygenate which results in better taste, enhanced flavour and smoother finish.
Price: Rs 500 to Rs 6,000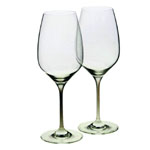 Wine Glasses
Make wine drinking a multi-sensory pleasure with the right kind of glass to enhance the experience. The glass should be of such a proportion that it facilitates smelling the wine. Most connoisseurs say that the aroma of wine too gives a high. So that is why the size and style of the glass are of paramount importance.
Price: Rs 250 to Rs 10,000

Wine Rack
Most connoisseurs like to flaunt their wine collection on attractive display racks. And there can be no better way of showcasing the red and white wine bottles than on a multi-level wooden wine stacker. Shop around for a stylish and versatile wine rack which will bring luxury and refinement to your collection
Price: Rs 2,500 to Rs 15,000