channel surfer
When spoofs make no sense

Sequels have to be better than their precursors; otherwise they turn into a big yawn, which is precisely what Movers & Shakers (SAB) has become. In its previous avatar on Sony, it was immensely popular because of its novelty factor. Now, it somehow lacks both in zing and sting. Its jokes fall flat and satires turn tepid. Shekhar Sumanís jibe "Why do snakes bite human beings? Because human beings are aasteen kay saanp (this Hindi colloquialismís English equivalent is snakes in the grass)" couldnít be rescued even by the canned laughter. Sumanís resort to stereotypical characters and situations betrays desperation to re-ignite the old magic. Akbar-Anarkali spoofs had lost their attraction long ago; the one on Saroj Khan was poorly enacted. Sidhuisms are pass`E9.
The recent rise in petrol price elicited familiarly Pavlovian response: Outrage, disbelief and all things negative. Television channels reported the common manís reactions in various cities; amid the usual protest-verbiage, there was an interesting one on Headlines Today wherein a northerner taxi driver espied in the price increase a conspiracy to throw out non-Marathis from Mumbai. Predictably, another round of debates lit up the small screen; spokespersons from opposition parties painted a grim future for the Indian economy, while assorted ruling party spokesmen were dismissive of such pessimism. Then followed the rollback rumours`85D`E9j`E0 vu.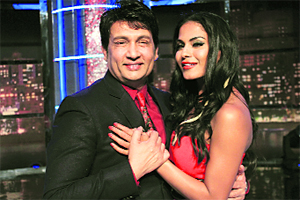 Shekhar Suman with Pakistani actress Veena Malik on the sequel of Movers and Shakers
However, soon stories regarding the Arushi murder case, the Jaganmohan Reddy disproportionate assets case and the "Kashmir Report" began to compete for eyeballs. But, it was the BJP power-tussle that kept viewers enraptured. Experts saw enhancement in Narendra Modiís stature (Aaj Tak) after Nitin Gadkariís acolyte Sanjay Joshi resigned from the BJP Executive. But, Modiís real b`EAte noir Gadkariís grin was telling a different story. He got the partyís constitution amended in order to obtain a second term as BJPís president. Interestingly, fireworks were provided by Gen V. K. Singhís parting salvos on NDTV & Times Now, which shall resound in the bureaucratic-political corridors of power for quite a while.
By casting aspersions on the Prime Minister Manmohan Singh, Team Anna has fallen from grace. The Prime Minister does not indulge in polemics, let alone invective, even when gravely provoked. While watching his dignified response on NDTV, one found him too mild in his reaction. Prashant Bhushan & co. wouldnít have been as judgmental about their own actions if they had been in power - presently an improbability; the indulgence factor would have operated ó we have seen this happening ever so often in Indian politics, reminding one of Shakespeareís following lines from The Life & Death of King John: "Well, whiles I am a beggar, I will rail/ And say there is no sin but to be rich;/ And being rich, my virtue then shall be /To say there is no vice but beggary."
On May 29, most news channels telecast live the massive celebration of KKRís maiden IPL title victory. Ever so lovingly, the cameras lingered on Didi, SRK and others doing a victory jig of sorts. Then, promptly in the evening, the clever media asked, oh so self-righteously, whether Didi had gone overboard ó after all it was only a club and not the state that had won.