M A I N N E W S
SAD-BJP sweeps violence-hit civic polls
Alliance retains hold on 4 MCs n 75% turnout n Reports of widespread rigging n One dead, 2 MLAs among 13 hurt
Naveen S Garewal
Tribune News Service
Chandigarh, June 10
The SAD-BJP alliance has virtually swept the civic polls results for which were declared late in the evening. With the poll results going in favour of the SAD-BJP alliance, the four top positions of the Mayors are all set to be retained by the alliance. The alliance has retained its hold on all four Municipal Corporations at Amritsar, Jalandhar, Ludhiana and Patiala.
Chief Minister Parkash Singh Badal hailed the landslide victory. Describing it as a "historic and forceful mandate in the favour of pro-people and development-oriented policies of the SAD-BJP government, the chief minister said the poll results were a "triumph of clean, transparent and good governance of alliance."
Congress president Captain Amarinder said in a statement that the SAD-BJP combine had reduced the Municipal Corporation elections to a farce. He accused the Chief Minister of using foul means in the elections. He alleged that masked youths with support from the police and local Akali leaders freely roamed in Patiala city capturing booths and preventing people from voting. All cameras, installed at the behest of the Punjab and Haryana High Court, were smashed and damaged to ensure that nothing was recorded, he alleged.
The second phase of the civic elections was marred by the incidents of violence, attempted booth capturing, stone pelting and lathi charge at some places. One person died in a firing incident in Ludhiana and about 13 persons have been injured in poll-related violence. The police, however, claimed that the man had died due to personal enmity. The injured include two sitting MLAs from Ludhiana, one belonging to the Congress and the other an independent.
Most of the incidents of violence took place in Ludhiana and Patiala where free-for-all between candidates and supporters of rival parties were reported from several polling booths.
In Amritsar, the police had to resort to lathi charge on Congress workers protesting booth capturing by supporters of an Akali candidate. Stones were pelted at the cavalcade of Congress president Captain Amarinder Singh in Patiala.
Secretary, Punjab State Election Commission ML Sharma said re-poll had been ordered in one polling station of ward no 1 at Patiala that reported an incident of stone pelting.
The MC polls today saw a 70 per cent polling, while the first phase of civic polls on June 7 recorded 81.5 per cent poll.
Even in the result declared for the three municipal committees, 26 Nagar Panchayats and 24 by-elections, the SAD-BJP alliance has maintained a lead. However in Ferozepur, the Congress candidate Sukhdev Singh won by 497 votes in ward no. 4 where Congress workers had forced polling to stop for over two hours on June 7 alleging booth capturing by SAD workers.
Contrary to expectations, Amritsar was relatively peaceful as compared to Ludhiana and Patiala. Jalandhar witnessed tension in the Ghas Mandi Chowk, but the BJP persuaded its workers not to resort to violence.
A large number of relatives of sitting legislators have won in Ludhiana. These include the brother and wife of Bharat Bhushan Ashu, Congress MLA from Ludhiana, who was injured today.
Ludhiana also elected the wives of two sitting MLAs Darshan Singh Shivalik and Ranjit Singh Dhillon. Shivalik's wife Paramjit Kaur Shivalik won from ward no. 58 and Dhillon's wife Narinder Kaur won from ward no 2. Former SAD Minister Hari Singh Gabria's son Rakhwinder Singh also won from ward no. 61.
Ludhiana reported an incident of firing in Salim Tabri. Gurwinder Singh Bajwa, a former sarpanch of a neighbouring village, died of gun shot injuries. Clashes were also reported from the Partap Chowk area and the area close to Christian medical College in which supporters of SAD candidate Soma and those of an independent candidate Goga were injured. Independent legislator Simarjit Singh Bains was also injured in stone pelting late last night after he was returning after meeting some party workers.
Ludhiana saw the most fiercely contested contests among all four municipal corporations. Ludhiana Corporation has a annual budget of Rs 741 core, the highest among all state civic bodies. There were reports of booth capturing from many places in Ludhiana, including one from ward no. 73 that saw a clash among the migrant that inhabit this constituency. Patiala saw SAD candidate from ward no. 39 Jaspal Pardhan win unopposed. There was an incident of firing in ward no. 27 at Patiala, but no one was injured.
Firing in Ludhiana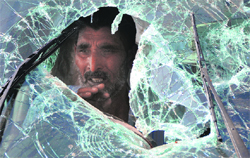 Ludhiana reported an incident of firing in Salim Tabri. Gurwinder Singh Bajwa, a former sarpanch of a neighbouring village, died of gun shot injuries. Clashes were also reported from the Partap Chowk area and the area close to Christian Medical College. One Devinder Singh was shot in the head during a clash in Ward No 75.


A damaged vehicle in Bazigar Dera in Ludhiana. Tribune photo: Himanshu Mahajan

Capt's cavalcade attacked
Most of the incidents of violence took place in Ludhiana and Patiala where free-for-all among candidates and supporters of rival parties were reported from several polling booths. There was an incident of firing in ward no. 27 at Patiala, but no one was injured. Incidents of stone pelting were reported from many wards. The cavalcade of Captain Amarinder Singh was pelted with stones

The SAD has emerged the No 1 party in Punjab's urban areas. The civic elections have dispelled the myth that we have a rural base alone. Social engineering that provides equal representation to all communities in urban and rural areas helped us win all seats in several nagar panchayats
— Sukhbir Badal, SAD president

When they (Akalis) had already decided to capture booths and not allow anyone cast his vote, what was the purpose of holding the elections? Masked youths under the patronage of Akali leader Prem Singh Chandumajra and supported by the police were freely capturing booths and preventing people from voting
— Capt Amarinder Singh, PCC president