M A I N N E W S
Status quo in Siachen likely to continue
India, Pakistan expected to stick to their stands as talks begin today
Ajay Banerjee
Tribune News Service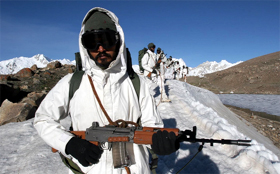 New Delhi, June 10
As delegations of India and Pakistan sit down at Islamabad for the two-day 13th round of talks on demilitarisation of Siachen Glacier, signals emanating from both the sides indicate a status quo, at least for the time being.
Both sides are expected to stick to their stand at the June 11-12 meeting — meaning the deadlock will possibly continue. Ahead of the talks, Defence Minister AK Antony put it candidly, saying "no dramatic announcement or decision" should be anticipated. Possibly, his message was the complicated issue was far from being resolved despite the buzz in power circles.
The 28-year-old conflict relates to the control of the 2600 sq-km glacier which, since April 1984, is occupied by India. Pakistan occupies lower ridges on its side, while Indian troops sit on the heights — between 16,000 and 22,000 feet — militarily a commanding position.
The Indian delegation, led by Defence Secretary Shashikant Sharma, is slated to tell Pakistan to first agree to three 'pre-requisites' — authentication, delineation and demarcation of respective troop positions on ground before military pullback plans can be discussed. This means Islamabad agreeing to Indian position which is unlikely.
Pakistan resists "authentication" as a pre-requisite to the proposed de-militarisation. This was its stance in the last round of Defence Secretary-level talks in May 2011. An authentication would legitimise the 109-km Actual Ground Position Line (AGPL) — that is the name of the de facto border on the glacier. This will regularise India's claims over the glacier, fears Islamabad which wants demilitarisation, withdrawal and authentication to proceed simultaneously. At the last defence secretaries meeting in May 2011, Pakistan suggested "redeployment and joint monitoring of disengagement process."
Last month, after Pakistan Army Chief General Ashraf Parvez Kayani's call for a mutual withdrawal, Islamabad announced it would stick to its traditional position. Pakistan suggests a mutual troop withdrawal and leaving the glacier to it earlier 'no man's land' status. This may not be acceptable to India. The AGPL has never been marked on the ground or on any document accepted by both sides.
Almost two months ago, a massive landslide occurred on the Pakistani side of the glacier on April 7 killing 139 soldiers. Pakistan President Asif Ali Zardari suggested the glacier be demilitarised. General Kayani followed up quickly.
Indian Army has cautioned government against concessions, saying if Pakistan violates a demilitarisation treaty, it would enjoy easier access to Siachen, leaving India at a serious disadvantage.
Suggestions of e-surveillance through satellites and sensors is impractical and will not stop Pakistanis, who can reach the glacier easily within a few hours while Indian troops, if based away from the glacier, will need a few days to reach the glacier top. Choppers do not operate at those heights and will not aid in troop insertion. Pakistan's violations of the well-defined LoC during the 1999 Kargil conflict is too fresh in minds of the Indian Armed forces.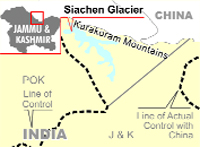 Closest to solution
June 1989 joint statement: "Both sides to work towards a comprehensive settlement, based on redeployment of forces to reduce the chance of conflict, avoidance of the use of force and the determination of future positions on the ground….The army authorities of both sides will determine these positions"
Location
n In the eastern Karakoram range in the Himalayas where the Line of Control between India and Pakistan ends. It is the highest battlefield of the world
n It is the longest glacier in the Karakoram and second-longest in the world's non-polar areas. It falls from an altitude of 5,753 m above sea level at its head at Indira Col on the China border down to 3,620 m at its terminus
Strategic importance
n Both India, Pakistan claim sovereignty over the entire Siachen region. In 1984, India launched a successful operation and has since maintained control over it
n J&K, including Northern Areas, belong to India. If the line along Saltoro Ridge is extended to Indo-Tibet boundary, a major part of Saksgam Valley, illegally ceded to China by Pakistan, will fall into Indian Kashmir
Rising toll
According to an estimate, at least 8,000 soldiers from India and Pakistan have died since 1984.