Beware of water-borne Hepatitis E and A infections
Dr Arvind Sahni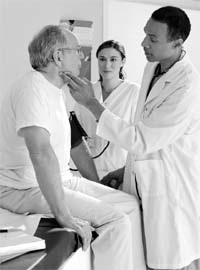 It's peak summer time whenthere is a shap rise in the cases of water-borne infections like gastroenteritis and dysentery. Although most gastrointestinal infections last a short while and are mild, people need to beware of the faecally contaminated water-borne Hepatitis E (HEV) and Hepatitis A (HAV) infections, which do cause high morbidity and a significant mortality rate in the case of HEV infections.
Prodromal symptoms before the onset of jaundice of these water-borne Hepatitis infections are non-specific and include fever, loss of appetite, vomiting, dark urine, chills, abdominal pain, upper respiratory tract infection symptoms and joint pains, which could easily be confused with any other viral infection. It is very important at this stage not to take very strong drugs, including antibiotics, aspirin and non-steroidal anti-inflammatory drugs (NSAIDS), which could have adverse effect on the liver. These drugs do not have any role in the management of infection with Hepatitis A or E virus.
The majority of the patients infected with Hepatitis A or E recover. The clinical symptoms of both HEV and HAV are indistinguishable from each other, and the correct diagnosis is confirmed by a blood test.
The main mode of transmission for virus HEV and HAV is through faecally contaminated water or food (faecal — oral transmission); the transmission through the water being more common. Both diseases are closely associated with inadequate sanitation, contaminated water and food and poor personal hygiene. In the case of HEV, infections may also be spread by eating contaminated pork.
HEV affects almost 1/3rd of the world population — approximately two billion cases. An estimated 14 million people globally suffer from symptomatic HEV infection with a global annual mortality of 300,000 and 5,200 still births. In 1955 HEV epidemic in New Delhi affected around 30,000 people. A point of note is rarity of secondary person to person spread from infected person to their close contacts. Attack rates of 1-15% in epidemics of HEV have been reported.
HAV accounts for 14 million cases worldwide annually with 3,000 deaths per year. Like HEV, HAV also causes epidemics, the largest being in Shanghai, China, in 1988 when 300,000 people were affected.
Both HAV and HEV infections are endemic in Asia, Africa, the Middle-East and Central America. HEV has 4 genotypes. Genotype 1 is mostly seen in Asia, Africa and South America. Genotype 3 is seen in pigs and other wild animals and can be transmitted to humans by eating infected pork (Zoonosis). HEV is being diagnosed in developed countries also and is seen in people with no history of travel to endemic countries suggestive of more widespread prevalence of HEV.
CLINICAL FEATURES
After the prodromal phase jaundice develops and could last two-four weeks. HAV virus generally infects those in the younger age group. Jaundice in children under six years of age is only seen in 10 per cent cases whereas it is present in more than 70 per cent of the cases beyond six years of age. HAV may relapse and also may have led to a prolonged cholestatic course, in which jaundice and severe itching may last months. HAV may rarely cause acute liver failure with high mortality.
HEV is one of the most common causes of acute liver failure in developing countries. HAV never causes chronic liver disease (cirrhosis) while cases of well-documented chronic liver disease/cirrhosis caused by HEV are seen in immunosuppressed and post-transplant patients. HEV may also cause mild infections without jaundice.
When to refer a patient to a tertiary care hospital:
Rapidly rising jaundice
Repeated vomiting
High fever and headache
Drowsiness
Decreased urine output
Bleeding from nose and gums
The above mentioned symptoms are or may be indicative of acute liver failure.
TREATMENT
Treatment in most cases is symptomatic with rest, high-calorie and low-fat diet, oral fluids, cold sponging and Paracetamol for fever. Avoid OTC drugs which could be harmful to the liver.
How to diagnose HAV and HEV
A simple blood test can confirm the diagnosis
Igm Anti HEV
Igm Anti HAV
If positive, they confirm the diagnosis of acute viral Hepatitis A or E.
Costly, sophisticated and molecular-based PCR test of blood or stool is rarely needed, except in immune-suppresion and HIV-positive cases where an IgM antibody test may be falsely negative.
What is new in Hepatitis E infection?
HEV is more widely prevalent than previously thought. In the West more cases are being diagnosed at an older age.
Autochthonous (locally acquired) infection is seen in the West.
HEV can rarely cause chronic liver disease (cirrhosis). In such cases Ribavirin can be used for 12 — 24 weeks as part of the therapy.
If a patient has the pre-existing chronic liver disease (cirrhosis), the HEV infection can cause acute on chronic liver failure (ACLF) which has a very high mortality rate both in short-term and long-term cases. Up to 70 per cent mortality has been reported at the end of one year.
HEV vaccine trials have been successfully completed in many countries with China being the first in the world to approve of three doses of the HEV vaccine.
Complications
Acute liver failure (ALF) is the dreaded complication of HEV and HAV infections, more commonly caused by HEV infection. Patients need ICU care and may very rarely require a liver transplant.
Prevention
Improved sanitation, adequate supply of safe drinking water, proper sewerage disposal combined with good personal hygiene practices such as regular hand-washing reduces the spread of water-borne Hepatitis E and A.
Vaccines
An excellent vaccine is available for HAV. This has an excellent efficacy and safety profile. Nearly 100 per cent people will develop protective antibodies within one month after taking a single dose of this vaccine. The HAV vaccine is approved by the IAP for childhood immunisation. The HAV vaccine should be taken by travellers to certain areas, people with pre-existing chronic liver disease (cirrhosis) and in the case of epidemics of HAV infection.
On January 12, 2012, the world's first HEV vaccine was approved by the Chinese State Food and Drug Administration. After a phase-3 clinical trial 112,604 healthy adults, aged 16-65 years, were given three doses of the HEV vaccine with almost 100 per cent efficacy and the vaccine was well-tolerated. The target population for the HEV vaccine includes women of child-bearing age and people with the pre-existing chronic liver disease (cirrhosis).
In India, clearly more work is needed before an HEV vaccination programme can be implemented. The cost factor and long-term efficacy of the HEV vaccine need to be addressed.
Protective antibodies in the HAV infection are usually for a lifelong period whereas in HEV they may last 1-4 years only.
Take-home messages
1. Both Hepatitis A and E spread by faecally contaminated water or food and are preventable diseases.
2. Boiling of water will prevent the transmission of HEV and HAV, and must be practised. Owing to the very small size of viral particles, water filters are not sufficient to protect the spread of these viruses.
3. HEV is a more severe disease than HAV and may cause 20 per cent mortality in pregnancy, especially in the 3rd trimester.
4. Worldwide two billion people have been infected with HEV.
5. Improved sanitation, adequate supply of safe drinking water, proper sewerage disposal combined with good personal hygiene practices are needed to reduce the spread of HAV and HEV infections.
6. Vaccination is not a substitute for improved basic hygiene and safe water supply.
7. HAV vaccine is excellent with very good efficacy and safety profile. Two doses with a gap of six months are recommended.
8. HEV vaccine has been approved in China which is probably the only country in the world using indigenously manufactured HEV vaccine, especially in women of child-bearing age and patients with the pre-existing liver disease (cirrhosis).
9. Entire India is highly endemic for HEV and HAV infections.
The writer is Director-Gastroenterology, Fortis Hospital, Mohali.