Weddings that wow
Indian weddings seem to be getting bigger and bigger. An event with a capital E. Estimated to be a whopping Rs 2,00,000-crore industry, weddings are no more just coming together of two families
Surekha Kadapa-Bose
Jodiyan to uparwala banata hai'. That is a centuries-old saying and we don't disagree with it. But the current saying from all over the world is, "It is one helluva a Big Fat Indian Wedding!" And we don't disagree with this, too.
Indian weddings seem to be getting bigger and bigger. Estimated to be a whopping Rs 2,00,000-crore industry, weddings are no more coming together of two families but announcing to the world: Hum bhi kisise kum nahin. At the last count, this industry had a 20 per cent annual growth!
Just dream the kind of nuptials that you want to have and the wedding industry will bend backwards to make your wishes come true.
People working within this industry — all first-generation entrepreneurs —have made India the new wedding tourist destination of NRIs, foreign celebrities and Hollywood stars. And joining this jamboree are of course our own desi crowd, who are trying to go one above the other.
"A wedding today means declaring to the world your family connections and your status ," says Aniiket Raaj, owner of a over a decade-old event and wedding management company, Maruti Universal, from Surat, Gujarat. Raaj's clients include businessmen, politicians and film stars.
You name the place, the type of décor, variety of cuisine, clothes, gifts, photography, choreography of sangeet, sourcing paid guests like film stars or Bollywood singers, the wedding designers will deliver it all. "We even suggest dress designers and jewellery designers if our clients want it," explains Raaj.
"Once the job is entrusted to us, the marriage party can just relax and enjoy the event," says Mumbai-based Nilaabh Kapoor of Nilaabh Studio who, along with wife Aditi, also plans weddings, television award ceremonies and other events.
Planners get two types of clients — one who have a fixed budget and give a general idea of the expected number of guests, what they are looking out for and the other who know exactly what they want, have a pre-decided theme and are open to discussing the feasibility of their plans. "When we arranged Rietesh Deshmukh and Genelia's wedding, we had to plan for two religious weddings — a Hindu wedding as well as a church wedding ," says Nilaabh.
For his sangeet ceremony Rietesh wanted to have a Wisteria look which he had seen in a tavern café in New York. So it was western décor for the room and Wisteria flowers to decorate it. Though most clients prefer an elegant-looking wedding there are some who are willing to experiment and open to ideas. "Most of our foreign clients, who want an Indian wedding, prefer the ceremony to take place in Agra, facing the Taj Mahal. A popular wedding site is the royal palace, preferably the Udaipur Palace. Including the food, waiters and other paraphernalia everything is created to suit the background of a palace décor. A beach wedding is another popular theme which we conduct on beaches of Goa," explains Delhi-based Neha Chauhan of back2culture. Neha, along with her husband Vineet, has been arranging weddings mostly for NRIs and foreigners. "We even get a priest who can translate the mantras in English so that the foreigner couple can follow them," said Neha.
And then there are zara-hatke couples who are willing to try something new and unusual – like getting married while flying in a hot air balloon; wanting the bride to descend from the sky like an apsara or emerging from a lotus. Nilaabh recalls how they had arranged a wedding where the bride came down from a helicopter on a dais constructed on Nalban Lake in Kolkata, while young girls attired in fairy dresses awaited her. Raaj had got the bride and groom exchange garlands on a hydraulics stage, taking the stage at a higher level.
Weddingwallahs are catering to a new trend; it's called the multi-destination wedding. In which you have sangeet in Jaipur, mehendi in Delhi, shaadi in Ludhiana and the reception in Chandigarh or another lot who want to have similar ceremonies in Singapore, Malaysia, Rome etc.
Delhi-based Swati Pandiya-Sood of Bollywood Secrets, an event and wedding management company, specialises in destination weddings. Says Swati, who has organised events and marriages for clients like Sahara group, Shah Rukh Khan, Unitech etc., "Not only in India, but if our clients prefer to get married in Europe, Australia, South Africa or anywhere else, we can do it."
The skills of a wedding photographer are of much importance. These are not individuals who put the pictures in your wedding album but go beyond, says Mriganka Dadwal of Mumbai-based Wedding Stories.
A wedding may cost anything between Rs 5 lakh and Rs 15 crore. The cost varies according to the set and size of the design, the number of food items and the types of food, the number of meals, the number of guests. a five-star hotel accommodation escalates the cost as do the type of cars to transport the guests. A fashion designer will cost extra, as will special guests like film stars, singers for merely a 10-minute appearance or performance. A separate musical programme, apart from the sangeet ceremony, where foreign dancers perform, adds to the cost."
No more, the chat mangni aur pat biah. Give the wedding designers some time and provide them the password to your ATM and sit back and relax while your guests exclaim, "Shaadi ho to aisi ho!"
On a swing
A separate jhoola for the bride-to-be for a mehendi ceremony. With the designer attire, soft light and softer notes of melody flowing, the bride is made to feel as though she is in paradise. Some prefer a foreign locale or the interiors to resemble a Hawaian beach. The décor is done to please the bride to be.


A rosy future
For the floral theme, truckloads of flowers were brought in from different parts of the world. Ganesha heads were used to decorate the four pillars of the mandap. These idols can be replaced with any other depending on the demand. For an English wedding, the red roses can be replaced with white, cream roses or lilies and orchids.

Bride on the beach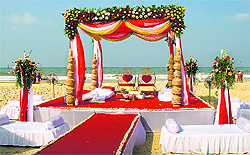 Of late, beach weddings have caught the fancy of many people. Especially Goa beaches are the most sought after by NRIs, foreigners and North Indians. The entire mandap, shamiana to seat guests and separate ones for food are erected on the beach. Even changing 'rooms' (tents) are installed so that after the wedding ceremony, if guests like to enjoy a swim, they can do so.

Royal pavillion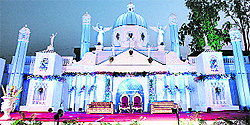 Another most popular theme is the royal or Rajawada theme. Even if it is for one day, the couple likes to feel like the Royalty, dress like them, get surrounded by a palace-like ambience. Including the guards at the gate, everything resembles a palace. The pillars of the set and the 'walls' are made of plaster of Paris with embossed designs and painted to suit the general decor of the set.
God of all things coloured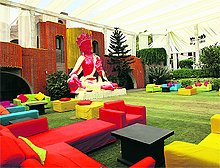 Colour was the theme at this wedding. Even the goddess' idol, blessing the wedding, was painted red to match the set. Red, orange and yellow marigold garlands forming the background added more colour. Furniture upholstery was chosen in tune with the entire set. To enhance the feel, swathes of long, shiny and delicate net fabric were hung. As the breeze blew, they swayed making the place look ethereally colourful.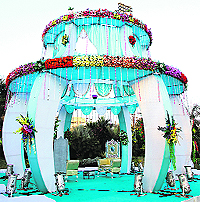 Sound of happiness
In the mandap, the bride and groom were seated on throne-like chairs to make them feel royal. Illumination highlighted the ceremony so that every guest got to see the pheras. The speakers arranged in all corners ensured a good surround sound. Sky blue and white nylon fabric was used to give a heavenly effect. Flowers were added to enhance the decor.
What a spread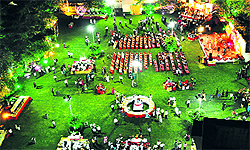 The set at at Surat was constructed in the open on 15,000 sq ft. It took nearly 25 days to erect it. Well-known Bollywood playback singers were invited for the wedding. They performed on one dais and on the other guests blessed the bride and groom. A variety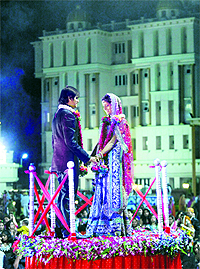 of cuisines was offered in different stalls.

Love is in the air
TThe bride and groom wanted to be 'up above near the sky'. So for the jai mala ceremony at Navasari, both were lifted on a hydraulic stage. If a couple wants to have a musical theme at their wedding, stage is set in the shape of any musical instrument of their choice. If it has to colourful theme, then several colours of diaphanous clothes are hung on all sides.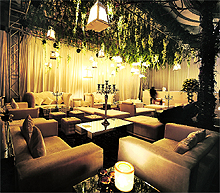 Wisteria moments
The 'wisteria look' was what Riteish Deshmukh wanted for his sangeet ceremony. A VIP lounge at Grand Hyatt Hotel, Mumbai, was done up entirely with real wisteria flowers hanging from the ceiling. As Riteish had seen a café while visiting New York and had loved the look, several lamps, too, were hung to get the cafeteria appearance. Many couples prefer to have a Greek, Hawaiian, Italian or a French look. All these can be created.