tete-a-tete
The solo player
Teaching students at the National School of Drama the art of making solos, actor Maya Rao tells them to start with nothing and tap into their inner consciousness
Nonika Singh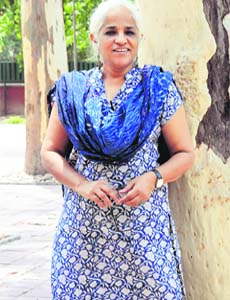 Maya Krishna Rao is a pioneer in theatre
A great idea is often born out of emptiness, solitude and nothingness. And eminent theatre person Maya Krishna Rao often enough locks herself in an empty room, looks within and presto a performance takes birth. Just like a painter who sits before a blank canvas and knows not which direction his or her brush will take, she lets her inner self guide her. Thus a newspaper report, a piece of poetry, a line she overheard becomes the trigger to the magical world of creation.
Most theatre practitioners prefer to zero down on the scripts first. Maya is an exception. The play Quality Street that she brought to Chandigarh, was a commissioned project that coincided with Commonwealth Games. Since she was asked to pick up from Commonwealth literature, a short story delving into the mother-daughter relationship by Nigerian writer Chimamanda Ngozi Adichie struck a chord. Retaining the original essence, the performance has been delighting viewers ever since it was first staged. The pulsating rhythm and the energy with which she imbues her shows, she admits, is an offshoot of her training in Kathakali. More recently, she has been drawing energy from yoga, which she has been practising for the past 20 years. She has been doing theatre for even longer.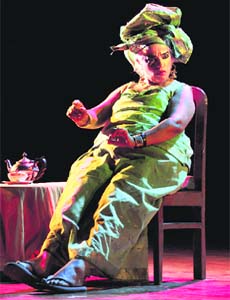 To begin with, she worked as an actor with directors like Barry John, Anuradha Kapoor, Amal Allana and many others. Today, as she directs herself she finds the process draining more so in her solos shows. Hence, she is devoting more time to theatre in education. The problem with our education system, she asserts, is that it is too compartmentalised. Secondly, the entire thrust is on knowledge and on gathering information not on equipping a child to make sense of the world. She reasons, "The best way to grasp the world is through arts. That's why we rush towards institutions like the NSD." She is all praise for the new generation of students studying at the premier theatre institute. She adds, "They are eager learners and disciplined and not all of them run to Bollywood but remain steadfast in their commitment towards theatre."
Maya, of course, is not an NSD alumnus. She imparted her first creative impulses from her mother who was an actor, dancer and singer all rolled into one. Thereafter, she did an MA in theatre from Leeds University, which she says was more of an academic qualification. Real training began on stage where today she creates a whole gamut of performances. All her creations are variedly different —from rock shows to using camera on stage to her wondrous hilarious comedy acts. She has no problems with being dubbed a stand-up comedian, even though her comic acts are more like theatrical performances where she carries an entire green room on stage with props. She enjoys making fun of we Indians, our idiosyncrasies, obsessions with looking good and with good life, and even mocks at herself on stage. She makes significant political social statements and in varied accents at that. One of her favourite accents, incidentally, is Punjabi. And how she would love to bring one of those acts to Chandigarh. Viewers in City Beautiful who loved her Nigerian accent too are likely to flip for this Keralite's Punjabi accent as well.
Letting the body speak
Music and dance are integral to acclaimed theatre practitioner and recipient of the Sangeet Natak Akademi Award Maya Krishna Rao's productions. Be it when she is doing a comedy, The Non-Stop Car-Food-Clothes-Feel-Good Show or creating serious works like Ravanama based on the mythological character albeit looked at from a different angle, Maya transcends texts. She imbues her performances with a dynamic energy through dance movements and body language mastered through diligent practice.