Disturbing encounters
Reviewed by Ram Varma
Beautiful Country, Stories from Another India
By Syeda Hameed & Gunjan Veda. Harper Collins, India. Pages 365. Rs 399.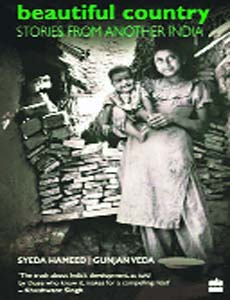 Syeda Hameed, a member of that esoteric, charmed circle called the Planning Commission, took occasional sorties into "remote corners, sparsely inhabited places, crowded urban spaces and ghettos of India," to see for herself the outreach of our national plans and projects. She took her OSD, a young journalist Gunjan Veda, along with her on these journeys of discovery. The result is this eminently readable, albeit profoundly disturbing, eye-witness account of the lives of the aam aadmi, as diversely placed as in Ladakh, Andaman and Nicobar Islands, Kerala, Chhattisgarh, Rajasthan etc., still struggling to come out of the centuries-old vice grip of poverty and corruption.
The much-touted schemes of our welfare state with astronomical outlays have scarcely touched their lives. "The rot in the system had penetrated deep and was so well-rooted in tradition and norm that it was a Sisyphean task", Syeda Hameed exclaims. Sisyphus, as you know, was a king in Greek Mythology who was condemned to roll a heavy stone up a steep hill only to have it always roll down again when he neared the top.
Syeda and her companion find, to their chagrin and dismay, that the chronic problems of abject poverty, rampant unemployment, housing, health and hygiene, education, malnutrition, scavenging, deep-seated corruption, social and economic exploitation, male domination, et al, which the Planning Commission, the Indian avatar of Sisyphus from Nehru's hallowed times, has been labouring to eliminate are still there in their ugliest form wherever they have gone. It's not as if nothing has changed; but the more India changes the more it remains the same. Women sarpanches have been elected because of reservation for them in Panchayat elections but their work is merrily being conducted by their husbands! They only put their thumb mark where the husband decrees. The Sisyphus stone always rolls back. Mera Bharat mahan! Driven by the same irony and sarcasm, she calls her book, Beautiful India.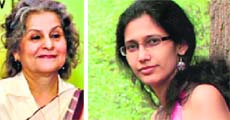 A trip to 'Beautiful' India: (Left) Syeda Hameed and Gunjan Veda travelled the length and breadth of India to expose how welfare schemes rarely reach their targets
Scavenging has been abolished by Acts of Legislature, but Syeda Hameed finds that in Dewas (Madhya Pradesh) the children of former scavengers are denied scholarship they used to get earlier. Reason? The precondition for the scholarship was "100 days of scavenging" by parents, which cannot be met now and scholarships have stopped; the kids have dropped out of school. The liberated folk can find no work now and are facing starvation. "Why don't you Valmiki and Hela women apply for appointment as ANMs?" Syeda asks them, a la Mary Antoinette. They give a feeble smile at her naivet`E9 and tell her one got jobs by paying bribes.
In Kherva village of Baran district (Rajasthan), they are surrounded by pot-bellied children with dirty faces. Syeda insists that they be immediately admitted to the village school. They are herded to the school by accompanying officials. The school turns out to be a dilapidated structure; it had just two rooms for 350 children already on the rolls. There were no toilets. When it rained, which was quite often in Baran, there were no classes.
In Kaithun, near Bundi, Muslim weavers "sit in their tiny homes in overcrowded, dirty localities, with their feet hanging in pit-looms creating the most exquisite Kota Doria saris. As with the minakari artisans of Nathdwara, here, too, beauty is born out of penury and squalour!" Syeda adds. The stories are endless, one more pathetic than the other. Montek Singh Ahluwalia in his Foreword calls them 'dangerously powerful reading' but is unruffled as they don't represent 'a reliable description of the average'. Syeda Hameed too finds solace in quoting statistics in the Epilogue. There is no realisation that billions of Plan finance is going down the drain. I beg your pardon, not exactly down the drain but in wrong pockets, as Rajiv Gandhi had realised.
The book is interspersed with quotes from the poetry of Faiz, Iqbal, Majaaz and Hali. For all her crusading concerns about gender and development and her compassionate heart, Syeda Hameed is a true flower of India's Ganga-Jamni culture; and the Indian saree never found a more beautiful woman than her to drape on.