Journey from figures to verses
Shayad Yaheen Se Ho, a collection of Urdu poems and ghazals symbolises the journey of R Satyanarayan, the CEO to Satya 'Muasir', the poet. The book has been published in three scripts — Urdu, Roman and Devnagri
Vandana Shukla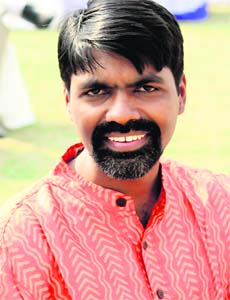 TO begin with, it defied logic. A "Madrasi entrepreneur" coming up with a book of Urdu poetry. So, one was forced to take note of it, beyond the novelty of the idea to discover that the 'foreward' is written by none other than Dr Karan Singh who lavishes praise on the entrepreneur's poetic gifts expressed in Urdu, a language associated with antiquity and leisure. He congratulates the young poet for enriching the multi-lingual tradition of Indian literature at a time when linguistic diversity is on a slide. Since the poet is a busy entrepreneur, gloriously using Urdu as his mother tongue, one had to pick the book to check its contents.
Shayad Yaheen Se Ho is a collection of Urdu poems and ghazals by Satya 'Muasir', elegantly produced in three scripts — Urdu, Roman and Devnagri.
A graduate of St Stephen's, Delhi, Satya did his MBA from IIM, Bangalore, and became the founder of one of Asia's leading edu corporates, CL Educate, formerly known as Career Launcher. The transformative journey of R Satyanarayan, the CEO, to the poet Satya has been a journey of a corporate honcho's constant evolution, the one who could not find his true voice in the 'monochromatic' world of business.
The multi-hued poetry of Satya, whose pen name is 'Muasir,' which means 'contemporary', touches upon those delicate moments and observations, each one of us have felt at some time, but have neglected. Satya, a prototype 'contemporary', who knows how to steal beautiful moments, while juggling through different roles in life, listened and stored these moments to let them blossom into poetry. This blossoming has taken only three years of formal education in Urdu, though, the seed was sown decades back.
"If all of us can learn and master English as our mother tongue, why can't we do the same with other languages?" asks Satya, whose love affair with Urdu began watching films like Pakeezah, Umrao Jaan and Mughal-e- Azam. Once his corporate venture was well established, he found a maulvi who gave him lessons in Urdu for three years and there he was, scripting a new chapter of poetic introspection.
The intensity of his shayari moved his mentor and ustad. When he went for 'Islah,' the process of showing one's poetry to a senior or a mentor in the literary traditions of poetry writing —the master poet Shaharyar told him, "Bus aap likhte rahiye. Kisi ko dikhane ki koi zaroorat bhi nahin hai" ( just keep writing, you don't need to seek approval from anyone). Satya has dedicated his maiden anthology to the master shayar, who did not live long to see the launch of the book. In a chapter titled Ab to khwabon mein milenge, he pays a moving tribute to his favourite shayar in lyrical prose, whose profound poetry intensified his love for Urdu and shayari.
When poetry visits a soul, music can't be far behind. Satya found in Mahesh 'Pichi' Prabhakar, an accomplished music director, who composed a music album to go along with the book in the voices of Vidhi Sharma and Jitender Singh Jamwal. "After all, we have learnt Kabir, Shaharyar, Sahir and Harivansh Rai Bachchan not by reading, but by listening to music," says Satya.
Shayad Yaheen Se Ho offers inspiration to thousands of professionals who leave behind their passions to write 'success' in a predictable order of letters. Satya just juggles it up.
Kuchh toh hoon, shayad
Main ik apaar samundar hoon shayad
jiski gehraaiyon say main khud aparichit hoon
sehar ka surkh ufaq hoon kabhi
jiski bisat say main khud na-waaqif hoon
mujhse mera taarruf nah pooch
main kal koi aur tha
aaj koi aur hoon
jism ka shehar wahi rahaa shayad
bashinday badalte rahay har kuchh arsay ke baad
abhi aur bhi marhalay hain is safar-e-wajood kay
'main' ki talaash mein main khud hoon shayad..."