short takes
A polymath, poet and chic-lit
The many careers of DD Kosambi
By DN Jha .Left Word. Pages 202. Rs 275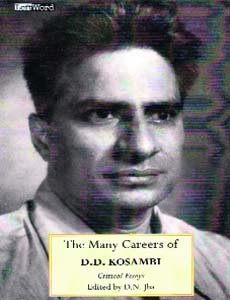 Polymaths are a rare breed and a blessing to society. One such genius was the Goa-born DD Kosambi, a brilliant alumnus of Harvard University. Apart from genetics, he was proficient in mathematics, history and several languages like Greek, Latin, German, French etc. After teaching mathematics at Banaras Hindu University, the Aligarh Muslim University and Pune's Fergusson College, he accepted the chair of mathematics at the Tata Institute of Fundamental Research. He also contributed to the development of social sciences in India and laid the foundation for scientific numismatics that facilitated a systematic study of archaeology and history.
Considered the patriarch of the Marxist School of Indian historiography, Kosambi adopted a historical materialist approach and applied mathematical principles to his works. DN Jha observes in this volume, "Kosambi's analysis and understanding of Sanskrit literature was informed by his commitment to a social and political ideology rooted in Marxism." Another contributor to this volume, Prabhat Patnaik, points out, "(Kosambi's) Concepts like 'Magadhan State' and 'acculturation' contain deep insights into the process of Indian history and constitute major building blocks for constructing its totality."
Other eminent contributors like Irfan Habib, Krishna Mohan Shrimali, Eugina Vanina, Suvira Jaiswal, Kesavan Veluthat, and CK Raju highlight different aspects of Kosambi's life, beliefs and works. An engrossing read.
A drop in the ocean by Padma Sachdev, Translation
By Uma Vasudev & Jyotsana Singh. National Book Trust. Pages: x+347. Rs 180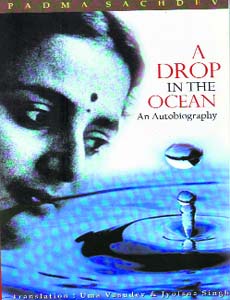 Padma Sachdev was born into a well-off Pandit family of Jammu in 1940. She was barely 30, when she won the Sahitya Akademi Award for her first collection of Dogri poetry. She went on to author seven poetry anthologies - one of them being qita which is a form of poetry in four lines, the verse is generally eulogistic. Among her renowned works are Meri Kavita Merey Geet, Tawi Tey Chanhaa, Nehriyaa Galiyaan, Uttarbaihnee and Dhaiteeyaan. She is also a much-awarded litterateur; among her awards are the Soviet Land Nehru Award, the Hindi Academy Puraskar, the U.P. Hindi Academy Puraskar, the Raja Ram Mohan Roy Puraskar, the Joshua Poetry Award, and the Jammu & Kashmir Government's Robe of Honour. This book, a translation, traces the life, struggles and accomplishments of Padma Sachdev. You get to know of the lifestyle and traditions of Jammu's Dogra community, to which she belongs, and also her resilience in the face of adversity. It is an interesting read but diligent proofreading would have made it a genuine reading pleasure.
The Journey
By Munaf Shaikh. Frog Books. Pages 221. Rs 175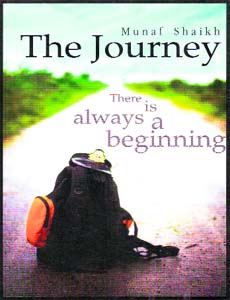 School or college campus-based tales have become quite common now. The pattern too is quite familiar. The love at first sight invariably goes through all sorts of trials and tribulations. Normally, such stories have happy endings - give or take a few twists in a tale's tail. This novel too remains largely true to type. Arsh joins his new school much after the official date for admissions is over. His arrival causes a bit of flutter as he is supposed to be quite good at studies. He makes friends with Saurabh and others in the hostel, where quite a few pranks are played out. The romantic angle is provided by Leher, Arsh's classmate. After initial hesitation, the two come close - something that is not liked by Leher's current boyfriend Hari. After a tussle, Leher ditches Hari for Arsh — or so the latter thought. Eventually, Arsh and Leher break up. He goes off to Ukraine to study medicine. There many friends enter his life even as he gets into more relationships and break-ups involving Ola, Sarah etc.
The storyline is interesting. I wish its treatment, especially the language, were more professional.