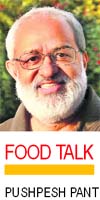 Peel on a platter
WHO doesn't know that all the goodness of the vegetables — vitamins and traces of minerals — reside in their skin. And we, in our mistaken quest for refinement, peel or pare the vegetables depriving ourselves of valuable nutrition. It's the poor who try to remove the skin sparingly and often use stems, leaves et al in an effort not to waste anything. We were reminded of this when an old student and good friend Ritambhara Shashtri shared a recipe handed down by her grandmother.
Our ancestors certainly had more wisdom and weren't shy about enjoying the 'riches of poverty'. We relish potatoes in jacket with sour cream, or take delight in piquant potato skins in a Mexican restaurant, and are left amazed when a khandani Awadhi`A0bawarchi treats us to a subz ki galauti fashioned with peels of torai. And only a few of the present generation would have tasted the delicacy called Lauki ke chhilkon ki subzi.
Method
Wash and peel lauki, ensuring that some soft flesh is retained but not much. Dry roast besan stirring continuously till it releases its aroma; take care not to let it burn or brown. Remove and mix all powdered spices in it, except the garam masala, if using. Heat ghee in a pan and when, hot add jeera seeds. When these begin to crackle, add the lauki peels, lower heat to medium low and stir-fry for a minute. Now put in the roasted besan enriched with powdered spices and stir to blend. Cover and cook till done to taste. Garnish with chopped, deseeded green chillies and hara dhania. You may serve the chhilke ki subzee on a bed of whisked dahi flavoured with a little mint. `A0Use the leftover core of the gourd. Put in a blender with milk or chhach and enjoy a refreshing sweet or salted cold drink.
Lauki ke chhilkon ki subzi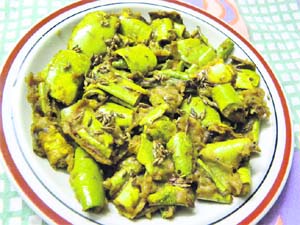 Ingredients
Lauki/doodhiya (bottle gourd) 1kg
Besan (gram flour) 1-2 tbsp
Haldi powder ¼ tsp
Lal mirch powder ½ tsp
Dhania powder ½ tsp
Jeera seeds ½ tsp
Garam masala (preferably home-made with equal measures of clove, cardamom and cinnamon powders opt) ½ tsp
Desi ghee 1 tbsp
Salt to taste