'Cinema is all about storytelling'
Parambrata Chatterjee is on a new high after the success of Kahaani, in which he plays the role of a young police officer who assists Vidya Balan
Shoma A. Chatterji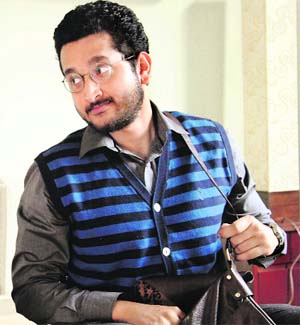 Parambrata Chatterjee has completed a decade in films
Rana Dasgupta is the tall, slim and fair young police officer of Kahaani. Parambrata Chatterjee, the actor-producer-director of Bengali cinema is endorsing brands, representing the industry at the London Festival of Bengali films and having back-to-back releases that feature him in strikingly original roles.
What was the Kahaani experience like?
It was mind-blowing. It is an out-of-the-box film with an out-of-the-box story and actors across Bengali cinema with a dash of Bollywood actors, including Vidya Balan whose feet are firmly planted on ground and her head has no halo around it. Sujoy, the director, gave me a call when I was in France. When I flew back, he said I was going to be in his film. Vidya is wonderful to work with, absolutely unassuming. Working with her was a humbling and learning experience for me not to talk of the experience of acting under Sujoy's direction.
What is the London Film Festival about?
It is the first ever Bengali film festival (Probash Parboni Bengali Film Festival) in London. I am a member of the team that represents the Bengali film industry. There are other actors, directors, etc. It ran for three days and was organised by Harrow Arts Centre under the supervision of Sangbad Pratidin, a noted Bengali daily of Kolkata. It was a great success.
You are having back-to-back releases in Kolkata, including one film that was held back by the CBFC for six long years. Do you think you are into a lucky phase?
It is hard work that is paying back. I have completed a decade in films. It is time people sat up and took notice. I have worked with the best of directors and actors and even directed a film. I have begun a production house with my friend and co-actor Rudraneel Ghosh. Teen Yaari Katha, (The Story of Three Friends) was held back because the dialogue has some cuss words and some visuals and objects the CBFC found objectionable. Today, it looks like kindergarten stuff placed against films that are even titled after cuss words. Even lyrics are filled with cuss words left, right and centre. The film is into its third week which is good business.
You won a very prestigious British Council Fellowship some years ago. In what way did it contribute to your growth?
It has made me a different person altogether. It was an extremely enriching experience for me as a human being more than as a person who had gone to study filmmaking.
Ultimately, a film is about the story that it tells, the characters who inhabit the story and the audience that can identify with the characters and their experiences.
Technological differences may be there from one culture to another or, from one school of filmmaking to another. But the common thread that binds good cinema across the place is all about storytelling.