On Olympic track
Packing a punch
With seven pugilists making the Olympic cut, the boxing fraternity is hopeful of a medal finish in the London Olympics starting next month
Gagan K. Teja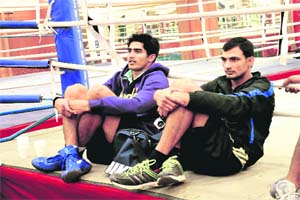 Four out of seven boxers got their Olympic berths at World Boxing Championship (WBC) in Baku — a big achievement in itself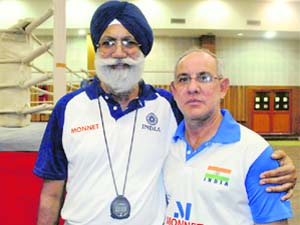 Coaches of the Indian men boxing squad, Gurbax Sandhu (left) and B. I. Fernandez, are hopeful of a good show
Vijender Singh's bronze medal in the 2008 Beijing Olympics made boxing a popular sport in the country. Now with a record number of qualifications for the London Olympics this year — boxing has become a handpicked choice of the sports fraternity for a medal finish in the London Olympics.
With as many as seven men pugilists — L. Devendro Singh (49 kg), Shiva Thapa (56 kg), Jai Bhagwan (60 kg), Manoj Kumar (64 kg), Vikas Krishan (69 kg), Vijender Singh (75 kg) and Sumit Sangwan (81 kg), making the Olympic cut, the boxing fraternity is hopeful of adding to India's medal tally in these games.
Since the first ever medal in 2008, Indian boxers have been on a high and their performance in the past four years has been splendid. They have set many milestones in these four years. Four players qualified at the AIBA World Boxing Championship (WBC) in Baku in October, 2011. This was a record of sorts as the WBC is the biggest bonanza in boxing.
Notably, before the Beijing Olympics, it was only only A. L. Lakra, who had qualified for the mega event at the prestigious WBC event in Chicago in 2007, while all others, including India's hot favourite Vijender Singh, had won his Olympic berth for Beijing after qualifying at the Asian Olympic Qualifying Tournament.
But this time, four of our players made it to the London Olympics after qualifying from the WBC, which is a big achievement in itself. Vikas Krishnan's bronze medal in WBC was certainly the icing on the cake.
Despite spectacular performances in Baku by most of our boxers, Indian fans were disappointed when Vijender Singh bowed out at a very early stage and therefore could not win an Olympic berth. This, certainly, had raised some issues over his form but the former numero uno player silenced his critics in the Asian qualifying tournament in April this year with his fierce fighting skills. Vijender cemented his place in the 2012 Olympics by advancing to the semifinals at the AIBA Asian Olympic Qualifying Event in Astana, Kazakhstan, becoming the fifth Indian player to get Olympic berth for the London games.
He was soon joined by Sumit Sangwan and Shiva Thapa taking the total count to seven.
Cuban coach B. I. Fernandez has been working hard with the Indian squad. He started training Indian boxers in 1991 and had accompanied Indian team in 1992 Barcelona Olympics as coach. Fernandez can be called the Architect of Indian boxing.
Now that India is all set to enter the games with such a large number, chief coach of the Indian men boxing squad, Gurbax Sandhu, is hopeful of a good show. "Seven qualifications in itself is a morale booster but it is also an added responsibility. With the way, their training is going on, I am sure of bettering our performance in a big way," added Sandhu.
high hopes
Maiden medallist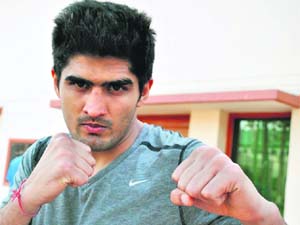 Two-time Olympian, Vijender Singh has already registered his name in India's sports history by winning the first-ever medal for India in boxing in Olympics. But when he made a first-round exit in the WBC at Baku, many eyebrows were raised. His early exit gave an opportunity to his critics to question his form saying that Vijender Singh was more occupied with his advertisement assignments and entertainment industry but the pugilist never reacted.
The twentysix-year-old boxer maintained a low profile and waited for the right opportunity to silence his critics, which came in the form of the Asian Olympic qualifier. He then not only shut his critics with his spectacular skills but also sent a clear message that he still ruled the ring.
Sharing his feelings with The Tribune, Vijender said boxing has always been his first love and will continue to be so. "Doing a few ads or appearing in a few programmes doesn't mean a person has lost his focus. There has never been a day when I have ignored my practice because of personal engagements. What I do during my leisure time should not bother anyone. I have always maintained that I am a boxer and will continue to be one till I am fit enough to represent the nation," added the former world no. 1.
Talking about his training, he said things were good. "Weather in India is really hot these days and therefore the Indian Amateur Boxing Federation has planned a few foreign trips for us. This will give us an opportunity to train with sparring partners. I am hoping for a gold medal in these Olympics. Rest is in the hands of God," said Vijender.
Ring leader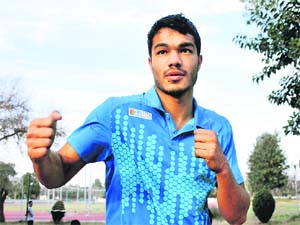 Born on February 10, 1992, in Hisar, Haryana, Vikas Krishnan started boxing when he was only 11. Coach Jagdish Singh took Krishnan under his tutelage and honed his skills. He perfected his moves quickly and went on fighting with the intention to win every bout.
In 2007, he won his first gold medal in the National Junior Championship (under-17), and followed it with a gold medal and best boxer trophy in the 2008 Children of Asia Games. After that, there was no looking back. He won a gold medal in the 2010 Asian Games.
Recently, Krishnan bagged a bronze medal at the WBC at Baku that also gave him with an Olympic berth. He has been in good form lately and is one of the biggest bets for India in London. "I have been training really hard and am not taking any chances before this prestigious tournament. A lot of hopes are riding on me and I cannot afford to disappoint anybody," added the shy boxer who has been a part of the Mittal Champions Trust for the past few years.
Feisty fist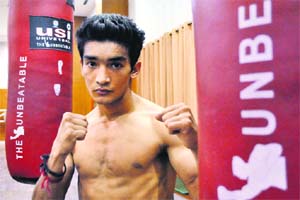 Eighteen-year-old Assamese lad Shiva Thapa is the youngest Indian boxer to qualify for the London Olympics. He made the Olympic cut at the Asian Qualifying Tournament where he won a gold medal in his weight category. His straight punches and superb energy levels are his biggest strength. Having played just a few international tournaments, Thapa has worked really hard to make it to the senior squad and has already established a niche for himself.
He is raring to win a medal for India in London. Thapa feels he is lucky to get this opportunity at this young age and hopes that he can make the most of it. "My coaches and seniors have always inspired me to perform well. Experiences of senior players are always a great motivation and I am preparing myself accordingly," added Thapa.
Aggressive hope
A fan of Mike Tyson, 20-year-old Manipuri boxer L. Devendro Singh is capable of knocking down any opponent with his naturally aggressive style and stamina. He has won many gold medals and best boxer titles in the domestic circuit. Working with the Services Sports Control Board (SSCB), he got his Olympic berth at WBC. He won a silver medal at the President's Cup at Kazakhstan recently. Coaches feel that his biggest strength is that he has learnt to control his aggression and is equally good at defending counter-attacks.
Old wine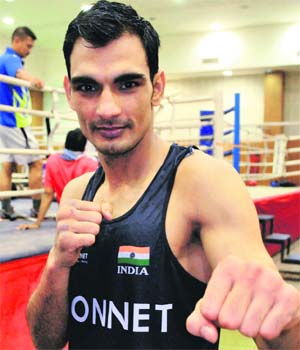 This 26-year-old Haryana boxer had won a bronze medal at the 2010 Commonwealth Games. He has a vast experience in international tournaments. His calibre can be gauged from the fact that he got Olympic berth at the World Boxing Championship at Baku. Jai Bhgwan, popularly known as 'JB', is sweating it out under chief coach Gurbax Singh Sandhu. Always brimming with energy, JB is all geared to go down in the Indian sports history by winning a gold medal at the London Olympics.
Winning hooks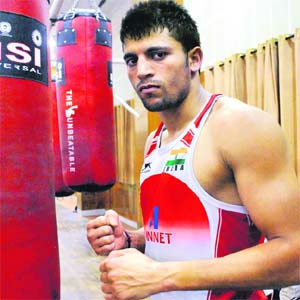 Sumit Sangwan qualified for the London Olympics at the Asian Olympic qualifier by winning a gold medal. The 19-year-old boxer from Haryana created waves at this tourney, which was his first senior international tournament. Making the best use of his height, Sangwan impressed everyone with his upper hooks. He is confident of his success at London. "I had undergone rigorous training to achieve a place in the team.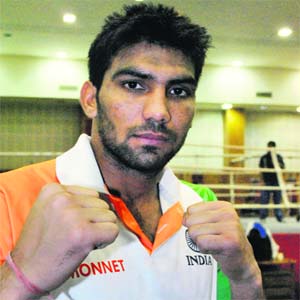 An Olympics medal certainly brings a change in a player's life and I will not leave anything to chance to accomplish this," adds Sangwan.
Guru dakshina
A gold medalist at the 2010 Commonwealth Games, this 25-year-old lad hails from Rajound village, Kaithal, Haryana. Manoj made the Olympic cut at the WBC at Baku. Boxing was an obvious choice for Manoj as his elder brother was a state-level boxer. Manoj says, "I started training under my brother to fulfil his dream of becoming an Olympian and win a medal for India. Now, it's time for me to give him guru dakshina, which I am going to pay with a medal. I am really thankful to my coaches who have made me capable of reaching this far."