ULTAPULTA
Vitamin Corruption
Jaspal Bhatti

According to the "National Laboratory of Corruption", many people in our country are suffering from the deficiency of a vitamin called corruption (C-rpt). Those who lack Vitamin C-rpt tend to become quite honest and lead very unsuccessful lives.
Our Prime Minister, Dr Manmohan Singh, tops the list of patients who suffer from acute deficiency of this vitamin.
Baba Ram Dev has also checked his (PM's) pulse and declared him to be honest.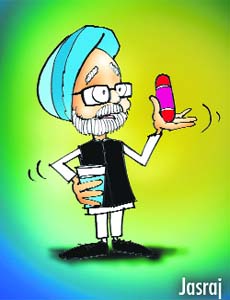 But looking into the eyes of his other Cabinet colleagues the baba found they were full of this Vitamin C-rpt.
Team Anna accused the Congress of using Manmohan Singh as its shield like Shikhandi. I cannot understand how an honest person with deficiency of vitamin C-rpt can shield dishonest persons.
An honest person today is considered so weak that people actually start pitying him. It is very difficult for an honest person to defend himself.
Sonia Gandhi has called on her partymen to come out openly in support of 'bechara PM'. The problem remains where it was.
How will the people with a high Vitamin C-rpt count defend an honest person?
Just to round off, what is the height of honesty? It is a pregnant women buying one and a half ticket.