M A I N N E W S
NDA split over Prez nominee
Meet inconclusive as JD (U) not keen on opposing Pranab's candidature
Anita Katyal
Tribune News Service
New Delhi, June 17
A crucial meeting of the BJP-led NDA called this morning to firm up its strategy for the upcoming Presidential election remained inconclusive following differences within the alliance over supporting UPA's candidate Pranab Mukherjee.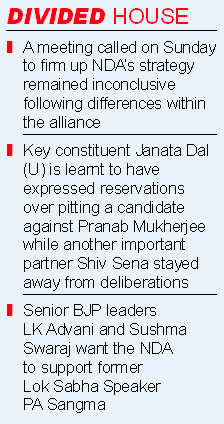 A key constituent of the NDA, Janata Dal (U) is learnt to have expressed serious reservations over pitting a candidate against Mukherjee in view of the latter's stature and seniority while another important partner Shiv Sena stayed away from today's deliberations.
The Akali Dal is also not in favour of forcing a contest in the July 19 Presidential election especially since the numbers are not stacked in their favour. Senior BJP leaders LK Advani and Sushma Swaraj want the NDA to support former Lok Sabha Speaker PA Sangma, who is being backed by AIADMK's J Jayalalithaa and BJD's Naveen Patnaik.
Although NCP chief Sharad Pawar is persuading him to withdraw from the race, a defiant Sangma refuses to budge.
Unable to forge a consensus, the NDA decided to meet again after further consultations with all the stakeholders, its Chief Ministers and other political parties, including the Trinamool Congress.
Emerging from a two-hour meeting, JD (U) leader Sharad Yadav said: "All NDA constituent parties presented their views. It has been decided that more deliberations are needed on the issue, and all NDA Chief Ministers and people from outside will be consulted. We will have another meeting and take a decision." Yadav said Advani had been authorised to conduct these consultations.
Mukherjee's candidature and Samajwadi Party leader Mulayam Singh Yadav's decision to back the UPA have created confusion in the NDA, which had been banking on a disarray in the UPA ranks.
As it happened, the tables have been turned on the NDA which stands divided today. Not just that, there are differences even within the BJP over contesting the Presidential election.
A section of BJP leaders, including Advani, do not want Mukherjee's candidature to go unopposed. It is argued that the NDA should use this opportunity to expand its alliance by supporting the AIADMK and BJD's candidate Sangma with an eye on the 2014 Lok Sabha polls. But in the process of forging larger opposition unity, today's meeting has exposed the fissures within the NDA.
NDA sources said Advani had called up Shiv Sena chief Balasaheb Thackeray last night to seek his support for the BJP's decision to back Sangma.
Thackeray, it is learnt, is upset with the BJP for taking unilateral decisions. He also does not see any merit in putting up a token fight. The Shiv Sena would like to make it a serious fight by enlarging he opposition group by roping in the Trinamool Congress.
However, TMC chief Mamata Banerjee has ruled out backing Sangma. Not only does she have personal antipathy towards the former Lok Sabha Speaker but she would not like to be seen in the company of the NDA for fear of alienating the minorities in her state.
I am still in the race: Sangma


Undaunted by the threat of disciplinary action by his own party, the NCP, PA Sangma on Sunday insisted on contesting the Presidential poll for which he has sought the support of NDA as well as Trinamool, both of whom have given him no commitment. "I am still in the race," he said. — PTI