From best friend to bed fellow!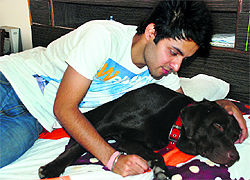 They could be all shaggy haired or spruced up to the tee, what they are never going to miss out on is the princely welcome each time on your arrival back home. The barking and wagging follows, never mind the early morning twitching and nocturnal wriggling. He's been a man's best friend for years now, and is on its way to being the bedfellow. More than half of Britons let their pet sleep on their bed, according to a new study, while almost three quarters share the bedroom at least.
Bed time story: Eshaan Sahdev and Turtle

Beyond the fantasy world
From the tulip gardens of Amsterdam to the chic lifestyle of New York; romance, action and drama in Bollywood is maneuvering its way to the dark by lanes of the city and to the living room of a common man. Cinema has crossed many stages. Film director Vivek Agnihotri is one man who likes to take his subjects to this 'other' stage.


screen presence: Vivek Agnihotri
A thought for legacy
On two adjacent walls are two photographs. The era when the pictures were clicked is almost the same. The time zones, however, are different. One is of the Government College, Lahore, and other has Le Corbusier enjoying a sunny morning in the Leisure Valley, Chandigarh.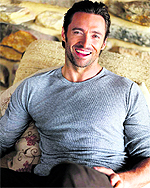 If wishes were horses
Actor Hugh Jackman says his son is uncomfortable with his stardom. The X-Men star said 12-year-old Oscar wishes his father was not famous but the youngster occasionally uses Jackman's stardom to his advantage, reported a website. "My son is 12 and he just wants me to be dad. He doesn't want me to be famous. He doesn't like when people come up to me on the street. He would much prefer if nobody knew who I was. Although, I've seen him in social situations when he didn't think I was listening, and he once said to a girl, 'Well, my dad is Wolverine.' So when it came to try to talk to this girl, apparently it came in handy!," he said.
Father figure: Hugh Jackman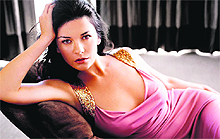 The Broadway return
Actress Catherine Zeta-Jones is planning to return to Broadway as Cleopatra in a new rock and roll musical. Zeta-Jones is developing a stage show about the ancient Egyptian queen with her Traffic director Steven Soderbergh, reported a website.


Cleopatra calling: Catherine Zeta-Jones
Shift and enter!
Shraddha Kapoor made her debut in Teen Patti which tanked. A year later she starred in Luv Ka The End under YRF films which also tanked. For a year, she got no films under the banner and decided to switch sides.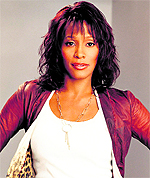 Memoirs of a singer
Winans, who performed at the I Will Always Love You hit maker's funeral in February, will release his book The Whitney I Knew on July 31, with the tome including never-before seen photographs of the pop superstar, reported a website. Houston, who had a history of substance abuse problems, was found dead in the bath of her Beverly Hills hotel room in February and Winans has promised to use the book to reveal "heart-breaking accounts that led to her ultimate defeat".

Pen down: Whitney Houston

Blunt and beautiful
Sonam Kapoor has an interesting bouquet of films and she has established herself as a style icon. She is someone who calls a spade, a spade and her interviews are fun to read. Here are some of her fundas.



Politically incorrect: Sonam Kapoor
Struggle to success
There is not an iota of doubt that the tinsel town can get anyone intimated. But there are very few who will muster the nerve to come back and go again and be even more certain about making a mark there. Such is the story of Gurjit Singh. At 26 years of age, when most youngsters are worried and uptight about earning huge salaries, this young lad has pulled up his socks and is ready to go back to Mumbai to pursue his dreams.
the 'in' side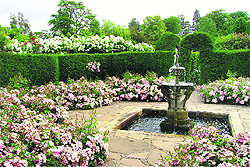 Space out
How to create a summer garden… The summer temperature can work havoc on your garden, but this does not mean that you cannot have a stunning garden in summer. On the contrary, you can create a beautiful summer garden by keeping a few things in mind. Take a good look at the space where you wish to create your garden. Make note of the levels and also of spots that have shade and sunlight.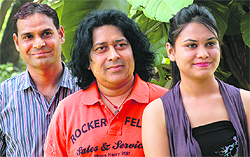 Sing-a-song
Wanna croon to the whole world out there? Here's a piece of good news for youngsters above seven years of age. Awaz Hindustan Ki, a singing contest claims to search and bring out talent from the region. The contest is being held in association with M4U Entertainment and Salmon Entertainment.

all set: (L-R) Vaid Prakash, Madan Shonky and Sapna Bardhan

GET PHYSICAL
Know your body
Here are a few FAQs about health answered.
stress buster
Learn from mistakes
"I made all the wrong choices in life and now my life is such a huge mess because of that," this is a constant lament from lots of people. But then who doesn't make mistakes? The smart thing of course is to learn from our mistakes and make our lives better.
What's happening!
Play on
Prajit Nayak written by Dhanjanyaya Bairagi and directed by Shyam Juneja is a two actor play, enacted by Juneja himself and Tamana Bhasin.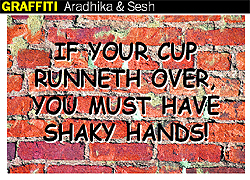 Tweetie pie