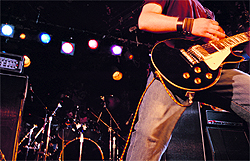 Notes across barriers
When the medium of music is sound and silence, it becomes questionable as to how music really forms a bond across boundaries. As the world drowns in the charm of World Music Day, we find out what makes world music popular and where does it touch a chord with Chandigarh. An amalgamation of different styles of music, world music is more of a recent concept in India.
Screen shot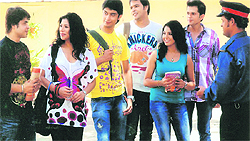 Since the last two decades, Arshad Khan has been successfully juggling between the small and the big screen. Usually, it's the other way round — from TV to films —but Arshad , was pretty flexible with switching mediums. What still matters to him is the substance that a project has to offer. "The television industry has made remarkable improvement in the last ten years, so much so that it's as good as the film industry of India."
Abhay Deol is upset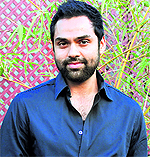 Abhay Deol miffed with the way film Rock The Shadi is going, chose to express it in media. producer Siddharth clarifies his stand: I really wished, that Abhay would speak to me directly and not through the press. I am currently in Fiji for a film, so wish I could do this face to face. All I can say is that Abhay should check facts directly, form a fair opinion and then react publicly. Not to go on hearsay and get emotional about friendships. There were 200 people on the set and everyone knows what happened. Balaji has been extremely reasonable in wanting to make the film in a certain budget.
Jackie Shroff signed for Dhoom 3
Actor Jackie Shroff, who has been away from Hindi films since quite some time, will be seen in Aditya Chopra's upcoming Dhoom 3.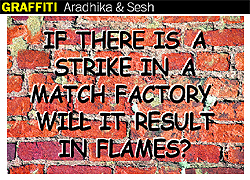 Stay fit with SRK
Shah Rukh Khan has always been lean and fit thanks to his sports background and then he left everyone speechless with his six-pack-abs. Here, the King shares some fitness tips.
Saif not playing superhero in my film: Luthria
Milan Luthria denies reports that Saif Ali Khan will be seen as a superhero in his next directorial venture, and adds that people have misinterpreted him.
Second perfume is more mature: Justin Bieber
Teen pop sensation Justin Bieber, who is set to release his second fragrance Girlfriend, says his latest perfume is more mature than his first called Someday.
Cruise offers a helping hand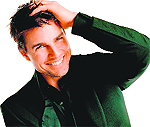 Hollywood superstar Tom Cruise reportedly offered his private jet to a worker, who was injured on the set of his latest film Oblivion, to take him to a nearby hospital. The 49-year-old actor later visited bed ridden David at Baton Rouge, Louisiana. "Tom stayed cool and swept straight into action. He didn't take a back seat at all and made sure his Gulfstream V jet was ready to go in case it was needed. It was quick thinking," a source said.
Kind fellow: Tom Cruise
Indulge
A thought for nature...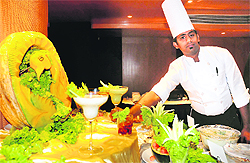 The Fern Residency formally opened its doors in Industrial Area II, Chandigarh, on Wednesday. A multi-cuisine restaurant Flavours, well-stocked bar 30:60, this is an environment-friendly property right at the entrance to the city on NH-21. No cut flowers here, light and water sensors in public places, it's all about recycled products and rain-water harvesting. The hotel steers clear of artificial colours and flavours in meals as well!
Blast from the past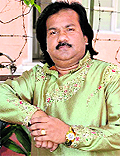 Irrespective of the wavering interest of people in this music genre, Chhote Haneef and his team have been giving performances around the globe. They have recently come back after one at South Africa, which was applauded by one and all. Qawwali, they say, is forever and those who contest it will support them too after taking a look at their packed schedule. "We sing in the praise of Ajmer Sharif. How can our music go out of fashion? It's a part of our heritage and also spirituality," says Chhote Hanif, who was in Chandigarh on Wednesday to perform on the invite of the Pracheen Kala Kendra.
Chhote Haneef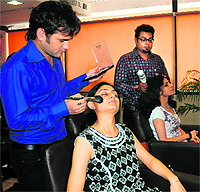 Look no further
If Bollywood gives a full blast of entertainment and de-stresses whenever it is tuned into, the glitz and glamour industry also passes on a number of hi-end fashion trends to the audiences who go back wearing Ray Bans (read Salman Khan's Dabangg) or tattoos (read Ghajini)! We catch up with two men who give these film stars a new look and style everyday. Imraan Ansari, regional trainer, VLCC hair stylist, and Vishal Mudgal, corporate area beauty head, Delhi, VLCC, work with Bollywood actors, defining and redefining 'styles'.
Vishal Mudgal (blue shirt) and Imraan Ansari
Coming Soon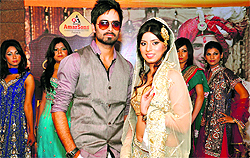 A royal affair
It is time for another exhibition to hit the city, the two day wedding exhibition Bandhan — The Royal Wedding comes to Chandigarh Taj on June 23 and 24. Looking for different wedding things, this is the place to look out for. From Indian bridal dresses to western alternatives, night wear and so on, The Royal Wedding has all this and much more.
pet passion
A hearty breed
What's the difference between a pet owner and a dog lover? The lengths to which you can get to have your four legged baby. Restless wait, twelve weeks of countdown and reception at the airport, not withstanding. "Oh! We had to wait for three months to get him, it was such a long wait," Danielle Cuk, speaks of what went in before they could acquire their prized possession.
It's rocking
Anurag Kashyap's 'Gangs of Wasseypur' has been screened at the Cannes Film Festival 2012 and has managed to receive a good response.
Chatter box


That's called multi-tasking