Slick couture for the rains
Trendy monsoon wear and rain accessories are breaking all rules and there is a deluge of rain gear to help make a style statement
Subodh Samuel
Monsoon season is the time to celebrate, the time when the scorching heat gives way to cool showers and the moist breeze ushers in joy all around. People welcome rains with a festive spirit marked by fun, merriment and, of course, a variety of lip-smacking foods.
If rains are the time to cut loose and get wet they are also the time to look stylish and trendy. For many leading designers, this is the time to get bold and startling in the choice of apparel. A number of them introduce special collections for the occasion.
But more than apparel, it is monsoon accessories that are the flavour of the season. Beaded necklaces, bangles and bracelets in bright colours; trendy clothes like Bermudas, dungarees and capris as also conventional raincoats, hooded jackets, trench-coats and neon-coloured umbrellas.

Special Monsoon Wear
It is not just the designers, even the world's leading fashion houses bring out a line of special monsoon wear. Umbrellas designs change season after monsoon season. Renowned couturiers like Prada, Gucci, Louis Vuitton, Dolce & Gabbana, Hermes Birkin, Pierre Cardin, Versace, Yves St. Laurent and a host of others bring out designer umbrellas that are a much-awaited annual event.
These umbrellas cost between Rs 500 and Rs 50,000. These can also can also be occasion-driven. Louis Vuitton, for example, offers special umbrellas for avid golfers. Yves St. Laurent brings out the Love Series Umbrellas, which, users say, will make you want to just fall in love during the rainy season.
Gucci has introduced umbrellas for special occasions like On-the-Go Luxury Umbrellas to go with evening wear and the executive-look umbrella for the office.
Raincoats & Trenchcoats
If umbrellas are making a designer statement, can raincoats and trenchcoats be far behind? A number of leading companies have brought out designer-wear raincoats that can be had in a range of styles, colours and prices. British fashion house Burberrys is clearly the leader in designer raincoats, though a host of other leading companies are lapping at its heels with their creative offerings.
In these times of conspicuous consumption, designer rainwear does not end with umbrellas and raincoats. Companies are milking the market with a host of monsoon-related accessories. Gum boots, for example, are suddenly back in fashion. But these are not the dowdy, utilitarian black shinies that were worn a generation back. The new boots are multi-hued and elegant and come in a range of stylish fashion accessory.
Leading shoemakers like Jimmy Choo, Ralph Laurent, Calvin Klein, Chanel, Regina Regis and many more have flooded the market with exclusive designer high boots that match your raincoat or umbrella will make you stand out and can be an instant head-turner
Stroller Covers & Canopies
Apart from stylish rainwear, there are a number of other imaginative accessories in the market. Like adults, children need protection too. In fact, toddlers need it more than adults. Keeping that in mind, companies like Sasha, Avocent and Maclaren have hit the jackpot with stroller covers and canopies. These are designed in such a way that they not just offer complete protection from rain but also allow babies to breath comfortably and see the world around them.
Then there is a big market for mobile rain protectors. Especially the high-end handsets like the iPhone. Owners fearing damage to their phones, go in for covers which have now become designer business. Companies like Nelson Aqua, Otterbox Armor and many more are offering elegant rain protection in contemporary styles.
The monsoon season indeed has become a fashion event not just in apparel but also in haute rain couture, which reflects the mood of the season which is essentially romantic and fun-filled.
Here's looking at some of the monsoon essentials….
LOUIS VUITTON UMBRELLAS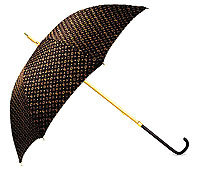 Besides protection if you are looking for style and oomph this monsoon, go for an umbrella that has the signature Louis Vuitton monogram. Umbrellas from the French fashion house are trendy and exclusive and spell both class and elegance. Louis Vuitton has a range of styles, even offering a silk parasol with UV protection and another one to be specially used when playing a game of golf. These designer umbrellas may burn a small hole in your pocket — but then, what's a few bucks when you want to bring back the romance and magic of rain in your life?
Price: Between $575 & $765 (Between Rs 28,750 & Rs 38,250)
PENTAX CLICKS IN THE RAIN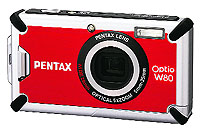 Want to capture the rain in all its glory but fear that you will ruin your camera if it gets wet? Fear no more. The Pentax Optio W60, with its fully waterproof body is not just rain-safe but can survive even it is fully submerged in water. The 10-megapixel point-and-shoot camera, with a 5x optical zoom and 2.5-inch screen, has a strong body and can survive multi-terrain extreme weather conditions and will even work in temperatures of up to -10°C. Its versatility can be gauged from the fact that it is capable of operating underwater to a depth of four metres for up to two hours, all the while taking quality pictures.
Price: $300 (Rs 15,000)
STROLLER RAIN COVER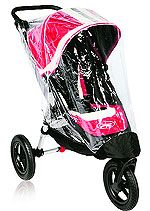 Is the rain preventing you from taking your little one out for a stroll? Now you can protect your child from rain and other natural elements with Sasha Kiddie Products' Jogger Travel System Rain Cover. The rain cover fits all standard-size strollers and can also protect the baby in the car seat. It is see-through and comfortably breathable as strategically created vents ensure good air circulation. It is lightweight and easy to attach with Velcro. With this cover you need not fear the prospects of a sudden shower when you are pushing the stroller. Be sure it will not just protect, but also allow the baby to look out at the world, and at you!
Price: $35 (Rs 1,750)
ARMITAGE LAPTOP BACKPACK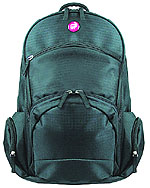 A laptop is as much a part of urban life as a mobile, and it, too, requires protection during the monsoon season. The Armitage Laptop Backpack offers an excellent protection for your computer. The lightweight (1.8 kg) backpack has a side- entry access, with a detachable computer sleeve that protects your laptop. There is also a front organiser with storage space for media devices, cellphone, business cards, key holder and pens. There is a front zipper pocket for small miscellaneous items and a compartment for documents. The side zipper pocket is made for an MP3 player, complete with a slit for ear phones. This backpack is just not a rain-proof laptop protector but a virtual Pandora's Box for essential knick-knacks.
Price: $125 (Rs 6,250)
WATERPROOF HANDBAG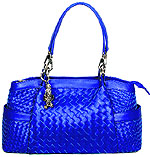 Incessant rains can spell doom for the handbag. There is usually nothing that can be done about it once the handbag is drenched. But now you can rest your fears as Cheemo is offering waterproof Gabana Weave Bag. Made from top-quality leather, this bag is fully hand-braided. It has two side pockets and elegant short handles. It can be carried as a day bag as well.
Price: Rs 2,995
ARMANI HOODED RAINPROOF JACKET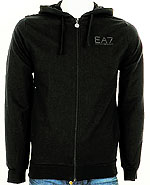 It's a jacket that has been created to preserve the body from rain and humidity. The Armani Hooded Rainproof Jacket has a full-front double-ended zip fastening with a metal Armani logo zipper. The funnel-neck design conceals a hood which is accessible by a full-zip fastening. It has two pockets on the waist, both with a side-zip entry and black metal-logo embossed zippers. The jacket has elasticated cuffs on the long sleeves and waist band for an expanding snug fit, which along with the light-weight polyester fabric, allows the jacket to be worn for sporting activities as well. The hooded jacket also has a large Armani logo in silver printed on the reverse.
Price: $240 (Around Rs 12,000)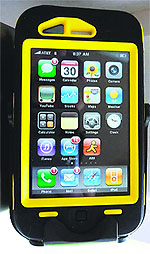 WATERPROOF CASE FOR IPHONE
If you need protection from the monsoon, so does your iPhone. In fact, it needs bigger care as rain and moisture can damage it permanently. That's where the Otterbox Armor's Waterproof Case for your iPhone comes in. The case provides a completely water, sand, dirt and dust-proof enclosure. Made from an ultra rigid, crush-proof and unbreakable moulded polycarbonate shell, it offers internal shock protection system from extreme impacts and drops. The headphones connect directly to the jack. It is guaranteed for life and adds value to the iPhone.
Price: $50 (Rs 2,500)


BURBERRY MULTI-POCKET HOODED RAINCOAT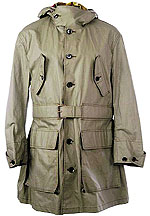 Go several notches up on the style quotient with this Multi Pocket Hooded Raincoat from Burberry. The lightweight raincoat has a detachable check-trim hood, point collar, throat latch closure and a rain guard. It has a concealed zip through fastening, snap-button fly, epaulettes and gun flap. Its multiple pockets, elasticated cuffs, metal buttons and buckle engraved with the Burberry Brit logo give it a class of its own. This super stylish coat is a must-have for any fan of the brand. You can layer it over your favourite two-piece suit for that elegant and faultless finish.
Price: $920 (Rs 46,000)
REGINA REGIS RAIN BOOTS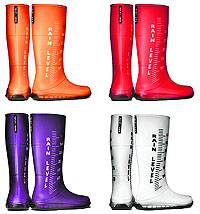 This footwear is guaranteed to make you stand out like Puss in Boots. Italian designer Regina Regis has given a new life and identity to rain boots. Combining elegant forms and an element of fun, the boots are available in all colours of the rainbow apart from black and white. They are not just amazingly stylish but have been an instant hit and have brought rain boots back in vogue. The funky centimetre ruler at the side will let you know the exact water level on the road. And when it comes to the 35-centimetre mark it might be time to wade back home in almost thigh-deep water.
Price: $85 for a pair (Rs 4,250)