The story of Chapal Rani
Shoma A. Chatterji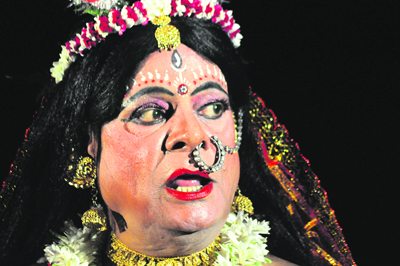 Top: Chapal Bahaduri enacts a monologue of Goddess Shitala during a recent performance in Kolkata. Photo: Suprovo Tagore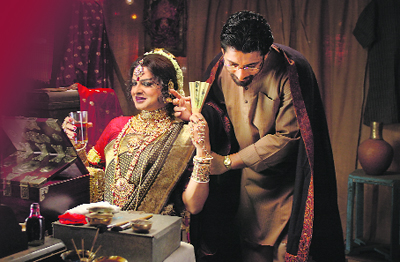 A still from Kaushik Ganguly's Just Another Love Story, which was based on Chapal Bahaduri's life

Chapal Bhaduri, the last living female impersonator in folk theatre in India, would have died unheard of and unsung if Navin Kishore of Seagull Foundation for the Arts had not made a 44-minute documentary on the actor. Bhaduri's life is as intriguing as the female roles he has played all his life. Performing the Goddess — The Chapal Bhaduri Story (1999) sheds light on the man, who challenged financial penury to create a new performance for himself — a monologue of Goddess Shitala. This has sustained him since 1995.
In 2010, Chapal Bhaduri faced the camera for Kaushik Ganguly's Just Another Love Story (Arekti Premer Golpo in Bengali). As actor, narrator, anchor and subject of the film, Bhaduri runs away with the best performance. At 74, he lives alone in a corner of old Calcutta, cooks his food and performs Goddess Shitala in temples and street corners of the city. Chapal Bhaduri was famous as Chapal Rani, or Queen Chapal. He was the leading 'lady' of Bengal's traditional, travelling folk theatre-in-the-round, the Jatra
playing female roles.
"Bhaduri's performance functions as a heritage site because he is the last torchbearer of an almost extinct theatrical tradition, which unlike in the West continued in India well into the latter half of the 20th century, professional female impersonation," writes Neeladri R. Chatterjee. Born to jatra actress Prova Devi, Bhaduri entered the stage at seven. His mother passed away three years later. He and his elder sister Ketaki Dutta, a famous theatre actress, were thrown out by the family. "When I grew up, I was asked to play Morzeena in Ali Baba, a female character, in exchange for a job in the Eastern Railways. Morzeena brought me fame and I was flooded with female roles. I consciously quit the Railways. It is the biggest mistake of my life," explains Bhaduri. Young men fell over each other to get him his favourite mouth-freshening paan and he enjoyed the attention. The performances went on — Raja Debidas, Chand Bibi, Sultana Razia and Mahiyashi Kaikeyi — all big hits.
"In the 1960s, I was one of the highest paid 'actresses' of the jatra. I performed in villages, districts and small towns, taking the audience by storm, till my pay packet swelled to around Rs 7000 to Rs 8000 per month. Young men would swoon through the window of the improvised green room to catch a glimpse of their favourite 'Chapal Rani', he recalls. Bhaduri's persona acquired all the likely constituents of the melodramatic narrative of a professional single woman as iconised by patriarchal culture.

Chapal was the highest paid jatra 'actress' in the 1960s

When history changed tradition, around the mid-1960s, women began to play female roles. Actors like Chapal Bhaduri were practically shown the door. Bhaduri turned a new page. He started playing Shitala. "I looked all over for the Shitala legend, the story in printed form. I searched Bat-tala, where jatra scripts are sold, but it was nowhere to be found...finally, I decided to use pieces of dialogue from many plays I've acted in over the years" says Bhaduri.
"As soon as I paste on the third eye after my Shitala make-up is over, I become serious and silent, not open to frothy or empty conversation."
"My problem was more than the rest because I was a cloistered gay. The jatra company showed me the door when the 'master' learnt I was gay. In the 1960s, preference for the same sex was something no one even knew about. I was not surprised. No one understood me except my sister Ketaki, who is no more. His cloistered relationship with a married man lasted 30 years.
"He asked me to sign off some of the bank deposits we jointly held. When I asked him what would happen to me, he said, 'that's not my concern.' I signed the papers," says Bhaduri, the pain in his eyes spelling out tales of tears unshed, miseries untold.
Among them was being forced by his boss into having sex to get a meatier role. "I stooped only once, for professional reasons," he says.
His effeminate bearing, voice, pitch, throw of lines, bear out his inborn genius for female impersonation. "I began my career as a performer on the promise that this would land me a job with the Eastern Railways. Miraculously, it did! I was reluctant to don female costume and gear to begin with. But when I look back, I feel that I really had more of the feminine than the masculine in me," he sums up.